Record Store Day 2016: This Year's Highlights from Bowie to Bieber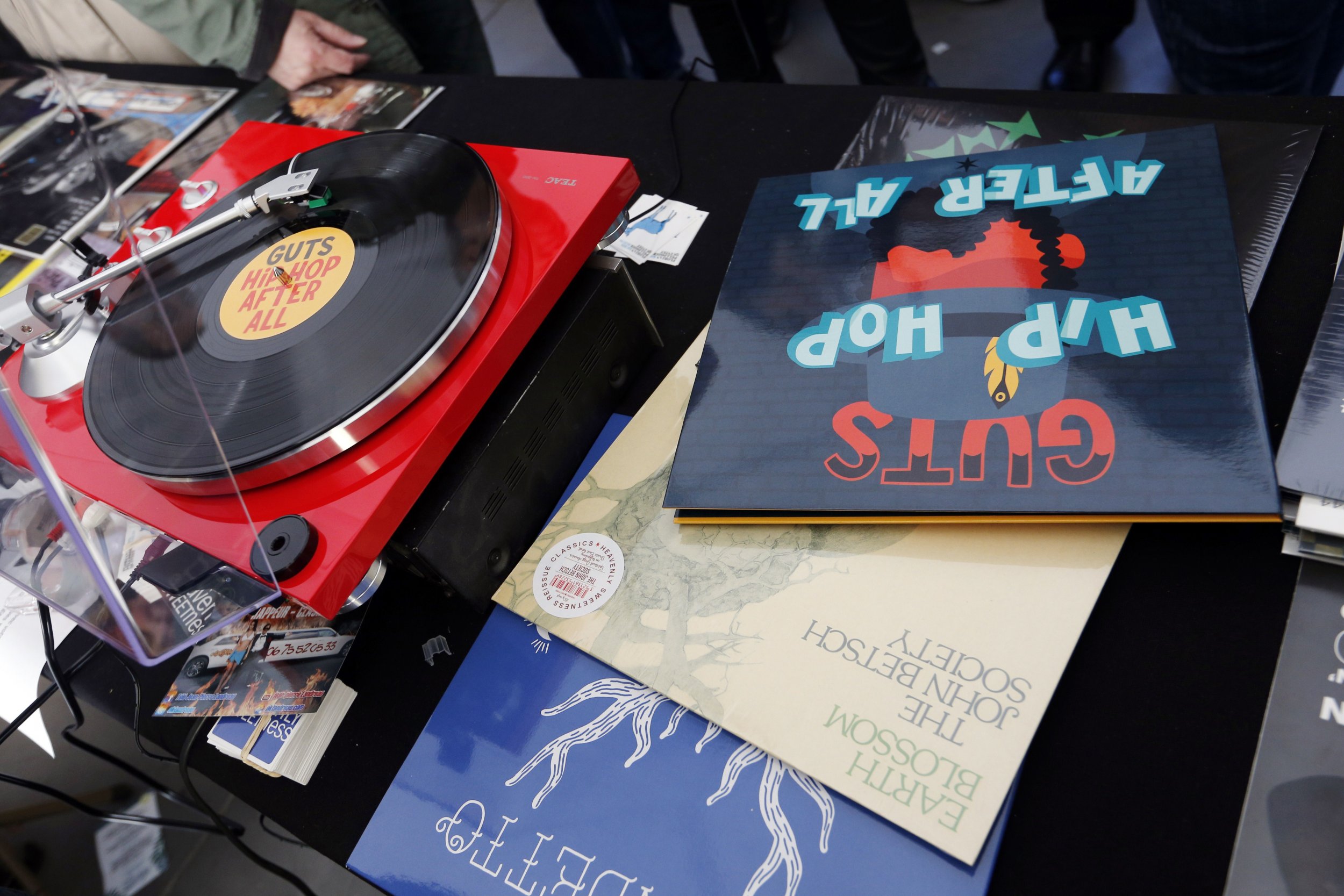 Record Store Day organizers have offered up a taste of their wares for this year's ninth annual celebration on April 16, but as the list of newly-pressed vinyls grows longer and longer every year, it's becoming increasingly difficult to ensure you don't miss out on a limited release from your favorite artist.
This year's special releases include—rather fittingly—three releases from the late David Bowie as well as Bob Dylan, The Weeknd, Jimi Hendrix and Alanis Morissette. But Record Store Day isn't just for music: there are also movie and TV show soundtracks being pressed just for the occasion, and even audio plays.
The annual tradition, conceived in 2007 and launched in 2008, marked an effort by independent record store owners to get music lovers back into shops buying physical copies of music they love in the digital era. Since launch, Record Store Day has gone from strength to strength, taking on a life of its own, with artists as famous as Ozzy Osbourne to unsigned musicians all clamoring to be part of the retro day.
Take a look at some of this year's Record Store Day highlights:
David Bowie — "TVC 15"
To mark the 40th anniversary of the late music icon's tenth album Station to Station , record label Rhino is releasing a 7" picture disc of its second single. The special release is limited to just 5,000 copies and contains a B-side track, a 2010 Harry Maslen edit of "Wild is the Wind," also lifted from Station to Station .
If that's not enough Bowie, there's also a 12" picture disc of 1970 album The Man Who Sold the World, featuring its German album artwork, and a 12" vinyl EP, I Dig Everything, consisting of six songs recorded between 1966 and 1967 for Pye Records.
Bob Dylan — "Melancholy Mood"
From one musical icon to another, Bob Dylan is giving fans a sneak peek at his next album, Fallen Angels . He'll incorporate four tracks from the upcoming record on this 7" red-colored vinyl originally created for his Japanese tour that commences next month.
Justin Bieber — "Purpose"
And now for something altogether more modern. Beliebers can look forward to a 12" picture disc of Bieber's 2015 album Purpose , consisting of hit tracks "Love Yourself and "Sorry." The 7,000-print run has the album cover art on one side and an exclusive new picture of the Canadian singer on the other.
Fleetwood Mac — "Tusk" (alternative)
Relive the glory of the rock band's 1979 album Tusk , with alternative recordings of each track. This two-disc LP will be delivered on 180 gram black vinyl—but only 5,000 copies will be created.
Doctor Who — "Genesis of the Daleks"
Yes, even Doctor Who is getting in on Record Store Day. Released on TARDIS blue-colored vinyl, listen to one of Tom Baker's most exciting adventures as the Time Lord, which first aired on BBC television in 1975. This 2,500 print run is reissued from the 1979 audio release of the TV serial and features the original artwork that accompanied it.
Notorious B.I.G. — "Mo Money, Mo Problems"
One of Biggie's biggest hits is being reissued on 12" vinyl. Initially released posthumously in 1997, after his death, this Record Store Day release features both the radio edit and album version, as well as two remixes. Did we mention the disc will literally be the color of money?
Various Artists — "Disney Favorite Songs"
Old favorites like "When You Wish Upon a Star" to Frozen 's "Let It Go" make up this child-friendly release from Disney. The 12" vinyl compilation was the idea of Record Store Day co-founder Carrie Colliton.
The Weeknd — "The Hills Remixes"
The Canadian crooner spent six weeks atop the U.S. Billboard Hot 100 with "The Hills" in 2015, so it's no surprise this is his offering for Record Store Day. This 12" vinyl consists of the track's two most popular remixes: one featuring Eminem, and the other with Nicki Minaj.
Soundtrack — "Star Wars: The Force Awakens"
The Star Wars movies are known for their anthemic scores and 2015's The Force Awakens is no different. The 12" picture disc, emblazoned with the Millennium Falcon, consists of two new scores created for the film by veteran composer John Williams: "March of the Resistance" and "Rey's Theme."
Florence + the Machine — "Delilah / Only Love Can Break Your Heart"
The British band are celebrating Record Store Day with a 12" vinyl disc featuring finished and demo versions of their track "Delilah," from the 2015 album How Big, How Blue, How Beautiful, as well as a B-side recording of Neil Young's "Only Love Can Break Your Heart."
See the full U.S. Record Store Day release list here , and here for the U.K.