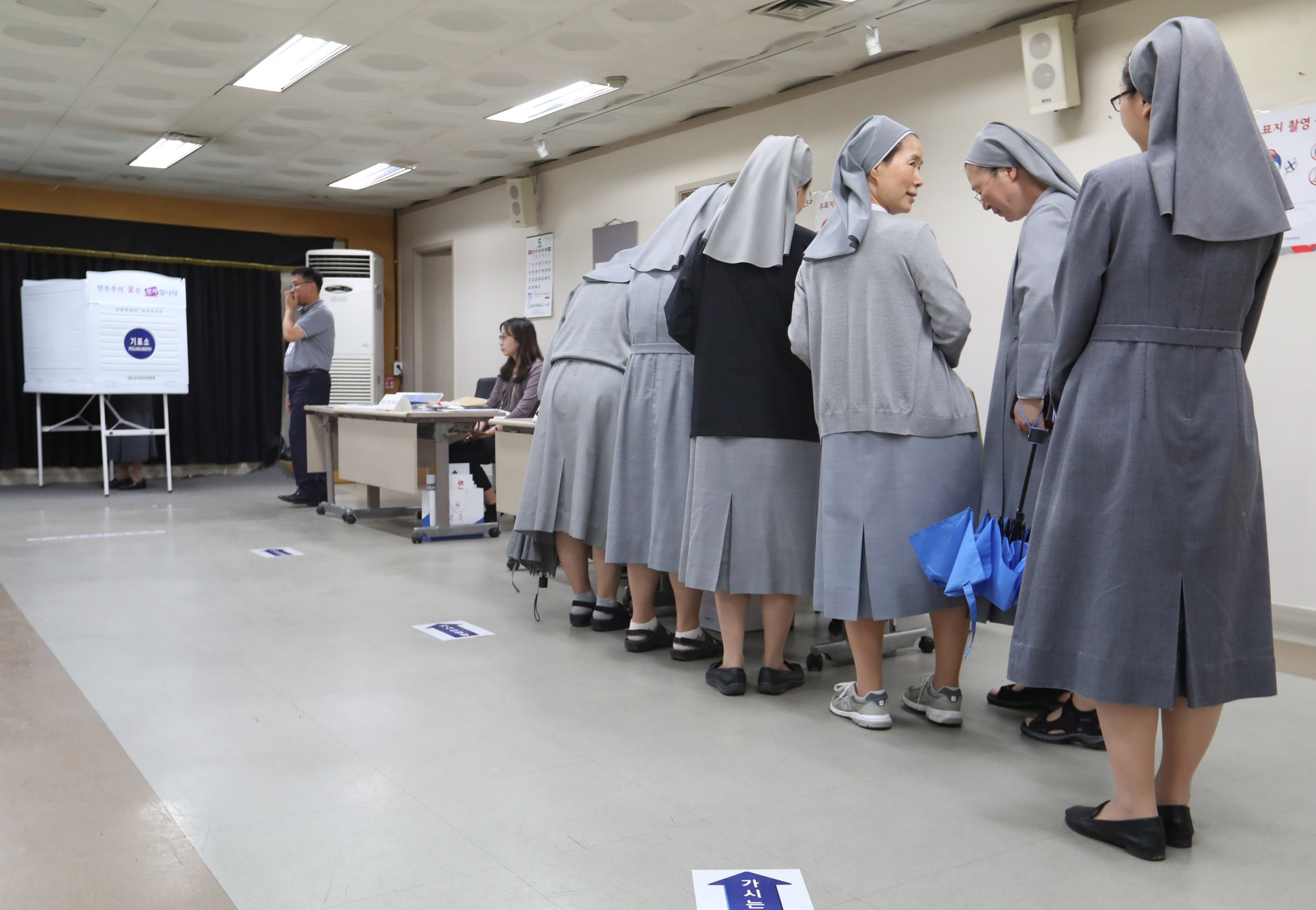 South Koreans headed to voting stations on Tuesday to elect a new leader, with a potential record turnout suggesting voters are eager to move on from a corruption scandal that brought down the former president and shook the political and business elite.
Unless there is a major upset, liberal Moon Jae-in—who calls for a moderate approach on North Korea, wants to reform powerful family-run conglomerates and boost fiscal spending to create jobs—will be elected president.
The vote will end a months-long leadership vacuum. Former President Park Geun-hye was ousted on charges of bribery and abuse of power in March to become South Korea's first democratically elected president to be thrown out of office.
Park is in jail, on trial, but denies any wrongdoing. She had decided not to cast a vote, South Korean media reported.
The National Election Commission (NEC) said voter turnout was at 59.9 percent by 2 p.m. (1.00 a.m. ET), exceeding the 52.6 percent turnout seen at the same time in the previous presidential election in 2012.
The NEC forecasts total voter turnout reaching more than 80 percent, which would be the highest since President Kim Dae-jung was elected in 1997, when 80.7 percent of eligible voters cast ballots.
Moon, who lost narrowly to Park in 2012, has criticized the two former conservative governments for failing to stop North Korea's weapons development. He advocates a two-track policy of dialogue while maintaining pressure and sanctions to encourage change.
A Gallup Korea poll last Wednesday showed Moon with 38 percent support in a field of 13 candidates, with centrist Ahn Cheol-soo his nearest challenger on 20 percent.
Moon told reporters after casting his ballot he had "given the campaign his all" and urged South Koreans to vote.
Moon's spokesman, Park Kwang-on, hoped for voter turnout of more than 80 percent.
"This election has a completely different historic meaning compared to previous elections as it was prompted by the country's first presidential impeachment," spokesman Park said.
Ahn, who voted earlier at a different polling station, said he would wait for the people's "wise decision". Other presidential candidates were also seen voting early in the day.
A quarter of voters cast ballots in early voting last week, a figure seen driven higher by the participation by younger people.
Polls will close at 8 p.m. (7.00 a.m. ET), two hours later than in 2012.
A Moon victory would provide much-needed stability and is expected to improve market sentiment at a time when exports are supporting an economic recovery in South Korea.
The won is up nearly 7 percent against the dollar this year, with South Korean shares trading at a record high on foreign investors' confidence about corporate earnings.
South Korean financial markets were closed on Tuesday but will resume trade on Wednesday.
The winner was expected to be sworn in on Wednesday after the NEC releases the official result. Most candidates, including Moon and Ahn, plan to skip a lavish inauguration ceremony if successful and start their new job right away.
The new leader is expected to quickly name a prime minister, who will need parliamentary approval, and main cabinet positions, including national security and finance ministers, which do not need parliamentary confirmation.
The election is being watched closely by allies and neighbors at a time of high tension over North Korea's accelerating development of weapons. Pyongyang carried out its fifth nuclear test in September and is believed to be readying for another.
The new president will also face the challenge of defusing tension with China, which is angry about South Korea's decision to deploy a U.S. anti-missile defense system, known as THAAD, that China sees as a threat.
"It would be advisable that the next South Korean leader respond positively to China's proposal to resume dialogues - Pyongyang suspends its nuclear program in exchange for the U.S.-South Korean halt of military exercises - something the previous South Korean leaders have failed to do in the past 10 years," a commentary in China's official Xinhua news agency said on Tuesday.
"Moreover, to demonstrate its readiness to ease tensions, Seoul should also call off deploying the THAAD system, which has proved useless in thwarting Pyongyang's nuclear and missile activities," it said.
U.S. President Donald Trump has vowed to stop North Korea developing a nuclear missile that can hit the United States.
North Korea would be keen to see a Moon victory. Its official Rodong Sinmun newspaper said on Tuesday conservative rule in the South should be "buried in the grave of history".
"Cleanly eradicating the puppet conservative group that has committed intolerable crimes is the shortcut to new politics, new life and a new world," it said.
The U.S. State Department said Washington looked forward to continuing "close, constructive, deep cooperation" with South Korea's new president.
"We will continue to meet all our alliance commitments, especially with respect to defending against the threat from North Korea," State Department spokeswoman Katina Adams told Yonhap News Agency on Monday.