Recovery of Pitbull Who Was 'Skin and Bones' and Eating Trash Warms Hearts
A rescue dog called Hazel Mae has left the internet in tears after her savior, and now owner, shared her emotional rescue story on social media.
In the video, shared on TikTok on Friday under the username H_raeee, the owner details Hazel's experiences from the day she found her eating trash on the side of the road and decided to take her in and give her a home.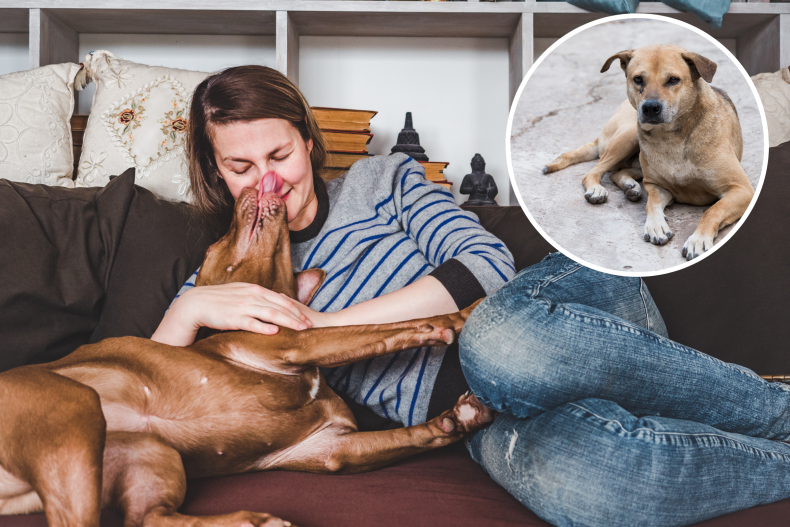 The viral post comes with a caption that explains: "In November I found this poor girl eating trash on the side of the road... skin and bones. There's no way I could have left her like that. I picked her up and put her in my car. Went to the nearest store to get her food and water. Took her to a vet immediately on Monday for a chip, she was not [hurt] but we got her all up to date on her shots.
"She had no name to put on her paperwork so I named her Hazel. I didn't really want a second dog but I refused to take her to a k!ll shelter and most rescues are full and not accepting and I knew the safest place for her to be was with me. Her and journey get along so well, she's gained healthy weight and is accepting all the love given. She's safe."
According to the American Society for the Prevention of Cruelty to Animals (ASPCA), approximately 3.1 million dogs enter U.S. animal shelters nationwide every year. Of those, about 710,000 are safely returned to their owners.
About 2 million shelter dogs are adopted each year, and about 390,000 shelter dogs are euthanized.
The video has quickly attracted animal lovers from all over the platform, receiving over 757,300 views and 119,100 likes so far.
One user, Dez Cardoso, commented: "The fact she immediately came for a belly rub. Animals are too good for us." And rickchavez999 said: "It's like she knew you were sent to her to save her, not afraid at all of you even rolled over, she will love you till her last breath."
Maloriewelsh wrote: "I believe when you find an animal and the shelter or fosters are too full to take them in that's a sign they are meant for you." And lporzio added: "she's so lucky you were there at that moment to [save] her..."
Another user, vb1002, said: "Hazel is the perfect name for this beauty...thank you for rescuing her." And Leena9271 wrote: "The look she's giving you.... those eyes. is love and appreciation. Thank you for being an amazing human being."
Newsweek reached out to H_raeee for comment. We couldn't verify the details of the case.
Do you have funny and adorable videos or pictures of your pet you want to share? Send them to life@newsweek.com with some details about your best friend and they could appear in our Pet of the Week lineup.