Just a Week After Recreational Marijuana Was Legalized in Illinois, Chicago Doctors Report a Spike in ER Visits
Just a week after recreational marijuana was legalized in Illinois, doctors have reported an anecdotal rise in the number of people being admitted to the ER due to cannabis.
According to WGN-TV, medics have noticed an increase in incidents related to the over-consumption of marijuana in the city of Chicago since January 1, when the drug was made legal—a trend that would mimic patterns in other states that permit the recreational use of the drug.
Trevonne Thompson is the toxicology director at the University of Illinois at Chicago. He told reporters at WGN-TV that he saw patients with signs of marijuana overdose when he worked in the emergency room on New Year's Eve and New Year's Day.
"You can overdose on cannabis," said Thompson. "In social media there are a lot of memes out there you can't overdose on pot. That is incorrect you certainly can overdose and have profound clinical effects that require medical intervention to get under control."
According the the U.S. Centers for Disease Control (CDC), these clinical effects can include extreme confusion, anxiety, paranoia, panic, increased blood pressure and heart rate, severe nausea and/or vomiting as well as episodes of delusion and hallucinations.
Thompson told Newsweek: "Most of the cases we are seeing so far have mild to moderate symptoms, but we have had patients with more profound symptoms that include hallucinations and psychosis."
An uptick in cannabis-related injuries such as that reported by the University of Illinois has not been reported by other hospitals in the area.
Representatives from UChicago Medicine and Rush University Medical Center told Newsweek that staff have yet to notice significant increases in visits related to cannabis use.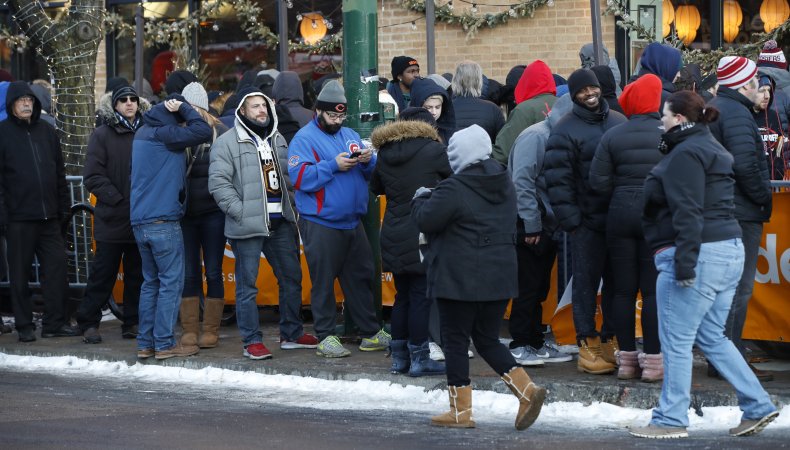 As well as seeing people who are trying cannabis for the first time (or for the first time in years), Thompson says there have been a notable number of cases involving edibles.
"We have noticed that many people are over-consuming edible products, not realizing that edibles have a delayed onset of effects," he told Newsweek.
Users may be especially wary of edibles, which can be particularly potent—and generate effects that may be harder to gauge. A 2019 study analyzing five years of cannabis-related emergency visits in Denver, Colorado, found edibles accounted for almost 11 percent of visits, despite the fact that they account for just 0.32 percent of cannabis sales in Colorado.
The researchers also found visits related to edibles were more likely to involve severe intoxication, cardiovascular symptoms and acute psychiatric symptoms. ER visits related to smoking marijuana were more likely to involve cannabinoid hyperemesis syndrome, a condition that involves intense nausea and vomiting.
According to the study's authors, the more extreme reactions to edibles may stem from the fact that it can take longer to feel a high when the drug is ingested and not inhaled, and so be easier to overindulge. The effects also tend to be longer lasting.
But while severe, cannabis overdose is rarely life-threatening—according to the CDC, a fatal overdose is unlikely. There have, however, been deaths reported from the use of THC oil in vaping products, which can induce a life-threatening respiratory condition called e-cigarette, or vaping, product use-associated lung injury (EVALI). According to the CDC, FDA sampling suggests that the majority of cases involve THC oil.
Illinois is one of eleven states that have legalized recreational cannabis. A further 22 allow for medical use. According to the state's regulations, adults in Illinois who are 21 and older have been allowed to purchase up to 30 grams of cannabis since the start of 2020. The first week of the new year brought in almost $11 million in sales from cannabis, CNN reports.
The graphic below, provided by Statista, illustrates which U.S. states have legalized marijuana.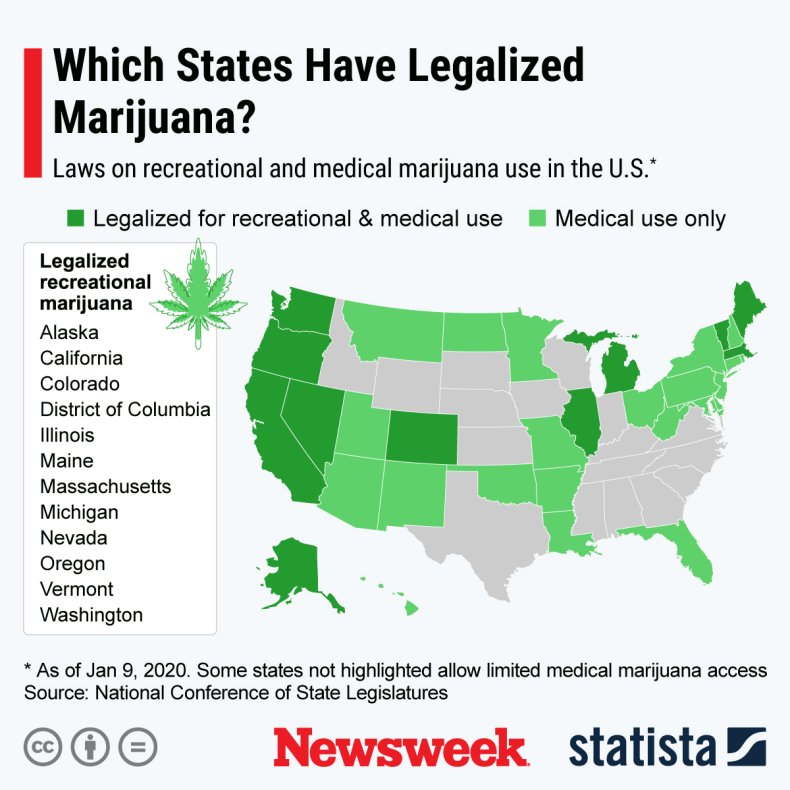 This article was updated to include an infographic and comments from Trevonne Thompson and hospital representatives.