Recruiter Who Called Candidate 'Overpaid' Slammed for Lowball Job Offer
Members of a popular internet forum were quick to call out one job recruiter who insisted a prospective employee give up $40,000 in salary to join his company.
In a viral Reddit post published on r/antiwork, Redditor u/thowaway543826292 said they were randomly contacted by the recruiter, but were quickly disappointed by a lowball job offer and demands for more "reasonable" salary expectations.
Titled, "Just had a recruiter reach out to me to [say] that my current salary was too high," the post has received nearly 15,000 votes and 1,000 comments in the last 11 hours.
Explaining that the recruiter messaged them on LinkedIn requesting they apply for a new position, the original poster said they informed the man they are happily employed but still asked for more details about the job opportunity.
Unfortunately, their inquiry turned up lackluster results accompanied by exasperation and hostility.
"[The] position is similar to what I currently do except [it] comes with more responsibility, more seniority, etc.," OP wrote. "I asked again for more info, specifically about the pay [and] he said he was delighted to tell me they had just raised the salary bracket in this position to 34-38k a year."
"I told him I'm currently on 78k a year with less responsibility, fully remote and wouldn't consider moving for less than a 10 [percent] raise ... along with a signing bonus," OP continued. "I had to explain to this guy at least three times that no one will take a 40K reduction in salary for more work, and a less stable job."
"He just kept saying 'but it's competitive, not my fault you are [overpaid], be reasonable here!'" OP added.
Since October 2021, more than 4 million employees in the United States have quit their jobs, propelling the Great Resignation.
Over that same time period, the U.S. Bureau of Labor Statistics (BLS) reports that nationwide hiring numbers have remained just as consistent, with most recent data showing 6.5 million new hires in May 2022.
Despite that consistency, however, the process by which new employees are interviewed and hired has completely changed.
In 2019, the Harvard Business Review (HBR) reported that roughly 40 percent of U.S. companies have outsourced nearly all of their hiring practices to "recruitment process outsourcers," whose recruiters "scour LinkedIn and social media to find potential candidates."
"They sometimes contact [candidates] directly to see whether they can be persuaded to apply for a position and negotiate the salary they're willing to accept," HBR reports.
And while some recruiters are able to successfully place prospective employees in new positions, their motivation rarely comes from finding better job opportunities for hardworking individuals.
Because their pay is tied directly to the number of candidates they place, recruiters often encourage job seekers to accept low-paying positions, regardless of potential financial harm.
"The more money you make, the higher their rate will be, too," jobs website The Muse reports. "However, if you don't land a job, they get paid nothing. So, if they can't think of other roles you'd be a fit for, they may encourage you to take a low-ball offer."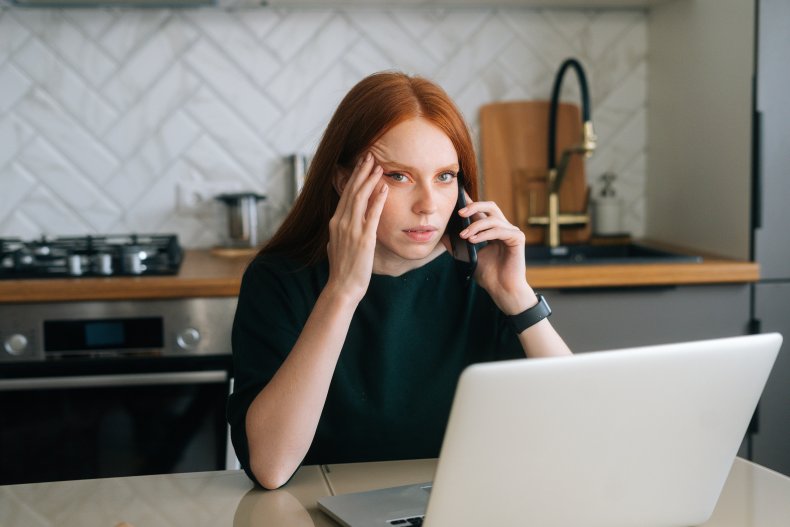 Throughout the comment section of the viral Reddit post, Redditors acknowledged this possibility and slammed the job recruiter who attempted to lure the original poster into taking a $40,000 pay cut.
"He just wants to get paid when you take the other job," Redditor u/Ambivalent_Anglican wrote in the post's top comment, which has received nearly 7,000 votes.
"This," Redditor u/Infinite-Echo5097 added in agreement. "He just wants to get paid when you take the other job."
Redditor u/foe_tr0p, whose comment has received nearly 700 votes, was simple in their assessment of the job recruiter in question.
"What a buffoon," they quipped.
In a separate comment, Redditor u/Ball-Fantastic offered a sarcastic response.
"Hey, I'm just doing my job," they wrote, acting as the recruiter. "Couldn't you do me a solid and cut your income in half?"
Newsweek has reached out to u/thowaway543826292 for comment.