Ah, award season: The most glamorous time of the year.
The good news: The shows—with the exception of the Tony's, given Broadway's yet-to-be-announced reopening—are actually happening this year, starting with the Golden Globes on February 28, followed by the Critics Choice Awards and the Grammys in March, culminating with the Academy Awards on April 25.
The even better news: tradition might (finally) be tossed out the window. In fact—given stay-at-home orders, halted entertainment options and a dearth of big budget productions—this year's shows will, needless to say, look very different from what we're used to seeing.
Wave goodbye to petty behind-the-scenes drama, innumerable movie releases, conversations about stars' political inclinations and Leonardo DiCaprio's chances of earning an Oscar.
On the flip side, expect longer nomination eligibility time frames, the probable absence of an audience (or, at the very least, one as large as we're used to spotting on TV) and a renewed sense of creativity on the part of hosts who will have to figure out a way to hold our attention without banking on the presence of peers to make fun of in the halls or audience.
That's all for the better: Complaints about the most tedious aspects of these broadcasts have become part and parcel of award show discussions for decades now. Slimming down might work in viewers' favor as we will no longer have to put up with endless speeches, uninteresting awards and, well, boring tributes.
Looking at last year's overall viewership numbers, significantly down from 2019 and years prior, paints a clear picture: According to The Hollywood Reporter, the 2020 Grammy awards telecast was the show's smallest in terms of audience since 2008. The latest Oscars and Golden Globe shows also suffered a steep decline, the former raking in 23.6 million spectators (down from 29.5 million in 2019) and the latter 18.3 million (compared to 18.6 the year prior).
Given this year's unexpected turmoil and overall lack of entertainment options, a continuous downward trend in terms of numbers shouldn't come as a surprise. Perhaps, though, forced changes in each show's direction and production might help reverse the descending spiral.
There is, however, one possible change that might have us wish for a return to the familiar, and it involves the red carpet.
An inherent portion of each star-studded night has always been the strutting of celebrities on the red carpet prior to the distribution of the various prizes. Not only do we look forward to gazing at what A-listers opt to don on during some of the most important nights of their careers, but we treasure the few minutes they spend answering questions posed by ABC and E! correspondents. Although predictable conversations, they are glimpses at the humanity of each guest, showcasing their ability to think on the spot and "perform" as a human on live TV.
Who can forget Jennifer Lawrence crashing Taylor Swift's red carpet interview during the 2014 Golden Globe Awards? Or Tiffany Haddish jumping over a velvet rope to meet Meryl Streep (can you blame her?) at the 2018 Academy Awards? Not to mention Sacha Baron Cohen spilling an "urn of ashes" all over Ryan Seacrest during the 2012 Oscars and Susan Sarandon walking the red carpet barefoot during the premiere of the Lord of the Rings in the early aughts.
As much as the years' winners have shaped entertainment history, those memorable albeit brief moments have come to define show business in general and the specific careers of the folks starring in the off-the-cuff segments.
The red carpet has become so paramount as an event that some have even argued it has superseded the actual broadcasts in importance.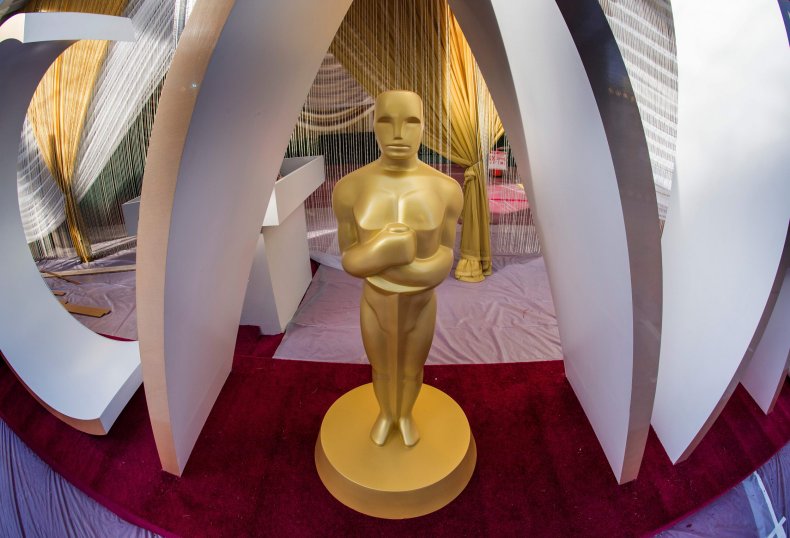 "To much of the general population, red carpets are where the magic of Hollywood goes to shine," Caroline Framke wrote in a 2018 Vox article. "For as casual and effortless as red carpets often seem to be, they're anything but. Each one has an entire ecosystem of painstaking work behind it, with celebrities, film studios, stylists, publicists, and designers all collaborating—but also jockeying to control—the images they're trying to sell."
A question therefore makes itself apparent: given social distancing measures, online streaming efforts, mask-wearing and testing policies, what will red carpets look like in 2021 and beyond?
The powers that be should consider taking a page out of Anne Hathaway's playbook. Just a month ago, the actress celebrated the release of her new HBO Max film Locked Down by dressing up in red carpet-worthy gowns (Azzaro! Versace! Vivienne Westwood!) in her own backyard to star in a photoshoot that she then shared on social media.
She isn't the only star who brought the red carpet into quarantine: a whole lot of celebrities donned their fanciest attires to celebrate last year's Emmy Awards in their gardens. Clearly, virtual fashion shows are an avenue worth exploring.
Of course, the drawback of the move away from pre-show shenanigans involves our inability to witness each A-lister interact with others in a more relaxed setting than the actual ceremony allows for. However, peeking at them while in their natural habitat—albeit all glammed up—will showcase a different but just-as-interesting aspect of their private lives.
Just as home libraries have taken center stage in the era of Zoom calls, makeshift at-home red carpets might prove to be the latest celebrity home trend to eventually dissect.
It's time for an upgrade, a rejiggling of the way we've been bestowing nominations and awards. What better way to kick those changes off than starting from the very beginning?
The red carpet is the first thing we tune into on award show night ... let's turn it into one of the most memorable aspects of show biz as well.
Anna Rahmanan is a New York-based writer and editor. Read more of her work on her website.
The views expressed in this article are the writer's own.