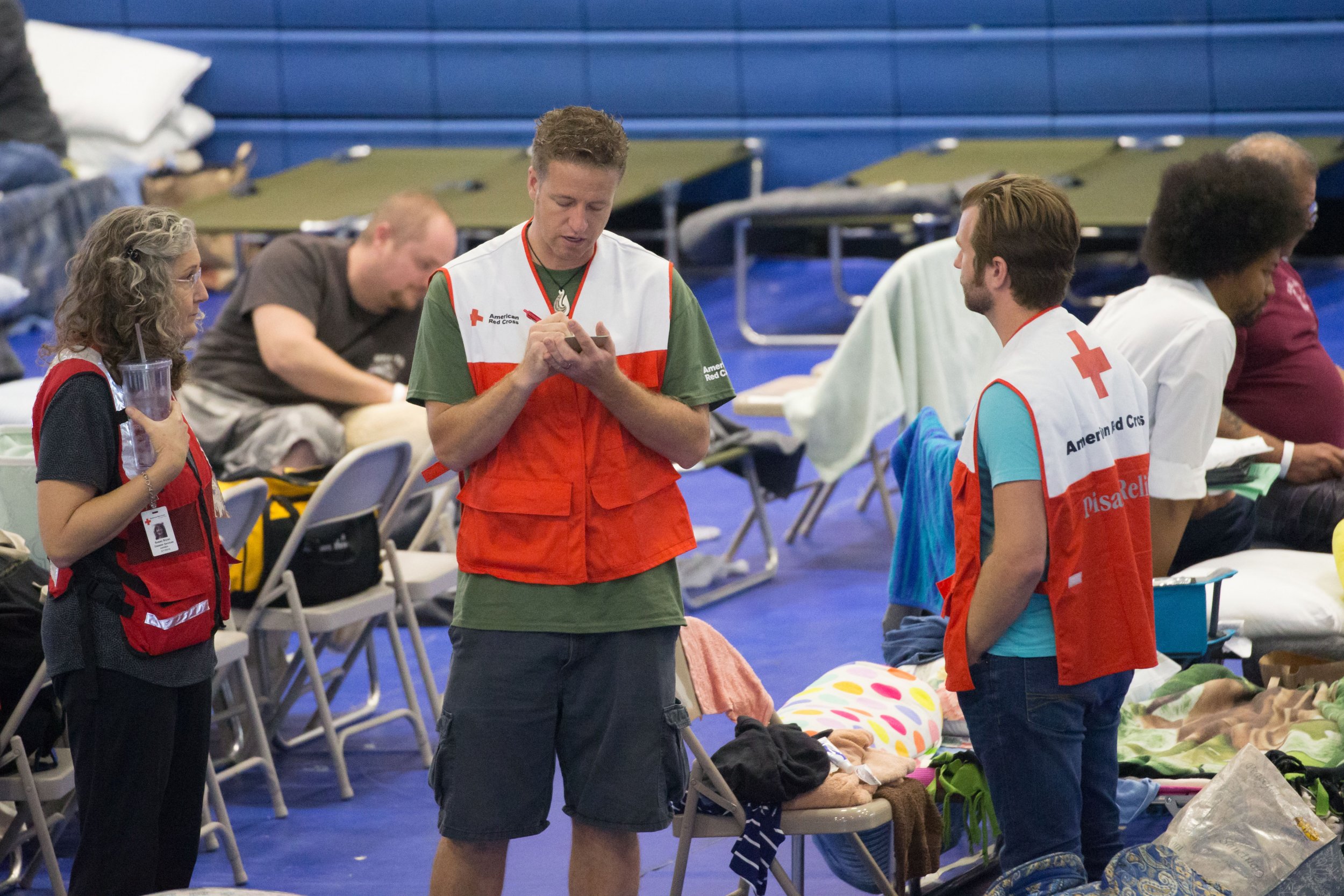 UPDATED--The Red Cross is either unwilling or unable to disclose what percentage of donations will be allocated toward helping Hurricane Harvey victims, NPR reports.
On NPR's Morning Edition, a Red Cross executive, Brad Kieserman, said the organization had spent $50 million on Harvey relief as of Wednesday morning, noting that the money went primarily toward 232 shelters for 66,000 people.
But when pushed by host Alisa Chang to give more specifics, since the Red Cross has been called out for spending a lot of money to cover exorbitant internal administration costs, Kieserman couldn't deliver.
Chang asked, "Through donations, how much of every dollar goes to relief?"
Kieserman responded, "Yeah, I don't think I know the answer to that any better than the chief fundraiser knows how many, how much it costs to put a volunteer down range for a week and how many emergency response vehicles I have on the road today. So I think if he was on this interview and you were asking how many relief vehicles in Texas, I don't think he'd know the answer, and I don't know the answer to the financial question, I'm afraid."
As Chang noted during her conversation with Kieserman, a quarter of the money donated to the American Red Cross after the 2010 earthquake in Haiti went toward internal spending—$124 million in total.
What's more, a 2015 investigation by NPR and ProPublica concluded the Red Cross had built only six permanent homes in Haiti, even though it collected almost $500 million in donations.
Chang asked Kieserman if these types of issues were still occurring and whether such a "substantial percentage of donations [is] going to internal administrative costs rather than to relief."
Kieserman didn't have an answer.
Meanwhile, the Houston Chronicle reports that city shelters are "overwhelmed" by the high numbers of Harvey victims. Mayor Sylvester Turner said Houston is "still waiting on FEMA and the Red Cross to provide the necessary supplies and staffing for all of the shelters that exist and those that may be needed."
He added, "That's why it's important to work as a team and don't just rely on any one or two sources. It's going to take all of us to meet the needs."
Harris County Judge Ed Emmett told the Chronicle he "didn't want to throw anybody under the bus" but said the Red Cross can't "get anything done."
In short, the Red Cross seems to be struggling to respond to Harvey even as it can't tell people how the money they've donated is actually being spent. All of this is part of a long, troubling trend with the Red Cross, which is one of the country's most prominent charities.
Sadly, Haiti and Harvey are not the only examples of where the Red Cross has stumbled in its response.
When Louisiana experienced deadly flooding in August 2016, for example, the director of a state children's agency wrote in an email that the Red Cross "failed for 12 days" in terms of its response, ProPublica reports.
The email listed a number of areas where the Red Cross had fouled up: "Food. Donations management. Under staffed." At one shelter, people reportedly did not have food or water for over 24 hours one weekend.
This is also not the first time the Red Cross has either refused to or couldn't say exactly where its money goes.
The Red Cross has also made inaccurate public statements about how its money is allocated. During a speech in Baltimore in 2013, Red Cross CEO Gail McGovern claimed, "We're very proud of the fact that 91 cents of every dollar that's donated goes to our services."
An investigation by ProPublica and NPR, based on the Red Cross's tax documents, found this wasn't true. They showed its fundraising expenses have been as high as 26 percent in recent years.
This helps explain why The Washington Post recently reported that some are urging people not to donate to the Red Cross if they're seeking to aid Harvey victims. Instead, they're asking people to give their money to churches and local organizations.
Despite the ongoing criticism, the Red Cross maintains it's working hard to ensure the money it receives is allocated in a beneficial way.
"The folks I work for are very, very attentive to cost-effectiveness and cost efficiencies in making sure that as much as every dollar that we spend on an operation is client-facing," Kieserman told Chang.
Correction: This article has been updated to accurately reflect the amount of money the Red Cross collected in donations following the 2010 earthquake in Haiti.