Red Cross Sees 15 Percent Drop in Student Blood Donors During Pandemic, National Shortage
On Tuesday, the Red Cross declared a national crisis as it faces its worst blood shortage in over a decade. The organization pointed to several reasons that have caused the blood supply shortage, noting that many blood drives have been canceled due to illness, weather and staffing limitations.
One of the main factors causing the nation's first-ever blood crisis is the significant drop in student blood donations received by the Red Cross since the pandemic began.
The Red Cross said its overall blood donor numbers have fallen 10 percent since March 2020, but that figure is even more pronounced when examining student blood donations.
While student donors had accounted for roughly 25 percent in the year before the pandemic began, students only made up approximately 10 percent of donors during COVID-19—a 15 percent drop from 2019.
The Red Cross said that one of the circumstances driving this downward trend is the decrease in blood drives on school campuses. Due to the pandemic, there has been a 62 percent drop in college and high school blood drives.
Teens as young as 16 can donate blood as long as they have signed parental consent and the Red Cross' various blood drives hosted on campuses typically attracts hundreds of young people eligible to give blood, but school closures have prevented student drives from operating as they once did.
"High school and college drives have been significant components of our collection process," Dr. Baia Lasky, a medical director at the American Red Cross told Newsweek. "So whether it's been the campuses have been fully closed, or at least at limited capacity, those are all drives that we're not able to hold and not collecting."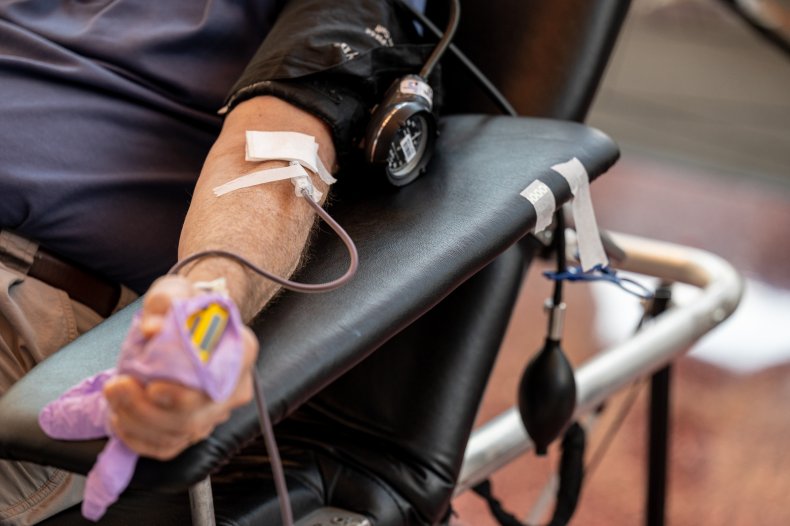 As many students returned to in-person learning this school year, campuses began hosting blood drives again.
For example, the Red Cross held a blood drive at Fisk University back in October as part of an initiative at Historically Black Colleges and Universities to ensure a diverse blood supply for patients battling sickle cell disease, which primarily affects individuals who are Black or African American.
Fisk University, which teamed up with Tennessee State University and Meharry Medical College for the drive, exceeded its goal and collected 41 lifesaving blood donations for patients in need.
But while student blood drives are making their return, it has not been enough to combat the national shortage and concerns over rising COVID-19 cases.
Health officials are warning that another COVID wave may "compound the already bad situation" given that the Red Cross saw a dip in donor turnout beginning with the Delta variant.
"That trend continues as the Omicron variant takes over," the organization said.
"While some types of medical care can wait, others can't," Dr. Pampee Young, the Red Cross' chief medical officer, added. "Hospitals are still seeing accident victims, cancer patients, those with blood disorders like sickle cell disease, and individuals who are seriously ill who all need blood transfusions to live even as Omicron cases surge across the country."
The national shortage means that some hospitals have been unable to receive as much as 25 percent of the blood products needed due to limits on distribution. In recent weeks, there has been less than a one-day supply of some critical blood types.
Update 11/01/21 11:27 AM ET: This story was updated with comments from Dr. Baia Lasky, a medical director at the American Red Cross.