The Red Cross cautioned that Indonesia is "on the edge of a COVID-19 catastrophe" as the country navigates an uptick in the number of infections. The organization recommended Indonesia boost access to medical care and vaccines to curtail the spread.
The Red Cross said it had to set up emergency tents outside its COVID-19 hospital in Bogor to keep up with "overflowing" patients. Other hospitals near Jakarta have been rapidly filling beds, including one in Bekasi city that reached 90-percent capacity, the Associated Press reported.
Indonesia recorded over 20,600 new cases and more than 400 deaths Monday, part of a surge attributed to the Delta variant. With the fourth largest population in the world, Indonesia's 2.1 million total cases and 57,500 total deaths are the highest in Southeast Asia.
Despite the surge, less than 5 percent of the adult population is fully vaccinated, the Associated Press reported.
For more reporting from the Associated Press, see below: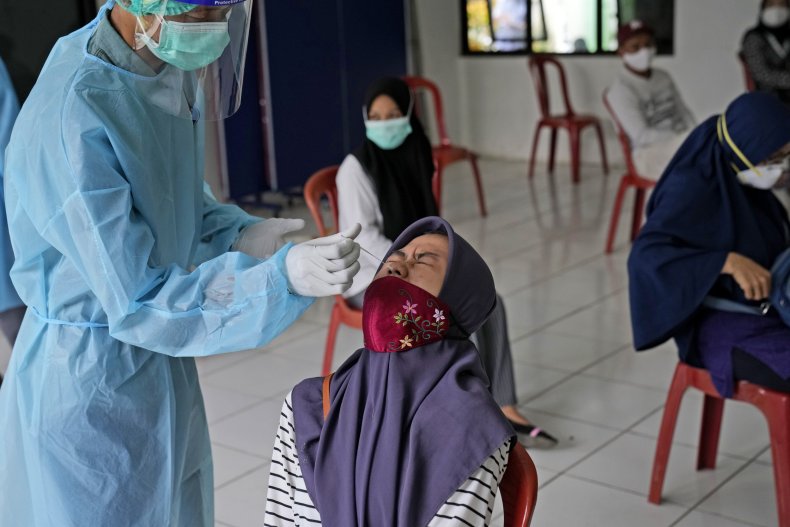 As Sri Lanka also navigates a COVID-19 surge, the country announced a 13-day travel ban on passengers from six Gulf countries.
The Civil Aviation Authority of Sri Lanka says passengers with a travel history in the past 14 days to Qatar, United Arab Emirates, Saudi Arabia, Oman, Bahrain, and Kuwait won't be permitted to disembark in Sri Lanka starting Thursday. The restriction will continue until July 13.
Authorities have said they were concerned about the surge of coronavirus-infected passengers who had arrived from that region.
The announcement on the travel ban came a week after Sri Lanka ended a 30-day lockdown. But public gatherings are still banned and schools, religious places, bars, hotels and gyms remain closed. Sri Lanka has seen a sharp increase of positive cases and deaths since April because of the celebrations and shopping by the people during the traditional new year festival.
The total number of confirmed cases has reached 253,618 and 2,944 deaths.
France's government is hoping to combat the growing Delta variant by urging all nursing home staff in the nation to get vaccinated. It's sending more vaccine doses to a southwestern region where variant is spreading fast.
France's virus infections, hospitalizations and deaths have been dropping nationwide for weeks, but with only 32 percent of the population fully vaccinated so far, concerns are growing about the highly contagious Delta variant. The variant accounts for about 20 percent of new virus cases in France and is becoming "progressively dominant," Health Minister Olivier Veran told broadcaster France-Info on Tuesday.
Lawmakers pressed the government Tuesday for tougher measures to slow the variant's spread.
The minister in charge of elder care, Brigitte Bourguignon, said the government "doubled the doses" of vaccines sent to the southwest Landes region, where the Delta variant makes up a majority of infections and recently swept through a nursing home.
Bourguignon says the government sent a letter to all nursing homes in France urging staff to get vaccinated and warning that vaccination could become mandatory if they don't do so by September. She says getting vaccinated is "a moral imperative."
France has recorded more virus infections than any European country and more than 111,000 confirmed deaths.