'Red Dead 2' Online: How To Gang Up And Make A Posse
[Editor's Note: A previous version of the story listed incorrect steps for forming a posse. We have updated the story with accurate information, and apologize for the error.]
Red Dead Online's beta launches this week, and if you are anything like me, you're ready to start exploring the Wild West all over again but with friends at your side this time. However, gamers aren't going to be able to simply sit down and immediately start playing with pals. You'll need to form an old-fashioned posse first.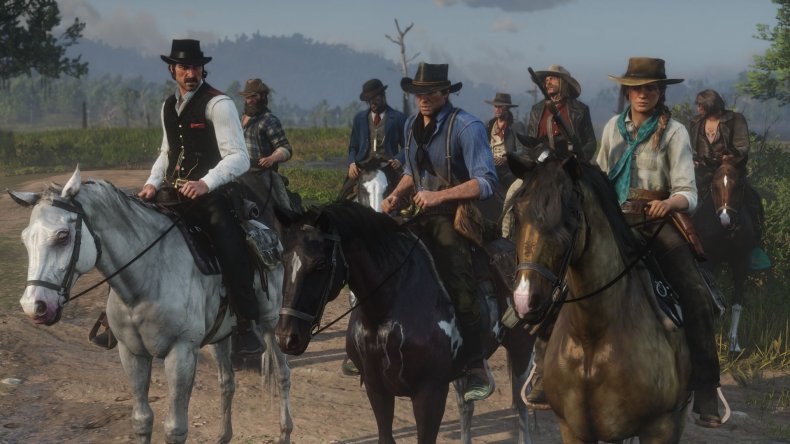 Creating a posse in Red Dead Online is a simple process, and is nothing like forming a Crew for GTA Online. Unlike Crews, forming a posse is done entirely in-game, and can be completed in the pause menu. To form a posse, follows these steps:
Press Left on the D-pad to enter the Red Dead Online quick menu
Scroll down to "Posse" in the menu, and select it
You instantly search for nearby posses to join
Select the posse you want to join
If you can't find a nearby posse, you are given the option of creating one for yourself
Rockstar has confirmed posses are limited to a maximum size of seven, which is drastically smaller than the 1,000-person cap found in GTA Online. GTA Online did start with a smaller cap for Crews, so it's possible Red Dead Online's posse member count will increase in time as well. That said, it makes more sense from a story standpoint that a posse would be smaller than modern-day gangs so it's possible posses will never see hundreds of members.
Seeing as how Red Dead Online's beta doesn't even begin until tomorrow for the earliest entries, we'll have to wait until then to be sure on how posses are created. To see the full roll out schedule for the Red Dead Online beta, be sure to check out our What You Need To Know article.
So what do you think? Are you excited to jump into the world of Red Dead Online this week? When can you start playing? Let us know your thoughts in the comments section below.