When Does 'Red Dead Online' Beta Release? Wednesday Launch Will Open to Day One Players
The Red Dead Online beta officially began today, but only for those who purchased the Ultimate Edition of Red Dead Redemption 2. What about the rest of us? It will be your turn tomorrow if you are a launch-day player.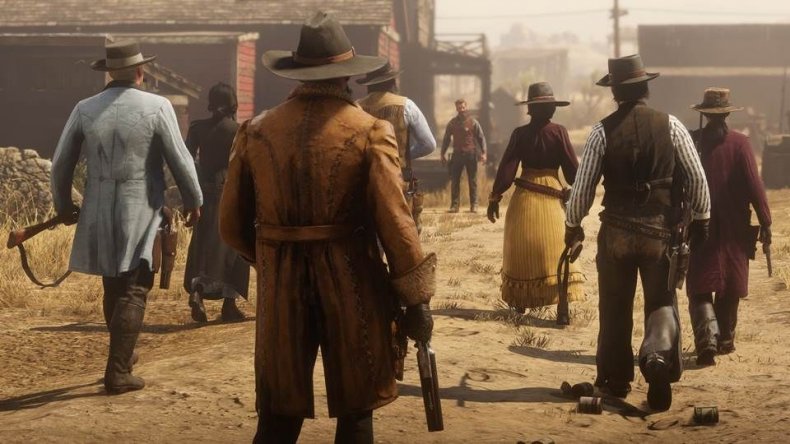 The full launch schedule for the Red Dead Online beta is as follows:
Tuesday, Nov. 27 - All who purchased the Red Dead Redemption 2 Ultimate Edition
Wednesday, Nov. 28 - All who played Red Dead 2 on launch day (Oct. 26)
Thursday, Nov. 29 - All who played Red Dead 2 (even a little) anywhere between Oct. 26 and Oct. 29.
Friday, Nov. 30 - Everyone, regardless of when you played
The start time for the beta launch today was 8:30 a.m. EST. While we don't know for sure yet, the start times for the other dates are also likely 8:30 a.m. EST on their respective days. Newsweek has reached out to Rockstar for confirmation, and will update once we hear back.
Why is Rockstar rolling out the Red Dead Online beta in this unconventional manner? It's an easy way to ensure Rockstar doesn't flood the gates by immediately opening Red Dead Online's servers to everyone with a copy of Red Dead Redemption 2. This is still a beta, which means Rockstar is still testing everything out before the mode launches in full.
The Red Dead Online beta is not an open beta, however. You still need a copy of Red Dead Redemption 2 to participate. If you do have a copy, playing Red Dead Online does not cost any additional fees, other than an active PSN or Xbox Live Gold subscription in order to join in.
If you want to know about all the different activities included in the Red Dead Online beta, check out our list of the different game modes that are ready to go, including a take on the battle royale genre. If you are experiencing technical difficulties when starting up the Red Dead Online beta tomorrow, be sure to check out our troubleshooting guide. Once you and your friends can all access Red Dead Online, check out our guide to form your own Posse.
So what do you think? Are you ready to start playing Red Dead Online tomorrow? Do you still have to wait until later in the week? Let us know your thoughts in the comments section below.