'Red Dead Online' Beta Update Coming: Daily Challenges, Changes to Bounty Hunters and more
A new update to Red Dead Online is coming February 26 that adds daily challenges and major updates to bounty hunting and more. A full list of updates can be found on Rockstar's website, but here's the rundown: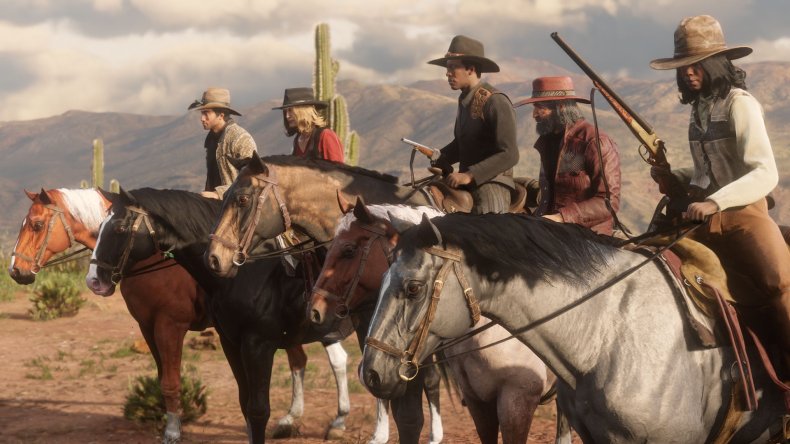 Player Visibility- Red Dead Online will no longer display players far away as blips on the mini-map. You have to be within 150 meters to be seen and if you are in a town or a camp, you will not be noticed by others. The more aggressive to other players you are, the more likely you are to appear on the minimap to others. Posses can now initiate Feuds or accept Parleys.
Bounty Hunter- Racking up player kills will now send hardcore NPC bounty hunters after you. "The higher your bounty, the greater your value and the more difficult the pursuit becomes for you and your Posse," the post said.
Daily Challenges- You can earn experience and gold nuggets by completing objectives everyday. "Challenges will range from foraging for herbs, selling items at a Fence, hunting and skinning animals, clearing hideouts, winning Feuds and so much more," the post said.
More details about the content update will come next week before the patch goes live.
Red Dead Online hasn't lived up to the expectations a lot of fans had. Grand Theft Auto Online was one of the most successful MMO-lites of the past decade, with the game being highly populated years after its release. Before Red Dead Redemption 2 was released, fans speculated how Rockstar could bring the addicting rush of stealing cars and blowing up helicopters to a time period that can't have either of those. When the online mode was released in beta, fans were disappointed. Turns out RD Online didn't have a hell of a lot you could do outside of rob banks, complete missions and slaughter boars (most of what you can do in the single player version). These changes seem to be the first step toward bringing some more life to Red Dead Online as it faces stiff competition from games like Apex Legends and Anthem in the coming weeks.