'Red Dead Online' Store Open: Gold Bar Prices Prompt Micahtransaction Backlash
On Friday Rockstar Games launched its storefront for Red Dead Online, selling the Red Dead Redemption 2 multiplayer mode's premium currency, gold bars, for real cash money. Red Dead Online players already have a name for the new microtransaction storefront's wares—Micahtransactions, named for the oily, blond psychopath who tears apart Arthur Morgan's beloved gang in the Red Dead Redemption 2 single-player campaign.
After the Red Dead Online Beta launched, players complained about the skewed economy, which demanded high prices for items, even as missions paid out paltry sums. Responding to the outrage, Rockstar updated the game, lowering prices across the board and decreasing the amount of grinding it took to build up cash reserves.
Drop rates for gold nuggets—collect 100 gold nuggets for one gold bar—were also increased, but still presented an imposing climb to accrue the premium currency. Where plays might previously win .02 gold bars per mission, victory can now win five times that much. But that still can mean playing missions over and over to earn even a single gold bar.
Here's where money and vast profits come in to play.
Red Dead Online Gold Bar Prices
Rockstar has a limited-time deal going for the store's launch: 25 gold bars for $4.99. But here are the standard bundles:
$9.99 for 25 gold bars (40 cents per bar)
$19.99 for 55 gold bars (36 cents per bar)
$49.99 for 150 gold bars (33 cents per bar)
$74.99 for 245 gold bars (31 cents per bar)
$99.99 for 350 gold bars (29 cents per bar)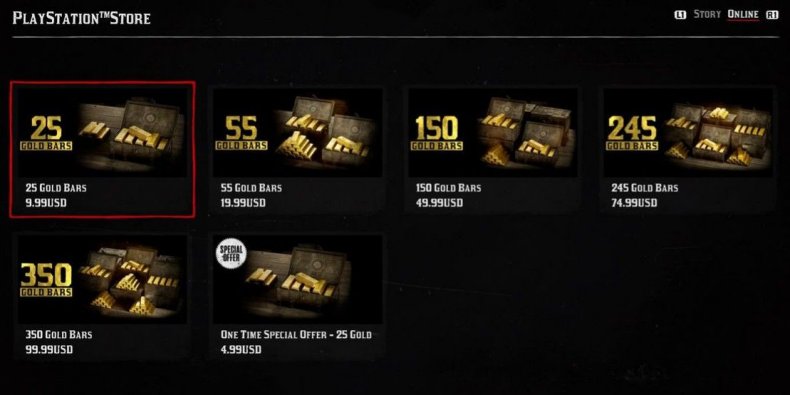 Gold bars buy outfits, horses and gun customizations. With outfits hovering around 20 gold bars and the best horses priced over 40 gold bars, even the $100 for 350 (the same price as the full Red Dead Redemption 2: Ultimate Edition) only stretches so far, especially if you like a lot of gold plating on your Carcano rifle.
Neatly embodying the conflation of patriotism with capitalist consumption, the menu entry reads, "Gold Bars help you achieve the American dream of being first in line, stockpiling an arsenal, and shopping with abandon while becoming the envy of everyone around you."
Reactions to the introduction of microtransactions to Red Dead Online were swift, with an anti-Micahtransactions post rocketing up the Red Dead Redemption subreddit. "Micahtransactions are here. And they are garbage as usual. People, do NOT buy these. Show Rockstar and Take-Two that this isn't what we want," the post—currently with 24,000 upvotes—is headlined.