'Red Dead Online' Halloween Event Adds Slasher Masks and Supernatural Night Stalkers
The Western world of Red Dead Online is going horror for Halloween, with a new multiplayer mode called "Fear of the Dark," plus exclusive masks straight out of slasher movies.
In "Fear of the Dark"—the marquee addition added to Red Dead Redemption 2's multiplayer in the Halloween event update—players are either mortal Hunters or monstrous Night Stalkers in a variation on RDO's Showdown Modes. Night Stalkers are "supernaturally fast, tough and strong," but they have a vulnerability: their power comes from skull masks found around the multiplayer map. As Hunters track down the skull masks, their own power grows and that of the Night Stalkers diminishes.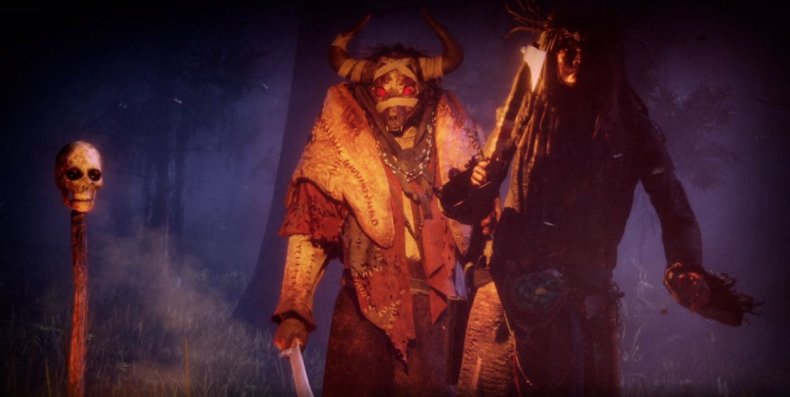 In "Fear of the Dark," Hunters win by collecting every mask and killing every Night Stalker, while Night Stalkers win by killing every Hunter or waiting out the clock.
"Fear of the Dark" will be available in Red Dead Online through November 12, with Rockstar Games encouraging players to check it out by offering triple gold rewards and twice the Red Dead Online dollars of comparable Showdown Mode combat rounds.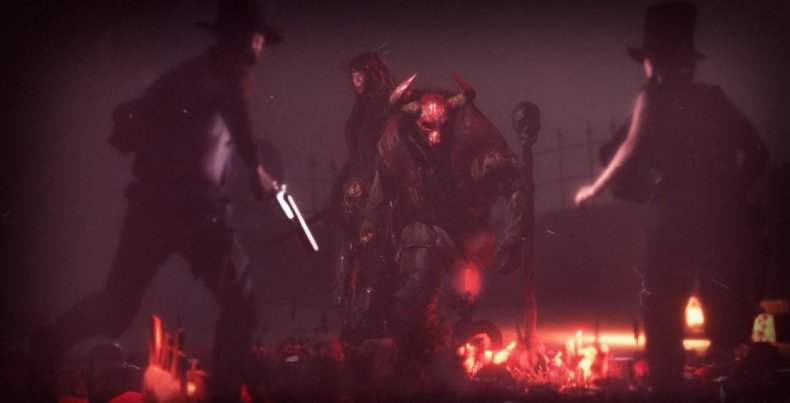 The in-game event time to Halloween comes paired with other horror accoutrements, including exclusive masks available to those trying out Specialist Roles for the first time. New Bounty Hunters will be able to pick up a Creature Mask variant, Traders, a Swine Mask and Collectors, a Masquerade Mask. Or, win a round of "Fear of the Dark" to pick up a Freak Mask variant. Exclusive masks and the Halloween-themed "Witch Hunt Collection" assigned by Madam Nazar will only be available through November 3.
The latest update to Red Dead Online is encouraging mayhem and violence in other ways too, with 30 percent off cleavers, machetes, tomahawks and throwing knives.
Other additions coming to Red Dead Online in the latest update are more in-line with non-Halloween offerings, including new Wheeler, Rawson & Co. Catalogue items, like the Tobacco Hat, Thacker Hat, Torrance Coat, Manstilla Poncho and Creswell Skirt. Rockstar Games also announced the latest Legendary Bounty: a corrupt politician named Tobin Winfield, last seen near Thieves' Landing.
The update represents a blood-soaked change of pace for Red Dead Online, but is hardly the Western series' first foray into the horror genre. For 2010's Red Dead Redemption, Rockstar Games released a zombie-themed DLC called Undead Nightmare. Players have also uncovered some horrific stuff in the Red Dead Redemption 2 single-player campaign, including cultists, ghosts, UFOs, vampires and ManBearPig.