'Red Dead Online' Update Includes New Gameplay Mode With Famous Outlaw Armor
Red Dead Online may still technically be in beta, but new updates are expanding on the multiplayer mode for Red Dead Redemption 2 in creative new ways, including a new in-game event coming to Free Roam in the new update, out now.
Red Dead Online Update - New Game Modes
The biggest addition to Red Dead Online in the new update is an in-game event called "Fool's Gold," available in Free Roam. During the Fool's Gold event, a suit of golden armor will spawn on the map. Only the player sporting the golden armor earns points for killing other players. Anyone who wants to win Fool's Gold will have to track down the bearer of the golden armor and kill them to capture the armor for themselves.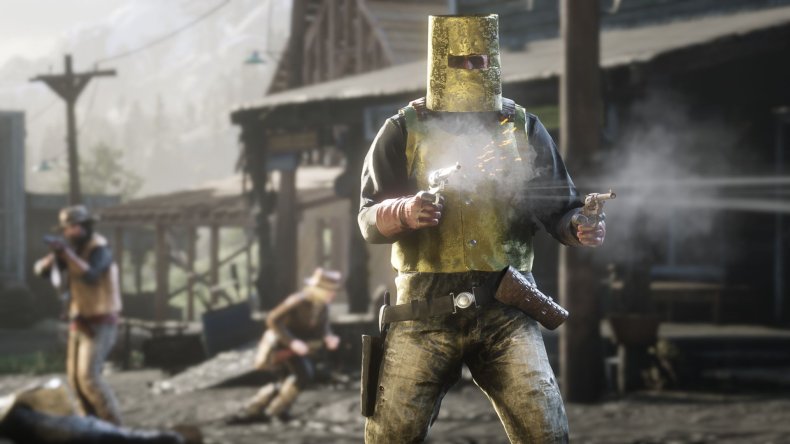 It can't be a coincidence that the golden armor looks exactly like the armor worn by the Australian outlaw Ned Kelly when he and his gang ambushed a police train in 1880. They designed their armor to stand up in a police shootout, but Ned ended up taking several bullet wounds to his exposed hands and legs. Though he survived the shootout in his homemade armor, Kelly was hung a few months after.
The armor—and a thinly veiled Kelly Gang—has already appeared in Red Dead Online, but now you'll have the chance to don a golden version for yourself.
You can also win gold nuggets and XP completing new Daily Challenges, which could be anything from skinning animals to winning feuds. After you've downloaded the update, the seven Daily Challenges can be found on the Player Menu. Complete all seven to earn a bonus.
That's not the only new game mode coming to Red Dead Online, including three new Showdown modes: Up in Smoke, Spoils of War and Plunder. According to Rockstar, the new Showdown modes include individual and team competitions to "capture and deliver bags, steal loot from each other and survive."
There's also a new type of racing, called Target Races, where players must shoot targets from horseback to clear checkpoints. This could be the toughest horseback archery challenge since Ocarina of Time.
The new update to the Red Dead Redemption 2 multiplayer mode will also add new competitive fishing challenges. After the update, multiple new types of Fishing Challenges will be available. Each challenge will provide specific rods, lures and bait specific to the type of challenge: crickets for river challenges, crayfish for swamps, etc.
New weapons coming to Red Dead Online in the update include the "high grade, high capacity" Evans Repeater rifle and the Rare Shotgun, a powerful double-barreled shotgun with "an artfully adorned stock." Both will be available at local Gunsmiths and in the Wheeler & Rawson Catalogue.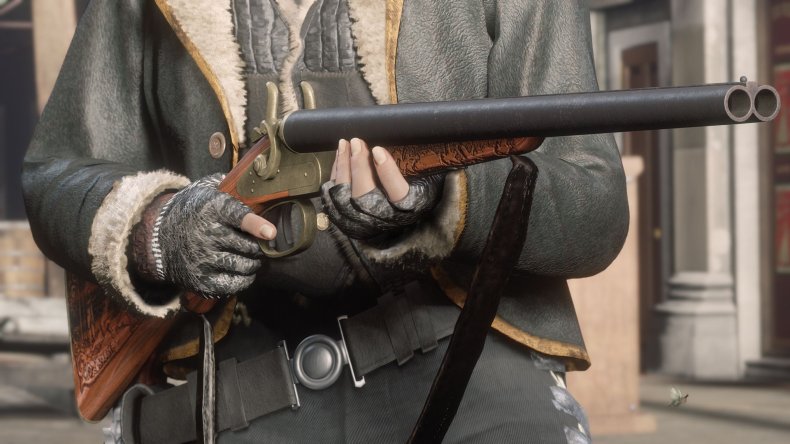 There's lots of other new stuff too, including clothes and emotes. New clothing includes a Diamondback Hat, the fur-trimmed Rutledge Vest, plus new Outfits, Jackets, Boots, Coats, Gloves, Hats and Vets. Rockstar is also promising unique special items that will pop up for a limited time in the catalogue.
Some of the Red Dead Online multiplayer update content will be exclusive to PS4 Early Access players, including Open Target Races, which are played on a wide open space, instead of a racing course. PS4 players will also get the Jawbone Knife early.
In addition to new content, the Read Dead Online beta update also makes gameplay improvements and fixes:
Players radar visibility is reduced over long distances in the update, to prevent getting targeted by roving murderers. Overly aggressive players will be highlighted with a darkening dot—the worse you behave, the more your map position will be revealed to others.
Feuds and Parley systems have been updated to make it easier to get into and out of deathmatches with rivals and their Posse.
An improved Law and Bounty system will send NPC Bounty Hunters after misbehaving players.
If you check out the new Red Dead Online update before March 5, you'll receive some complimentary gifts, either at your Camp's Lockbox or the Post Office:
2x Potent Snake Oil
2x Potent Bitters
2x Potent Miracle Tonic
2x Horse Reviver
2x Potent Horse Stimulant
8x Poison Arrows
10x Explosive Slug
The new update for Red Dead Redemption 2's multiplayer mode, Red Dead Online , is available now.