'Red Dead Online' Winter Update Offers Huge XP for Moonshining & Bounty Hunting Roles
Snowy weather is coming to Red Dead Online, heralding a holiday season update loaded with gifts. With in-game snowfall expected to begin Friday, here's what else you can look forward to when winter festivities come to Red Dead Redemption 2's online multiplayer mode.
Anyone who has played the Red Dead Redemption 2 campaign likely still shivers at the thought of anything like the blizzard conditions encountered early in the Story Mode, but the holiday update to Red Dead Online should be a little more cheerful than the deadly blizzard opening the single-player adventure. In addition to snow coating the ground, keep an ear open for piano players toasting the season with festive songs.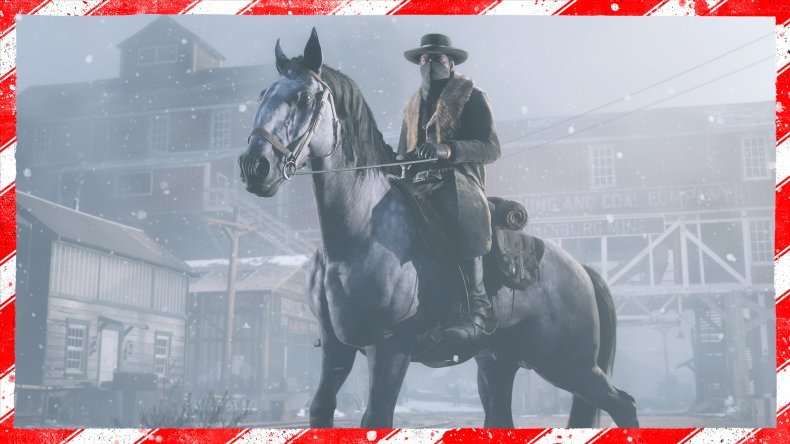 But more than a change in setting (snow will fall on all five states in Red Dead Online), the holiday update is chockablock with presents, discounts and other bonuses, most of which are accessible by logging into the game during certain time windows.
Players who log into Red Dead Online between December 23 and December 25 will receive a Gift Chest stuffed with a combination of firepower and feast goodies:
Krampus Double Barrel Shotgun variant
30 rounds of Incendiary Buckshot Ammo
100 Shotgun Slugs
10 Thyme Big Game
10 Minty Plump Birds
20 Carrots
20 Assorted Biscuits
50 Candies
10 Fine Brandies
10 Special Miracle Tonics
20 Volatile Fire Bottles
2x Creek Plums
2x Agarita
Players can also get 50 percent off a shotgun or coat purchase by checking for the discount offer under the Benefits section of the main menu.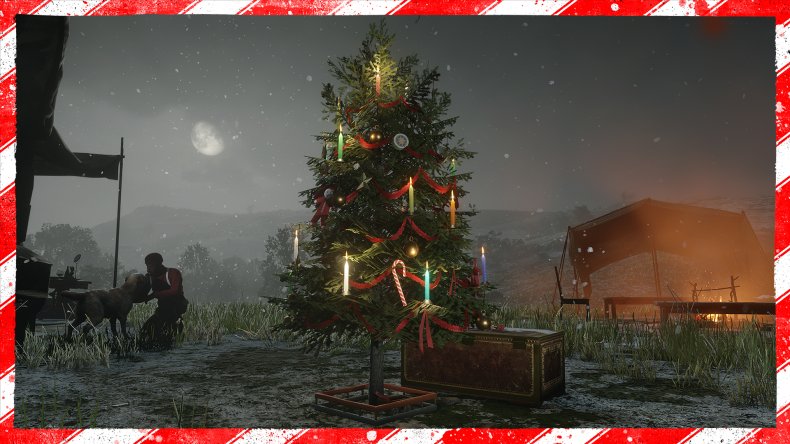 Anyone who logs in to Red Dead Online before January 6 is also eligible for the following offers, which will appear in the Benefits section:
3,000 Club XP
RDO$200 toward starting a new Role
Free Trader Resupply Reward
Free Weapon Component of your choice Reward
Treasure Map Reward
Free Moonshiner Mash Refill Reward
30 percent off one Stable slot Offer
You may have noticed many of the gift benefits coming to Red Dead Online focus on the Specialist Roles, including the newly introduced Moonshiner profession. Also on offer is a 1,000XP reward for each of these four Specialist Roles—Moonshiner, Bounty Hunter, Trader, Collector—for anyone who logs in to Red Dead Online between December 31 and January 6.
Other Red Dead Online discounts available through January 6 amount to five Gold Bars off the cost of the Butcher's Table and 25 percent discounts on the Medium Delivery Wagon, the Bounty Hunter Schofield Revolver variant and the Collector Lancaster Repeater variant.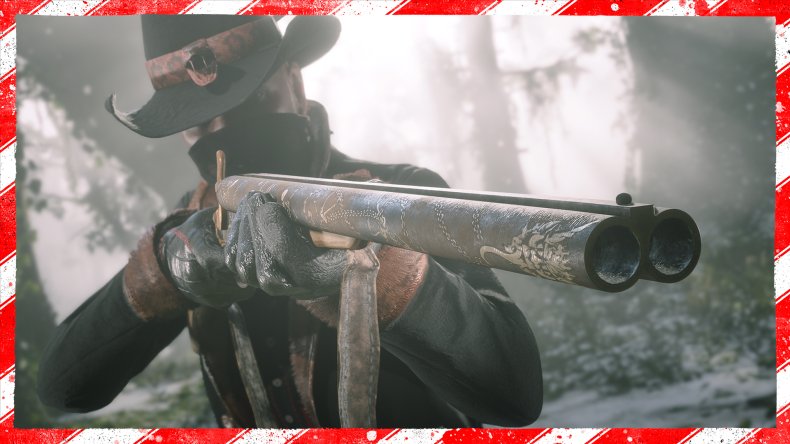 The holiday update also includes "snow-dusted" versions of multiplayer Showdown Modes, including Spoils of War, Up in Smoke and Overrun. Some are PlayStation 4 exclusives, including holiday variations on Gun Rush, Make it Count and Last stand. The multiplayer mode alternates will be available through January 6.
Altogether, the holiday update to Red Dead Online is more than just a Western winter wonderland, but also a great opportunity for anyone hoping to try out a new Frontier Pursuit.