'Red Dead Online' Update Adds Adler & Belle Missions, New Tomahawk - Patch Notes
Red Dead Online has been updated once more, and today's patch adds Black Belle and Adler Free Roam missions, as well as a few new Tomahawk types for PlayStation Plus users. Here's a recap of the patch notes, courtesy of a Rockstar Games blog post.
Red Dead Online Update May 21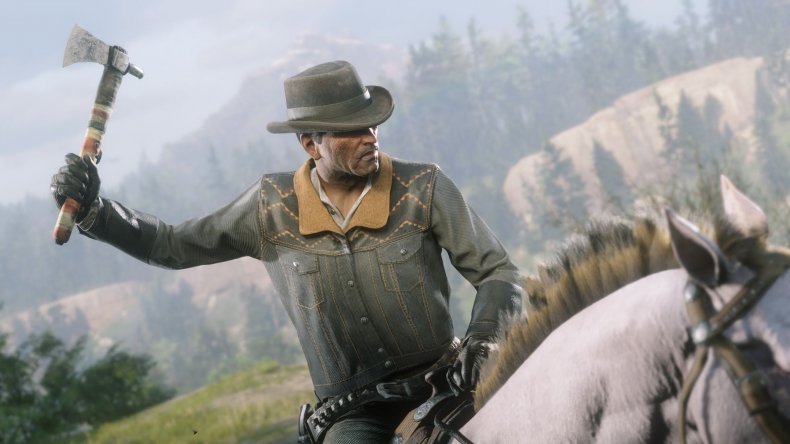 New Free Roam Missions: Get new missions from Jake Adler at Adler Ranch in Ambarino or take quests from Black Belle in Lemoyne.
PS Plus Content

Ancient Tomahawk
Make it Count Ancient Tomahawk Showdown Mode
Last Stand: A Showdown mode with no way out, no second chances and one victor.
Perlino Andalusian Horse plus additional accessories.

New Clothes : Wescott Skirt, Valdez Vest, Citadel Boots and limited stock of the Plaid Cap
Bonuses: Five gold bars when playing as a Posse this week.
Fixes

Stability and performance
Dupe glitch patches
Glitches with reduced animals
Defensive play style becomes Offensive and Hostile when stealing cargo from a player's horse.
While not quite as substantial as last week's update to Red Dead Online, the changes featured in the patch for May 21 are still worth a gander. New NPCs offer new tasks to complete, while the Free Roam payout bonuses from last week remain in effect. Stack those perks on top of the Posse bonus, and there's plenty of incentive to take a stroll through the map for a few short-term activities. The Ancient Tomahawk also looks like a sweet weapon for those who can afford it, but it won't offer any drastic changes to the overall gameplay experience.
For the most part, this update for Red Dead Online aims to resolve a few lingering issues while introducing just enough new content to keep longtime players hooked. This multiplayer suite still has its fair share of problems, even in its post-beta state, but Rockstar remains committed to keeping things fresh.
Red Dead Online is included with Red Dead Redemption 2 on PS4 and Xbox One.
What are your thoughts on the latest update for Red Dead Online? Will you be trying out the new Adler and Belle missions? Tell us in the comments section!