'Red Dead Redemption 2' Hatchet Now Available in 'GTA Online'
The second Red Dead Redemption 2 weapon has made its way to the modern world via GTA Online. First there was a golden double-action revolver, and now players can earn the stone hatchet melee weapon (along with a hefty sum of GTA$).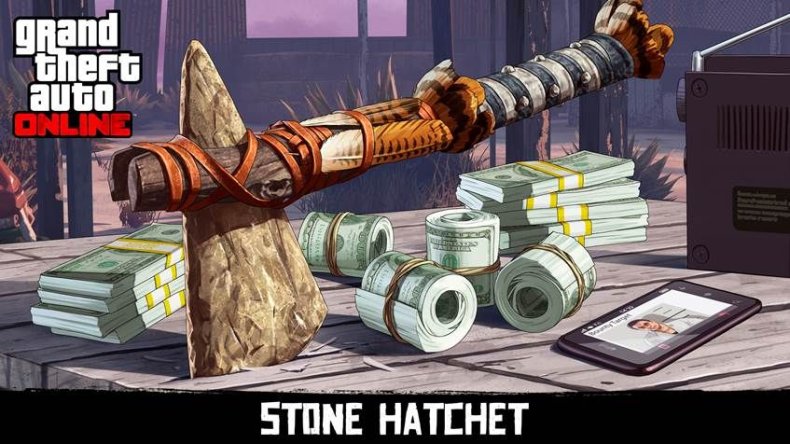 To unlock the stone hatchet, be sure to follow these steps:
Wait for a text from Maude Eccles, who has new bounties for you to capture, dead or alive
Complete these bounty missions to unlock the location of the stone hatchet
Find the stone hatchet in the marked treasure chest on the map to begin a kills challenge

You'll hear a tinkling chime when you're close to the chest

Complete the kills challenge with the hatchet to earn an extra GTA$250,000
The stone hatchet is only available for GTA Online players on Xbox One and PS4, as Rockstar hasn't mentioned if Red Dead Redemption 2 will make the jump to PC. Seeing as how the first Red Dead Redemption still isn't available on PC, I wouldn't hold my breath.
If you haven't unlocked it yet, the golden Red Dead Redemption 2 double-action revolver is still available in GTA Online as well. To unlock the revolver, follow these steps:
Log onto GTA Online and play until you are sent an in-game email. (This should take about five to 10 minutes.)
Check your email to get a picture of somewhere in Blaine County, along with a circled area appearing on your map.
Go to the area and find the specific location from the picture.
Look for a note posted somewhere in the area. The note will give you three more locations to check out.
Visit the three locations for new clues to the fifth, final location.
Go to the final location and claim the revolver.
The locations will differ in each game, but there are only 20 total locations used. The video above is an easy reference for all the possible locations, so check it out if you get stuck searching for a clue. There's also an audio prompt that grows louder the closer you are to the next clue.
Like the stone hatchet, uncovering the revolver also kickstarts a challenge. This one requires players to rack up 25 headshots in Freemode, which can be spread across other players and NPCs. Once you earn enough kills, you'll be rewarded with GTA$250,000.
So what do you think? Are you excited to unlock the stone hatchet in GTA Online? What other old-fashioned weapons would you like to see make an appearance in Los Santos? Let us know your thoughts in the comments.