'Red Dead Redemption 2' PS4 Pro Bundle Announced
Red Dead Redemption 2 is a console-exclusive game (as far as we know), which means gamers won't be able to play on PC and jack the graphics settings to the absolute max. So if you're looking to play Red Dead Redemption 2 in 4K, you're going to need a PS4 Pro or Xbox One X. If you don't have one, now's the perfect time to get one.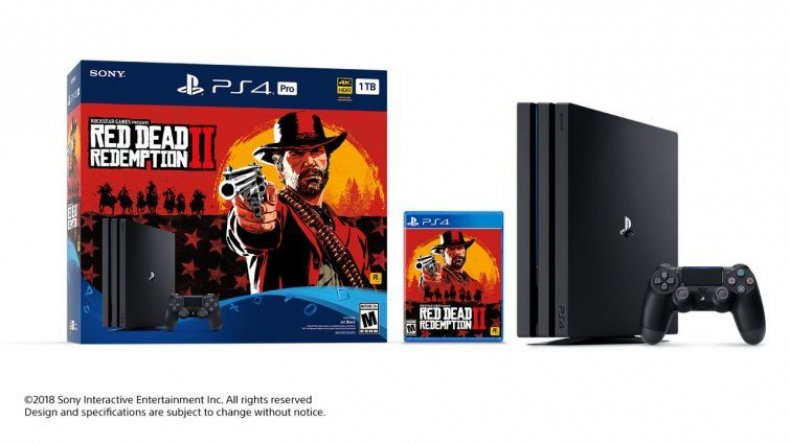 Sony has just revealed a Red Dead Redemption 2 PS4 Pro bundle. Unfortunately, this bundle doesn't include a special edition version of the console like that sweet, sweet Spider-Man PS4 Pro, but it's still a great deal for those looking to upgrade consoles.
The bundle includes a standard black 1TB PS4 Pro, a DualShock 4 controller and a copy of Red Dead Redemption 2. The bundle is $399.99, which is the price of a stand-alone PS4 Pro anyway. It's like you're getting Red Dead Redemption 2 for free! Pre-orders for the Red Dead Redemption 2 PS4 Pro bundle are now available at select retailers. The bundles will release alongside Red Dead Redemption 2 on Oct. 26.
Red Dead Redemption 2 will take full advantage of the PS4 Pro and Xbox One X hardware upgrades, including features like 4K graphics, HDR support and Supersampling. HDR support is also featured on standard PS4 consoles, as well as the Xbox One S. Of course, gamers will also need televisions that support 4K, HDR and other features to make the most out of the high-powered consoles.
No Red Dead Redemption 2 bundles have been announced for Xbox One consoles so far.
So what do you think? Are you interested in upgrading to a PS4 Pro? Does the addition of a free copy of Red Dead Redemption 2 make that decision easier? Let us know your thoughts in the comments section below.