'Red Dead Redemption 2' Online Update Adds Gun Rush Battle Royale - Patch Notes
Red Dead Redemption 2 's online mode just got a major update. The server-based patch, which requires no additional downloads on PS4 or Xbox One, adds the Gun Rush mode and makes significant tweaks to morality systems. The patch notes arrive courtesy of a blog post from Rockstar Games.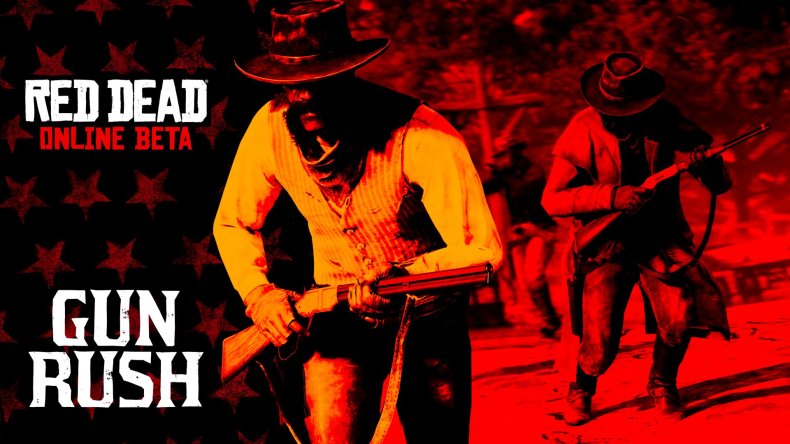 Gun Rush: Thirty-two players scavenge for weapons in a slowly shrinking play area. It's essentially an expanded version of the existing Make it Count mode with a full roster of weapons.
Daily Challenges: New challenges refresh every 24 hours with chances to accumulate currency.
Law and Bounty: Just like in the Red Dead Redemption 2 campaign, players will soon get bounties for practicing uncivilized behavior online. If you have a bounty on your head, hunters from surrounding areas can track you as you ride. Kill the hunters or pay off the debt at a post office.
Parley: The Parley system is easier to trigger if you want to play nice, and Feuds are easier to trigger if you'd like to play rough.
Player Locations: You'll no longer see the location of all players in each instance. Instead, you'll only see those close to you.
New Items for Xbox: The Red Chestnut Arabian Horse, Alligator Skin Ranch Cutter Saddle and High Roller Double-Action Revolver are available. These were previously PlayStation-exclusive items.
For the most part, these changes to Red Dead Online are designed to mitigate rampant griefing in Rockstar's highly-detailed open world. Those who commit crimes now have to face penalties, and harmful players can no longer see you from across the map. With these tweaks in mind, those who want to traverse the Wild West in peace only have to flee from a griefer to carry on with their business. Especially in its first few weeks, Red Dead Online quickly devolved into a lawless playground. However, as Rockstar continues to add other ways to have fun, it makes sense to start encouraging order.
Speaking of new activities, Rockstar also used the source post to detail a few features further down the pipeline. These include additional narrative missions, dynamic events, more modes and a wider selection of weapons and clothing. It'll be quite some time before Red Dead Online is as full-featured as its GTA brethren, but today's update goes a long way toward making the beta a more civilized experience for new and existing players.
Red Dead Redemption 2 is available on PS4 and Xbox One.
What are your thoughts on Red Dead Online after this most recent patch? Do you like the new Gun Rush mode? Tell us in the comments section!