'Red Dead Redemption 2' Update 1.03 Adds Online Beta & Fixes - Patch Notes
Red Dead Redemption 2 update 1.03 has just gone live on PS4 and Xbox One ahead of the game's Online Beta launch later today. While detailed patch notes aren't yet available, Rockstar has revealed that the 5GB update includes multiplayer content "plus a wide range of improvements and bug fixes for optimal performance."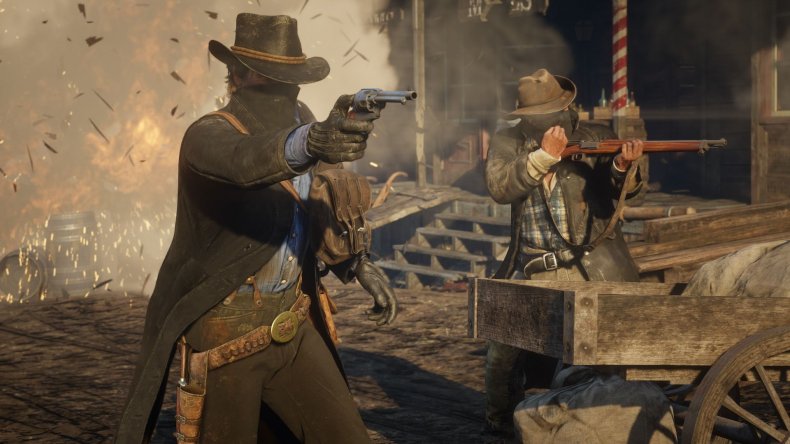 Despite a lack of specificity for single-player bug fixes at this time, the main feature of this patch is undoubtedly its included hooks for the Online Beta that begins at 8:30 a.m. EST for owners of the $99 Ultimate Edition. It will slowly begin rolling out to other players based on when they started playing and will be live for everyone by Friday, Nov. 30.
Beyond basic descriptions of seven-person posses teaming up in online missions and competitive modes, Rockstar has been almost entirely silent with regard to the concept of Red Dead Online. That being said, we expect it to share a basic feature set with its very successful predecessor, GTA Online. In addition to working together to complete various jobs as a posse, you'll also likely be placed in PvP shootouts, deathmatch modes and open-world shenanigans as you see fit. We'll have more detailed coverage of Red Dead Online once the servers are officially live.
It's also worth noting that Red Dead Redemption 2 update 1.03 is the game's first major update since it launched last month. Prior to now there were dozens of bugs that needed fixing including disappearing camp characters, floating objects in the open world and, of course, extremely frustrating horse AI. We imagine this large patch addresses some of those long standing problems.
Red Dead Redemption 2 is available now on PS4 and Xbox One.
What do you hope to see from the Red Dead Online Beta? Did you download update 1.03 yet? Tell us in the comments section!