'Red Dead Redemption 2' Update 1.15 Expands Story Mode, Adds New Single-Player Missions for Console Gamers
While there have been many changes to Red Dead Redemption 2 since the sprawling Western epic's initial release in October 2018, most of the updates and new content have come to the game's multiplayer mode, Red Dead Online. The latest RDR2 patch, version 1.15 for PlayStation 4, instead offers a relatively rare update to the game's story mode single-player campaign, expanding what players can get up to in the five fictitious states that serve as the game's setting.
The new story mode missions make a good argument for dipping back into the single-player Red Dead Redemption 2 campaign, especially for those who have played through the story's end and now have nothing to do other than roam around Blackwater before heading back to Beecher's Hope for yet another dinner with the family. New additions coming to RDR2 with update 1.15 include "Bounty Hunter Missions," new "Gang Hideouts," new "Treasure Maps" and a final story mode mission called "To the Ends of the Earth."
Red Dead Redemption 2 Update 1.15 New Story Mode Missions
All of the new content arriving in update 1.15 was added to the game when the PC version of Red Dead Redemption 2 came out in November, but this will be the first time console players will be able to access the new story mode missions.
New Bounty Hunter Missions include tracking down the following new bounties:
Herman Zizendorf—A German immigrant to Blackwater, Zizendorf has been stealing construction tools. His bounty can be picked up at the Blackwater Police Department.
Camille de Millemont—A Confederate zealot, the French de Millemont became a member of the Lemoyne Raiders. The Scarlett Meadows Sheriff's Office offers a $55 bounty on de Millemont.
Bart Cavanaugh—A member of the Laramie Gang, the $60 bounty on Cavanaugh is offered by the Strawberry Sheriff's Office.
New Gang Hideouts are also included in the 1.15 update, allowing you to take on the Del Lobos gang at Gaptooth Breach and Solomon's Folly.
In the new story mode mission "To The Ends of the Earth," which is available to players beginning in Chapter 2 of the campaign, a stranger found west of your Horseshoe Overlook camp (look for smoke) asks players to collect herbs for him.
Another new addition to the PS4 version of Red Dead Redemption 2 might inspire some players to pick the game back and try out some Edward Curtis and Ansel Adams snapshots: RDR2 now has a photo mode.
How to Use Red Dead Redemption 2 Photo Mode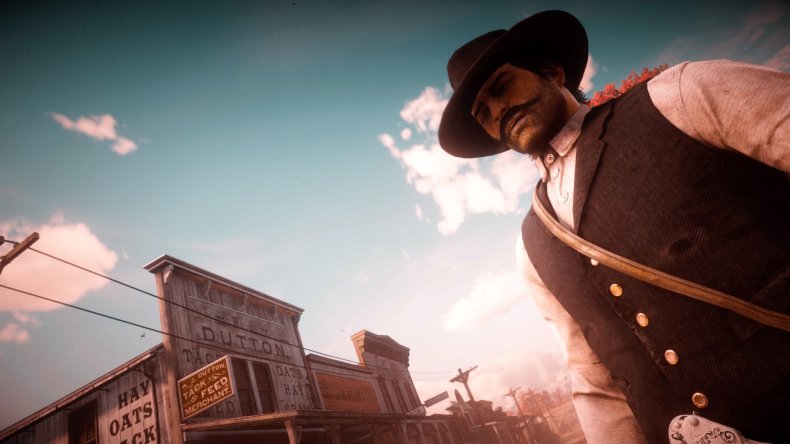 Accessing the new photo mode in Red Dead Redemption 2 is easy. To access, use the options button on your PlayStation 4 controller to pause the game, then press the touch pad button at the controller's center. Camera options will come up on-screen, allowing you to move the frame freely around your character. The photo mode also includes six virtual lenses, ranging from 16mm to 75mm focal lengths. You can also adjust the focus distance, blur, contrast and exposure, or add effects and filters to make your photo look like a tintype, daguerreotype, silver gelatin and other varieties of old-timey photo print.
Beyond the new photo mode and story mode missions, the 1.15 update to Red Dead Redemption 2 also adds a number of items previously only available in the PC version of the game. New weapons include the M1899 Pistol, Evans Repeater, High Roller Revolver and LeMat Revolver. There are also new horse breeds: Warped Brindle Arabian, Few Spot Appaloosa, Perlino Andalusian and Red Chestnut Arabian. Finally, the update adds new trinkets, including the Hawk Talon, Cat Eye, Shark Tooth, Turtle Shell and Crow Beak.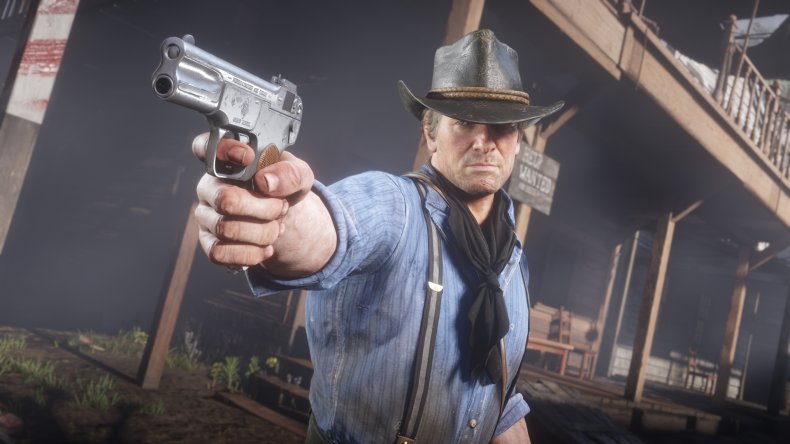 Red Dead Redemption 2 update 1.15 is available now for PS4 and will arrive on Xbox One January 21.