What's the Average Teacher Salary in Indiana? Educators Push for Better Pay at #RedForEd Rally
With average salaries as low as $36,000, teachers in Indiana rallied at the Statehouse on Tuesday for better wages in a collective movement dubbed the Red for Ed Day of Action.
"It's never a good time to close schools down," GlenEva Dunham, president of American Federation of Teachers Indiana, told northwest Indiana's The Times. "But how much can you take?"
Thousands of educators were expected to descend on the Statehouse in Indianapolis on Tuesday morning as legislators returned for the 2020 session. Several speakers were scheduled to rally attendees, who planned to march around the Statehouse grounds to call attention to needs within the education community.
Among those needs, according to the Indiana State Teachers Association (ITSA), was an investment from the state in teacher pay.
In January, the Indiana Education Employment Relations Board released a report detailing how teachers in the state were compensated for the 2017-2018 school year. The lowest base salary reported was $30,000, and the highest was $90,577. On average, teachers made between $36,355 and $67,923.
Since the 2015-2016 school year, the minimum salary teachers received in Indiana remained firm at $30,000, according to the report. There was a steady increase in the maximum salary since the 2015-2016 school year, going from $87,835 to $90,577. However, this compensation was lower than the maximum salary in the 2014-2015 school year, which the report listed as $99,750.
"We're hoping this brings attention to the issues and lets them know we're serious," Metropolitan School District of Boone Township Superintendent Nathan Kleefisch told The Times. "I hope they consider the impact of their decisions and how they impact schools."
Along with an investment in teachers' pay, the ISTA wants a new professional development requirement repealed and for schools and teachers to be free from negative consequences from state test scores.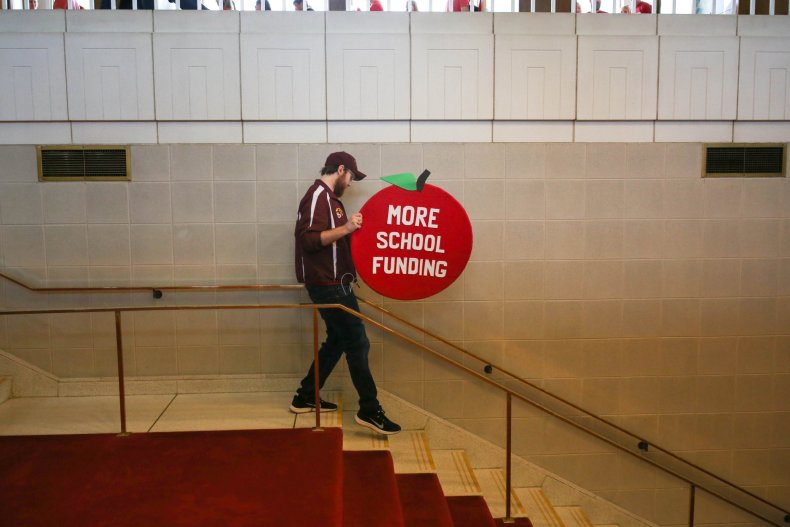 In the spring, educators administered the ILEARN exam, intended to measure college and career readiness, to all students from third grade to high school. The test replaced the ISTEP exam, which people found problematic in terms of the timeliness of the results and schools' ability to use them in instructional planning.
Given that it was the first time the exam was issued, Governor Eric Holcomb asked that teachers and not face consequences for poor test scores for one year. House Speaker Brian Bosma and Senate President Pro Tempore Rodric Bray supported Holcomb's request, and Bosma told The Indianapolis Star that low scores were expected and acknowledged schools needed time to adjust. For teachers and schools to be free from the consequences of the exam scores, legislators must pass a bill.
Expectations that scores would drop were borne out, and only 37 percent of students in grades three through eight were considered proficient in both English/language arts and math.
State Superintendent of Public Instruction Jennifer McCormick argued in a statement that the results weren't a "true reflection" of Indiana schools' performance. Keith Gambill, president of the state's largest teachers union, agreed and told the Star that students, teachers and communities were "more than just a test score."
"We should not rely on these scores to label our schools and communities with a letter grade or negatively impact teachers' evaluation and pay," Gambill said.
Public schools in Indiana are assigned a letter grade ranging from A to F, and standardized test results are one of three factors affecting a school's final grade. If a school's students consistently fail standardized exams, the state can intervene. Scores also affect teacher evaluations, and poor scores can negatively affect their pay.
Gambill, along with National Education Association Vice President Becky Pringle, will speak to Red for Ed Day of Action attendees on Tuesday morning. Following their remarks, educators will march around the statehouse grounds and then enter the building shortly after noon to hear member stories.
More than 100 Indiana districts canceled school for the day or offered online learning days. Based on registration numbers, the ISTA is expecting 15,000 people to attend.