Red Flag and Flash Flood Warnings Active for Midwest and South East—What is a Red Flag Warning?
Critical fire weather conditions and rising water levels are forewarned by the National Weather Service for the Midwest and South East today due to low humidity and high winds.
According to the latest warnings released by NWS, states such as Nebraska, Kansas and Iowa are under threat from favorable fire conditions this afternoon and this evening. Issued last night, the alert explained that western and north central Nebraska would be susceptible to dry conditions and stronger winds, leading to fire weather conditions in Sandhills, Valentine, Nebraska National Forest, the Loup Rivers Basin and the Loess Plains.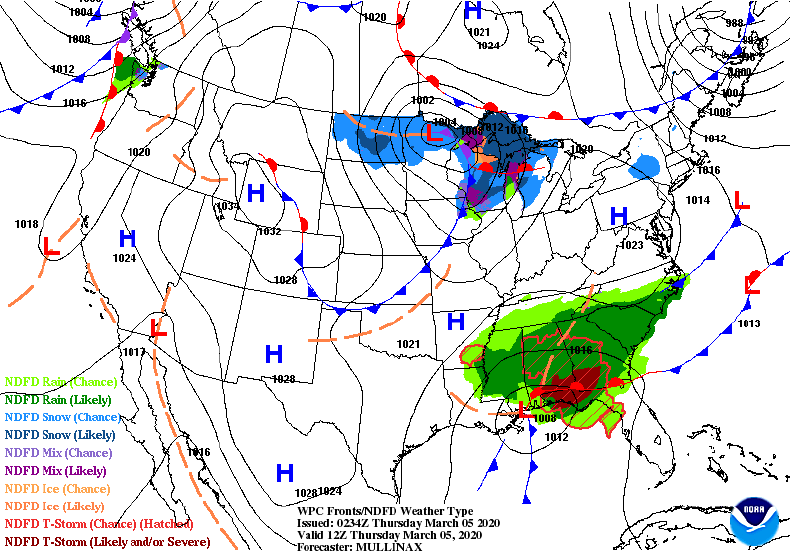 Wind speeds are forecast to reach 30 miles per hour with gusts up to 45 miles per hour. The relative humidity is as low as 17 percent.
The red flag warning for these areas remains in place until 7:00 p.m. CST today, with NWS warning that fires have a high potential to spread rapidly and may be difficult to control. Temperatures will be near 60 degrees Fahrenheit (F) in southeast Nebraska with the highest threat located along a line south from Seward to Nebraska City.
In Kansas, a red flag warning is in effect from midday today until 6:00 p.m. CST today for low relative humidity, extremely dry fuels and gusty winds. According to NWS, northwest winds will reach 25 miles per hour, with gusts up to 40 miles per hour, as well as humidity conditions ranging between 15 to 20 percent.
This warning is in place for Republic, Washington, Marshall, Nemaha, Brown, Cloud, Clay, Riley, Pottawatomie, Jackson, Jefferson, Ottawa, Geary, Wabaunsee, Shawnee and Douglas. The affected fire weather zones are:
008
009
010
011
012
020
021
022
023
024
026
034
036
038
039
040
What is a Red Flag Warning?
According to NWS, Red Flag Warnings are to alert fire managers on federal lands to conditions that are highly unfavorable for prescribed burns and that may lead to especially dangerous wildfire growth. These alerts are usually issued during spring and fall, especially in the fire weather seasons. These run from February 15 to April 30 and October 1 to December 15.
Fire conditions happen when there is a combination of strong winds, low relative humidity, and warm temperatures, contributing to "extreme fire behavior." When this happens outdoor burning is normally prohibited or not recommended.
Flash flooding and Flood Warnings for South East
A Flood Watch is in effect for the southeast of the U.S., affecting states such as Florida, Georgia, Alabama, South Carolina and more.
In Georgia and Alabama, flash flooding is possible through this evening, according to NWS, affecting areas such as Coffee, Dale, Henry, Geneva, Houston, Quitman and others.
Average rain amounts over the past 36 hours across this area have remained around 2-4 inches, with pockets of 4-6 inches across the northern tier of Georgia counties. NWS predicts that an additional one to 2 inches of rain is expected today, with isolated areas getting 3-4 inches.
A Flash Flood Watch means that conditions might develop that lead to flash flooding. Getting caught in flash flooding can lead to dangerous situations and residents in affected areas should monitor later forecasts and be prepared to take action.
Portions of northwest Florida and Mississippi are also currently under a flash flood watch until 6:00 a.m. this morning. Highway 84 is also affected, with 3-5 inches of rain already hitting the northern areas surrounding it. Additional rainfall up that way upwards of potentially 2-5 inches more is possible with perhaps a few locally higher amounts in a few areas, according to NWS.
Northeast Louisiana, including areas such as Catahoula, Concordia, Franklin, Madison and Tensas are also likely to see up to 4 inches of rainfall in a short time through the night.
Flooding could occur quickly in these places, especially in low-lying and poor drainage areas. Residents should be prepared for the possibility of widespread street flooding and flooded properties, especially in affected towns and cities. In addition, unpaved roads will become saturated or washed out, making travel hazardous. Many dirt and gravel roads have been closed or restricted by county officials, according to NWS.
For anyone traveling today in these areas, call 5-1-1 for the latest traffic updates.