California Lightning Strike Map As Red Flag Warning Issued Over Severe Thunderstorms
A red flag warning has been issued for several parts of northern California with the National Weather Service (NWS) predicting "abundant lightning" and wind speeds of up to 40mph.
The NWS bureau located in the San Francisco Bay Area in California released a red flag warning on Sunday afternoon for northern parts of the state, including areas of the East Bay hills, Diablo Range and the Santa Cruz Mountains.
The advisory is in place from Sunday afternoon through to Monday evening, with the agency warning of the potential for wildfires to be started by lightning, as parts of the state are experiencing a summer heatwave and drought that have caused multiple large blazes over the last two weeks.
"Recent hot and dry conditions have created very receptive vegetation to new lightning fires. New fire starts may combine with outflow winds to cause a fire to rapidly grow in size and intensity before first responders can contain them," the agency warned in the advisory.
Alongside the dry lightning, the NWS also warned of winds of up to 40mph and the potential for wet and dry thunderstorms through to Monday evening, with the agency predicting that the storms will become wetter as the day progresses.
A lightning strike map provided by the National Oceanic and Atmospheric Administration on Monday morning showed that lightning had already struck parts of Northern California including the city of Lancaster, as the storm made its way towards the San Francisco Bay Area.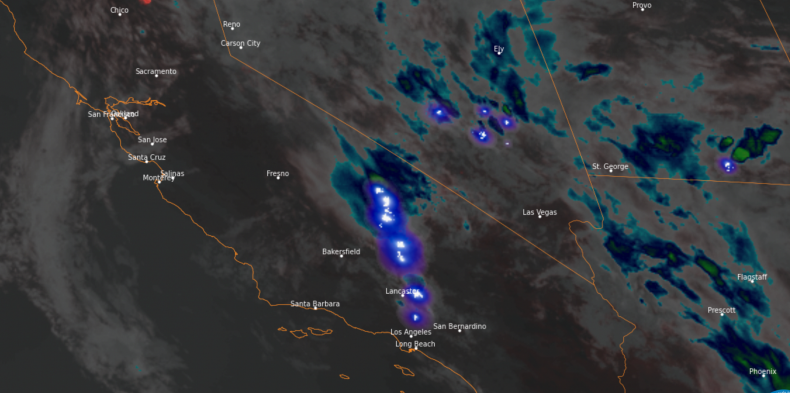 In a tweet on Sunday afternoon, Cal Fire CZU ( San Mateo-Santa Cruz Unit) said that it was prepared with extra crews for potential fires started by the lightning, including 16 engines, four battalion chiefs, one safety officer, two dozers and three crews.
The NWS urged residents and visitors to take precautions, writing: "Avoid outdoor activities that can cause a spark near dry vegetation, such as yard work, target shooting, or campfires. Follow local fire restrictions."
The California Fire Department explains that a red flag warning is issued for "weather events which may result in extreme fire behavior that will occur within 24 hours.
"A Fire Weather Watch is issued when weather conditions could exist in the next 12-72 hours. A Red Flag Warning is the highest alert. During these times extreme caution is urged by all residents, because a simple spark can cause a major wildfire."
The Santa Lucia Mountains and San Benito County, located less than a three-hour drive from San Francisco, have also been put under a red flag warning until Monday 5:00 p.m., which SFGate reported was upgraded from an earlier fire weather watch.
California, alongside several other West Coast states, has been badly affected by wildfires over the past two weeks, as nine blazes are still currently active in the state that have burned through 171,817 acres at time of writing, according to the National Interagency Fire Center.
The largest of the state's wildfires currently burning is the Beckwourth Complex Fire, which has so far destroyed 105,348 acres while being 73 percent contained.
Although California has been badly affected over the past two weeks, a majority of the fires have been recorded in Idaho and Montana, with the former currently battling 17 blazes and the latter still tackling 18 wildfires.
Across the United States, more acres have burned this year compared to this point in 2019 and 2020. The country recorded 34,941 fires with 2,509,231 acres affected from January 1 to July 18, 2021, according to the National Interagency Fire Center.
That compares to 28,685 fires and 1,800,389 acres for this period in 2020, and 23,378 fires and 2,371,397 acres in 2019.