Red Lobster Now Has a 3-Course Shrimp Feast Meal Deal With New Menu Items for $14.99
Red Lobster has launched a new three-course shrimp feast deal for $14.99, which will be available all day, every day. The deal also includes entrées new to the menu, such as Hawaiian-Style Garlic Shrimp and Parrot Isle Jumbo Coconut Shrimp, as well as Red Lobster staple dishes such as Garlic Shrimp Scampi and Crunchy Popcorn Shrimp.
Red Lobster guests will get to choose between soup or salad, pick one from a selection of seven entrées and then enjoy a Triple-Chocolate Brownie for dessert. Guests will also receive unlimited Cheddar Bay Biscuits with their meals.
Red Lobster's three-course shrimp feast for $14.99
First Course (Soup or Salad): Garden Salad, Caesar Salad, Coleslaw, New England Clam Chowder, and a variety of regional soup favorites
Second Course (Entrée): NEW! Hawaiian-Style Garlic Shrimp, Shrimp Linguini Alfredo, Parrot Isle Jumbo Coconut Shrimp, Garlic Shrimp Scampi, Wood-Grilled Shrimp, Crunchy Popcorn Shrimp, Wood-Grilled Tilapia, Cajun Chicken Linguini Alfredo
Third Course Course (Dessert): Triple-Chocolate Brownie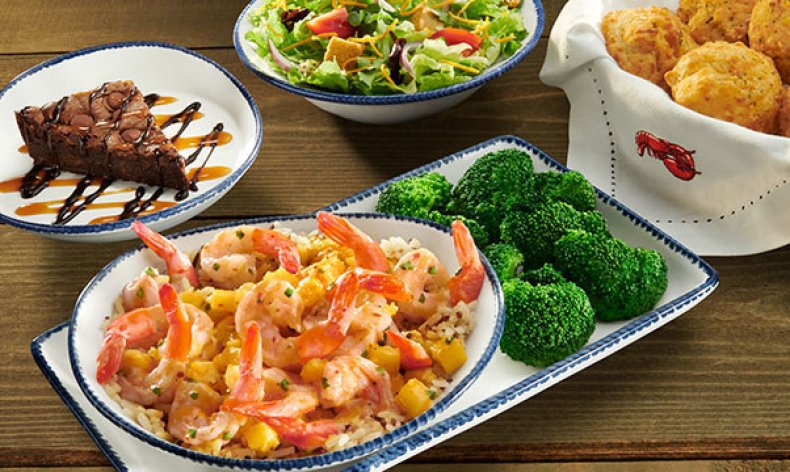 Chef Dustin Hilinski, Executive Chef and Director of Culinary at Red Lobster, said in a statement: "We are kick-starting the new year by offering our guests a three-course meal at a great value. Whether our guests are craving wood-grilled shrimp, crunchy fried shrimp or shrimp sautéed in garlic, there is something to satisfy any appetite.
"While it may be winter outside, we're introducing a new shrimp dish with a tropical twist to get our guests dreaming of warmer weather, like a Hawaiian vacation, with the new Hawaiian-Style Garlic Shrimp featuring roasted shrimp tossed with garlic and creamy coconut butter and fresh pineapple."
The deal is valid across the U.S. but please note that prices will be higher in Times Square and Hawaii. Additionally, guests can also order the Red Lobster three-course shrimp feast deal for takeout, which comes with two Cheddar Bay Biscuits per meal.
In November, Red Lobster introduced a Create Your Own Ultimate Feast option, available for a limited time. Guests can mix and match 10 seafood dishes, including one lobster item, one seafood favorite and two shrimp classics, and including entrées like Butter-Poached Maine Lobster Meat and Crab-Stuffed Shrimp Rangoon.
The Create Your Own Ultimate Feast is still currently available in Red Lobster restaurants and to order for take out.
There are more than 700 Red Lobster restaurants across the U.S. and Canada. You can find your local restaurant on the Red Lobster website.