Former President Donald Trump has continually said the 2020 election was "stolen" and "rigged," pointing to places where he had an early lead only to fall behind later as evidence but a former Fox News employee says this is commonly known as the "Red Mirage."
On Monday, the House committee investigating the January 6, 2021, attack on the United States Capitol held its second televised hearing. During the Monday morning hearing, Chris Stirewalt, former Fox News political editor, testified before the committee and talked about the 2020 presidential election and some of what went into the networks' calls.
During his testimony in front of the committee, Stirewalt was asked by California Democratic Representative Zoe Lofgren to explain the "so-called Red Mirage."
Stirewalt stated how the votes are counted on Election Day and how that system can dramatically change numbers from the early to the later stages as a state processes those votes.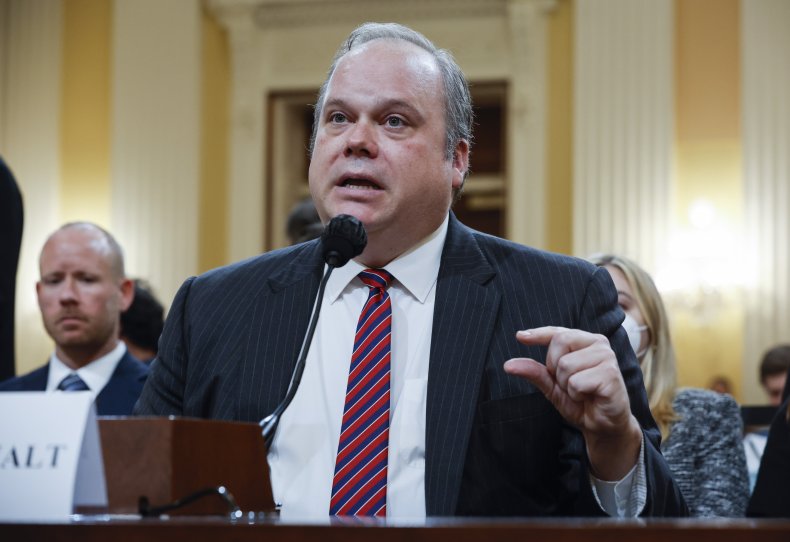 "In the 40 or 50 years, let's say, that Americans have increasingly chosen to vote by mail or early or absentee, Democrats prefer that method of voting more than Republicans do. So basically in every election, Republicans win Election Day and Democrats win the early vote. And then you wait and start counting, and it depends on which ones you count first but usually, it's Election Day votes that get counted first and you see the Republican shoot ahead and then the process of bailing and binding and unbinding all those mail-in votes," he said.
He also went on to add that how this takes place in every single election, especially a national election.
"Some states like Pennsylvania, refused to count the votes first, so you have to wait for all of that to come in. So, in every election, certainly a national election, you expect to see the Republican with a lead but it's not really a lead," he added.
Stirewalt also indicated that given the amount of people who had voted early due to the pandemic and because of signals coming from the Trump campaign and Trump, it affected what and how often Fox News mentioned the effect of the Red Mirage on vote totals.
"We had gone to pains and, I'm proud of the pains we went to, to make sure that we were informing viewers that this was going to happen because the Trump campaign and the president had made it clear that they were going to try to exploit this anomaly, " he said.
"And we knew it was going to be bigger because the percentage of early votes was higher, right? We went from about 45 percent of the votes to be early and absentee because of the pandemic that increased by about 50 percent. So we knew it would be longer, we knew it would be more. So we wanted to keep telling viewers, 'Hey look, the number you see here is sort of irrelevant because it's only a small percentage of these votes.'"
Newsweek reached out to a representative for Trump for comment.