'Red Notice' on Netflix: Are Cleopatra's Eggs a Real Thing?
Red Notice tells the story of an art heist, and every good heist movie needs something good to steal. In the Netflix movie, that something is Cleopatra's three eggs.
"Though many know the tragic love story of Antony and Cleopatra..." the film begins, "few know the story of the most sought-after prize and unsolved puzzle of their time." A narrator them claims that the Roman general Mark Antony gave the Egyptian pharaoh three bejeweled eggs on their wedding night.
Per the film, two of these eggs were discovered in Cairo, Egypt in 1907. Much of the Dwayne Johnson and Ryan Reynolds movie sees them trying to find the third egg, and to keep it out of the hands of art thief The Bishop (Gal Gadot).
The introduction of the film gives us plenty of what looks like archive footage, and is narrated in finest History Channel style. So this, of course, has left Netflix subscribers wondering whether these priceless antiquities are real.
Are Cleopatra's eggs from Red Notice real?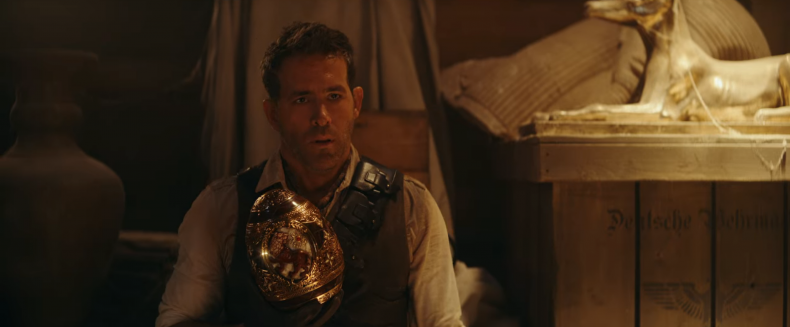 Sorry, The Rock fans: Not only is Cleopatra's third egg not real, but neither are the other two.
Do not worry about being fooled, though—per Red Notice producer Hiram Garcia, every time the idea for the movie was pitched, people thought it was real history too.
Garcia told The Wrap: "At the end of the pitch the same thing always came up which was, 'I had no idea about the whole Cleopatra thing,' and with great comedic timing he [director Rawson Marshall Thurber] always said, 'Oh I just made all that up.' It has such a well-conceived backstory that you wish they were real, but no they were totally made up. It's a very fun idea he had come up with."
Cleopatra's eggs seem to be a version of the opulently decorated Fabergé eggs created in Europe between 1885 and 1917, but with an ancient history gloss to make them feel more epic and exciting.
Though the start of the film makes the eggs seem like a real thing, there is no real attempt within the film to make the eggs look ancient Egyptian in style at all, which should have been the first clue that they were not real.
While Cleopatra and Antony may not have exchanged eggs, they were fans of lavish gift-giving. A recent National Geographic piece details the lavish feast Cleopatra had prepared for their first meeting. The piece describes a banqueting hall covered in gold and precious gems where Cleopatra provided expensive couches for Antony's men, only to then give them those chairs as gifts. But having The Rock and Ryan Reynolds try and steal an old chair would probably not work as well for the movie.
Other gifts may have been too hard for even Nolan Booth (Reynolds) and The Bishop to steal. For example, he once gifted her a massive chunk of Mediterranean coastline in what is now Turkey—hard to put that in a getaway car.
Red Notice is streaming now on Netflix.