Red Sox Outfielder Mookie Betts Wins AL MVP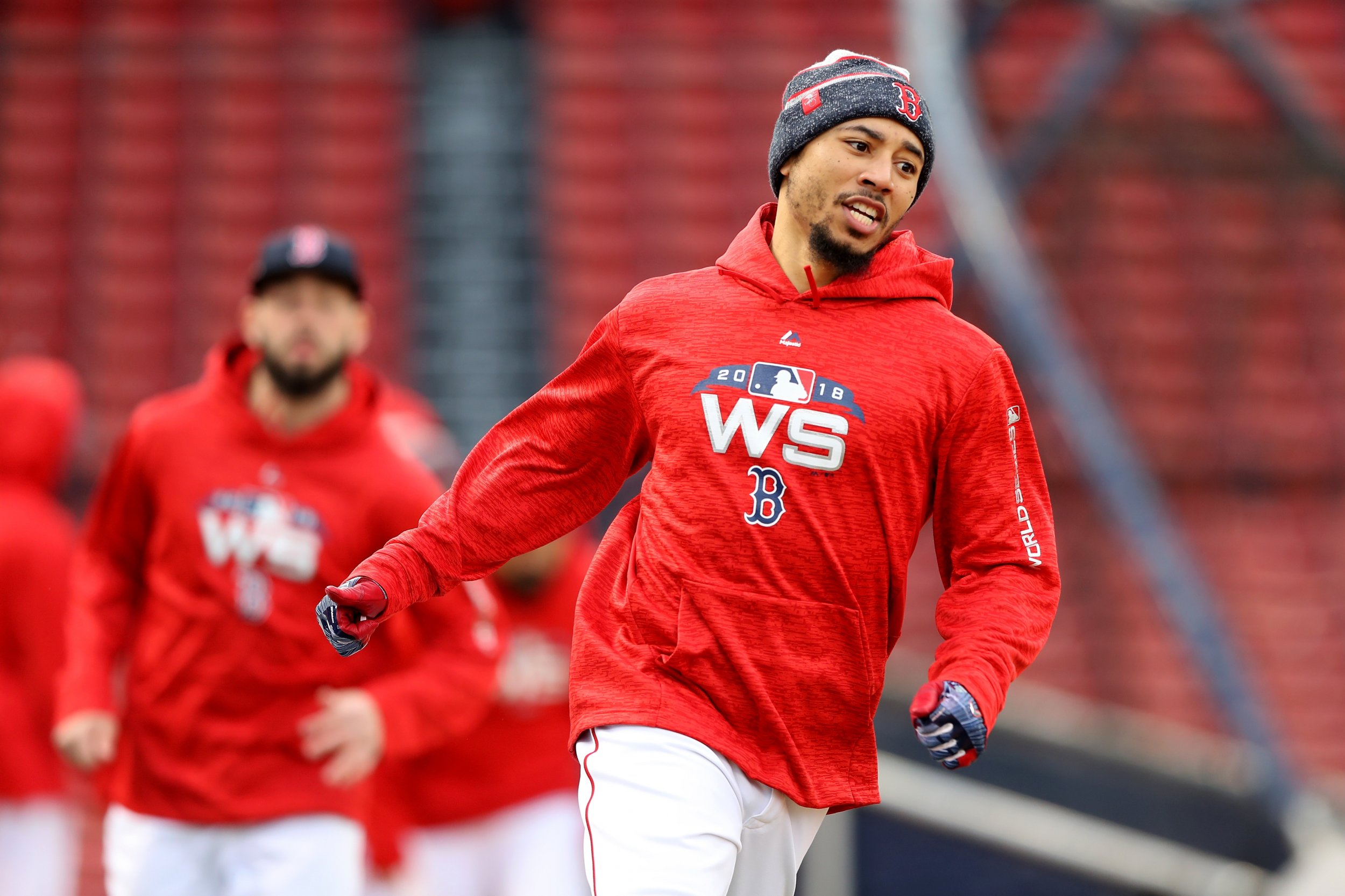 Boston Red Sox outfielder was named the 2018 American League Most Valuable Player on Thursday.
Betts defeated Mike Trout of the Los Angeles Angels and Jose Ramirez of the Cleveland Indians, receiving 28 of 30 first-place votes (410 votes in total), with the two other votes split between Trout and Ramirez.
Betts, who finished second for the AL MVP award two seasons ago, had a career season, hitting for a .346 average with 32 home runs and 30 stolen bases. He also won a Gold Glove in right field, led the majors in slugging percentage, the American League in extra-base hits and tied for the MLB lead with 129 runs scored.
"Yeah, it's been a pretty good 2018," Betts said on MLB Network.
Betts is the first Red Sox player to win the award since Dustin Pedroia in 2008. The 26-year-old outfielder was a key contributor to Boston's 17-2 start, as well as its MLB best 108-54 regular season record and World Series championship.
The Nashville native began his season by hitting .359 with 17 home runs and a .750 slugging percentage through May 26 before missing two weeks due to an abdominal strain. Betts appeared in only 136 games, which was the fewest by an MVP winner since Josh Hamilton played 133 in 2010.
Betts was also particularly great against the Red Sox's biggest rival, the New York Yankees, in 2018. The outfielder hit .415/.506/.738 with 22 runs in 17 games against New York, which included a stellar performance in the American League Division series.
Betts is the 11th Red Sox player to win the MVP award, joining Tris Speaker (1912), Jimmie Foxx (1938), Ted Williams (1946, 1949), Jackie Jensen (1958), Carl Yastrzemski (1967), Fred Lynn (1975), Jim Rice (1978), Roger Clemens (1986), Mo Vaughn (1995) and Pedroia.
He is also the last Boston player to lead the majors in both batting average and slugging percentage since Ted Williams in 1957, as well scoring the most runs by a Red Sox player since Dom DiMaggio in 1950.
Teammate J.D. Martinez finished fourth in the MVP voting, receiving one first-place vote from Dave Campbell of The Associate Press. Martinez finished with a .330 average, 43 home runs and 130 RBIs, as well as a 6.4 WAR.
The Red Sox defeated the Los Angeles Dodgers, 5-1, in Game 5 at Dodger Stadium last month.