Red Sox Star Mookie Betts Feeds Boston's Homeless After World Series Game 2
Mookie Betts' performances this season will in all likelihood see him land the title of American League MVP but the Boston Red Sox outfielder has now shown his class away from the ballpark too.
Soon after his team took a 2-0 lead in the World Series on Wednesday night, Betts reportedly provided food to Boston's homeless outside the city's public library. With temperatures plunging into the 30s overnight as winter approaches, conditions for those living on the streets were even harder than usual and receiving hot food would have provided some much-needed comfort.
Betts did not seek publicity for his selfless act, which only came to light after former Red Sox infielder Lou Merloni shared a photo on Twitter on Thursday night.
"Little birdie told me an amazing story," Merloni, who hosts a show on Boston sports radio WEEI, tweeted.
"This was the scene last night around 1am out in front of the Boston Library. Trays and trays of food fed the homeless. The man that delivered the food wasn't looking for attention or praise BUT deserves it. God Bless you Mookie Betts."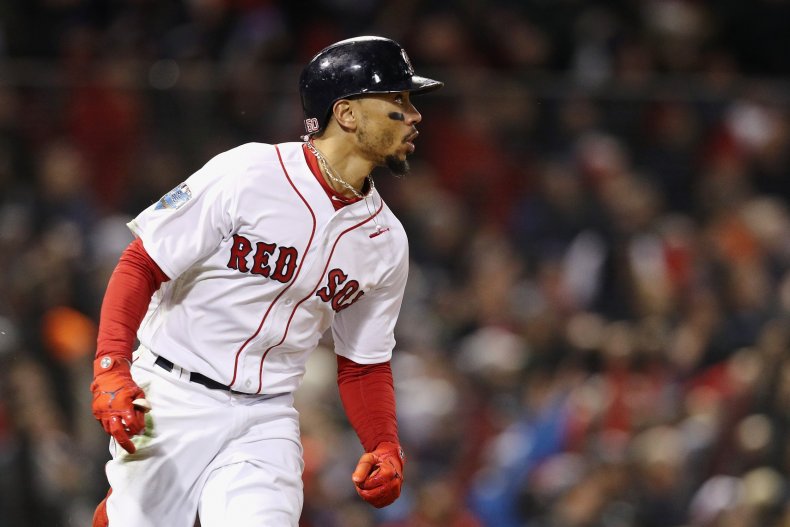 An annual survey released by the City of Boston in May showed homelessness in the city fell about three percent between January 2017 and the corresponding month this year to 6,146, while the number of people using an emergency shelter grew by 1 percent.
The number of single adults sleeping on the streets was 12 percent lower than a year ago and no families were reported as sleeping on the streets or in shelters on the night of the census, which took place on January 31.
Betts is not new to this kind of gesture and three years ago he and Red Sox catcher Blake Swihart gave pizza to a homeless man in New York City.
''Me and Blake, yesterday, we got to eat, and had (a piece of pizza) left and he said the night before, he had given it to a homeless guy and he hit two home runs,'' Betts told NESN at the time, suggesting the act had played a part in him scoring two home runs in the subsequent game against the Yankees.
''So, I had a pizza. So, I gave it to a homeless guy and hit two home runs, so maybe, pass it on to the next person.''
The Red Sox take on the Los Angeles Dodgers in Game 3 of the World Series on Friday night in Los Angeles, with Game 4 scheduled for Saturday.