A Red State in Recent Elections, Missouri Embraces More Progressive Role in 2020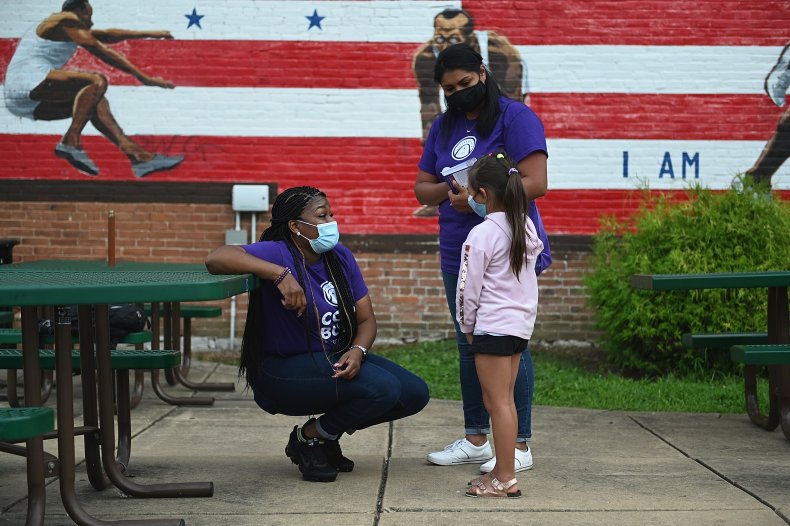 After growing increasingly conservative in recent years, Missouri—a longtime presidential bellwether—this week voted to embrace Obamacare and crown what's likely to be the newest member of the liberal-leaning "Squad" in Congress.
Both outcomes are viewed as significant signals toward the political landscape of the Midwest and have some questioning what it will mean for November elections, as President Donald Trump seeks a second term and Republicans and Democrats battle for control of the U.S. House and Senate.
"In recent years, it's gone from being a bellwether state to a pretty solidly red state, (but) Missouri has this odd political mix where people embrace populist policy but like mostly conservative candidates," Randy Hagerty, the chair of political science at Truman State University in Missouri, told Newsweek.
Until about a decade ago, Missouri was viewed as a key indicator of political trends, having voted for the winner in all but one presidential election from 1904 to 2004.
Beginning with Barack Obama's election in 2008, the state shifted to a conservative stronghold and has voted Republican in presidential races since.
Polls of Missouri voters tracked by FiveThirtyEight's analysts still show Trump leading Democratic rival Joe Biden, but his edge has narrowed since the start of the year. A June poll conducted by the Garin-Hart-Yang Research Group for a Democratic gubernatorial candidate even suggested Biden has a small lead.
The polls suggest Trump's support in the deeply red state has softened during his first term in office. In 2016, he won 56.4 percent of the Missouri vote to Hillary Clinton's 37.9 percent.
"Things change all the time, but do I seriously expect Biden to carry Missouri? No. Not really," Hagerty said.
The GOP has supermajorities in both chambers of the Missouri Legislature and holds all but one statewide elected office. Both of the states' U.S. senators are staunch Republicans, and Democrats represent just two U.S. House districts—both of which are drawn to be majority Black districts.
Missouri sent deeply conservative Josh Hawley to the Senate two years ago—ousting moderate Democrat Claire McCaskill, and the state has embraced laws that restrict abortion, bolster gun ownership and touch on other key conservative firebrand issues.
But that same state will likely be represented by a new progressive candidate in its 1st Congressional District, instead of the 20-year incumbent who is part of a Democratic political dynasty. Missouri voters also rejected a decade of Republican rhetoric against Obamacare and voted to expand Medicaid, giving government-funded health insurance to an estimated 200,000 low-income residents, after resisting one of the more popular parts of the Affordable Care Act for the past decade. None of Missouri's GOP leaders endorsed the Medicaid ballot measure.
"It's big," Jake Haselswerdt, a public policy professor at the University of Missouri, told Newsweek. "It represents a huge policy change for the state."
It also represents a larger trend of Missouri voters embracing more liberal policies when they appear directly on a ballot, he said. Previously, voters have rejected a "right to work" initiative that sought to cripple the state's unions and approved a non-partisan panel for drawing the state's legislative districts, despite opposition from some conservatives.
"Progressive activists in Missouri have really figured out how to use the ballot initiative process to their advantage," Haselswerdt said. "One way to look at it is that voters may be more receptive to policy proposals that are put forth by Democrats than they are voting for Democrats."
The Bernie Sanders and Justice Democrats-backed Democratic nominee for the St. Louis-based 1st District, Cori Bush, 44, has been described as likely being a major force in the next wave of "The Squad"—the Democratic cohort of women in the House who represent the chamber's younger, more progressive streak.
A Black Lives Matter activist, Bush defeated 10-term Congressman Lacy Clay, whose father previously held the same seat, in Tuesday's primary. A nurse, Bush has spoken frequently about her experience struggling with homelessness, student debt, sexual assault and as a single mom—traits she says have helped her connect with voters.
"That's what drives me to be able to want to carry on and make change," Bush told Newsweek. "It's every wound from those things—all of that helped give me the extra push to carry on and be here where I am today."
Bush faces a Republican and Libertarian in the November general election, but the district is deeply Democratic, so she's viewed as a lock for heading to Washington, D.C. in January.
If elected, she will be the first Black woman to represent Missouri in the U.S. House.
Bush was most known for being involved in the Black Lives Matter movement after police killed 18-year-old Michael Brown in Ferguson, Missouri six years ago. She ran against Clay two years ago and lost. This year, she bested him 48.6 percent to 45.5 percent.
"The voters here are ready for change," Bush said. "We don't just have to have something because it's what we're used to."
She said her priorities will be advocating for Medicare for All, to give government health care to everyone, and demilitarization of the police. She also supports coronavirus relief programs, such as a universal basic income system and rent moratorium.
"I don't mind being that leader who steps out front when something is unpopular," she said. "If you keep the message strong and your heart is in it, people will grab hold and you will see change."
Bush said she thinks voters in more rural areas of the state still embrace Trump and don't necessarily understand activism for race relations and other progressive issues. But she said she sees votes on issues like Medicaid expansion as a signal of the state's more progressive leanings.
"For last few years, we've been seeing Missouri voting progressive values, just not progressive candidates," Bush said.