'Red Sweater Guy' Ken Bone from 2016 Town Hall Says Watching This Year's Debates is 'Like Watching Your House Burn Down'
It has been almost four years to the day since Ken Bone became one of the most famous uncommitted voters of the 2016 election cycle by asking the presidential candidates about their energy policies during the second presidential debate. According to Bone, he's experiencing similar feelings of uncertainty heading into the 2020 presidential election.
"To be perfectly honest, I'd say I'm uncommitted again," Bone told Newsweek. "Very, very few people in either of these election cycles were truly undecided. They're uncommitted, which means that you don't really have a positive opinion of either candidate."
Bone became an overnight celebrity known as "Red Sweater Guy" after asking former Secretary of State Hillary Clinton and then-presidential candidate Donald Trump about their energy policies during an October 9, 2016, debate at Washington University in St. Louis, Missouri. Bone was one of a handful of undecided or uncommitted voters from the St. Louis area that Gallup researchers picked to ask questions at the town hall-style debate.
"What steps will your energy policy take to meet our energy needs while at the same time remaining environmentally friendly and minimizing job loss for fossil power plant workers?" Bone asked, a question that delivered fame overnight with help from the bright red sweater he wore at the debate. According to Bone, he later traded that sweater back to Izod, the company that made it, after Izod offered to make a donation to a St. Louis-based charity in exchange for Bone allowing the sweater to live at its company headquarters.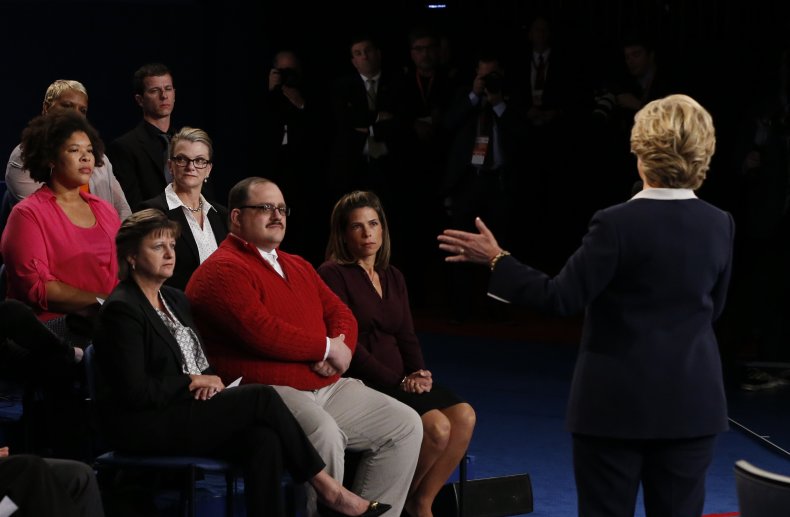 Though his time in the spotlight was short-lived due to posts later found tied to his Reddit profile that included controversial comments about leaked nude photos of actress Jennifer Lawrence, pregnant women and the fatal shooting of Trayvon Martin, he enjoyed a brief stint as an "American hero" before the backlash began.
Looking back on that 2016 election, Bone said he was surprised that Trump won, as many Americans were at the time. He described Trump's time in office thus far as "hit and miss with a lot more misses than hits" and added, "What Trump is really a master at is manipulating people via the media."
"It's crazy how he gets us all to pay attention to what's in his right hand while he's doing his sleight of hand with the other," Bone said.
Bone publicly said earlier this year that he was endorsing Andrew Yang during the Democratic primaries.
"You guys know I don't endorse candidates. Except for when I do," Bone wrote on Twitter in early February. "I'm fully onboard, #YangGang all the way!" Bone told Newsweek that Yang's campaign appealed to him because it was forward-thinking, a quality that Bone said he felt the other candidates were lacking in comparison.
With less than two months to go before the election in mid-September, Bone said on Twitter that he had endorsed Yang "because I believe in him" and added, "Trump and Biden both suck and don't deserve any support. Why should I declare my allegiance to a candidate who doesn't give a shit about me two months before the election?"
The first presidential debate didn't improve his opinions of either candidate, Bone said. "I think that we kind of got what we expected. In a way, we almost got what we deserved, because we've all played our part in raising the temperature of political discourse," Bone said. "It leads to a couple of people who are probably older than your grandparents, yelling at each other and telling each other to shut up, and talking over each other like drunk relatives at Thanksgiving. It was insanity."
Bone said that he thought Biden performed better overall during the first debate and appreciated Biden's decision to not bring Trump's family into the discussion after Trump attacked his son, Hunter Biden. "I didn't have a very high opinion of either of them to begin with, so it was hard to lower it," Bone said. "I think Joe Biden did a much better job than Donald Trump, but he wasn't exactly John F. Kennedy up there."
The first presidential debate was "precisely an example of everything that's wrong with politics," Bone said. Instead of thoughtful discussions about the day's top issues, "It was both candidates trying to get a 5-second sound byte that could get repeated over and over again. It was paring everything down to one sentence and ignoring context and nuance," he said.
Despite the frustration he expressed after watching the first debate, Bone said he plans to watch the others that take place this election cycle. If the remaining two presidential debates proceed as planned, he said he hopes Trump and Biden will discuss some of the issues that he views as most important, which include energy policy, student loan debt and foreign policy. If given the chance to ask a question at a debate this season, Bone said he would be "tempted" to repeat his question from 2016, which he said he believes was not adequately addressed over the last four years.
Trump's COVID-19 diagnosis last Friday left questions about if and how the remaining two presidential debates will take place, but the Commission on Presidential Debates confirmed last week that the vice presidential debate scheduled to take place on Wednesday between Vice President Mike Pence and California Senator Kamala Harris will proceed as planned.
"It's a difficult process to watch; it's like watching your own house burn down. But I feel like I owe it to people to watch," Bone said, referencing the thousands of social media followers he gained after his rise to fame in 2016.
"For whatever dumb reason, some people will look to celebrities or famous people to try to get information," he said. "If people are going to listen to me, I feel like I owe it to them to at least be a little bit informed, and then also try to make it clear to them that everything I say is not gospel—it's what I think about it."