What Is Florida's Red Tide? Cause, Map of Contaminated Waters
There's an algae bloom off the coast of southwest Florida scaring tourists away and killing fish in the water at the peak of summer.
It's not totally unusual—the bloom happens about once a year due to naturally occurring microscopic algae, according to the Florida Fish and Wildlife Conservation Commission (FWC). But the recent blooms are killing fish along the coastline and causing possible respiratory irritation for those who visit beaches where there's red tide in the water.
The current bloom is of the organism Karenia brevis,or K. brevis. The organism is more concentrated in some areas than others, but where it's more highly concentrated, there are more fish kills and a higher risk of irritation as a result of the algae.
K. brevisis a single-celled organism, according to the FWC. It's part of the dinoflagellates family of organisms and at its highest concentration can cause discoloration of the water, which is where the name "red tide" comes from. The blooms usually start in waters off of the coast and then are brought in by the tides and the currents, according to the FWC.
Newsweek subscription offers >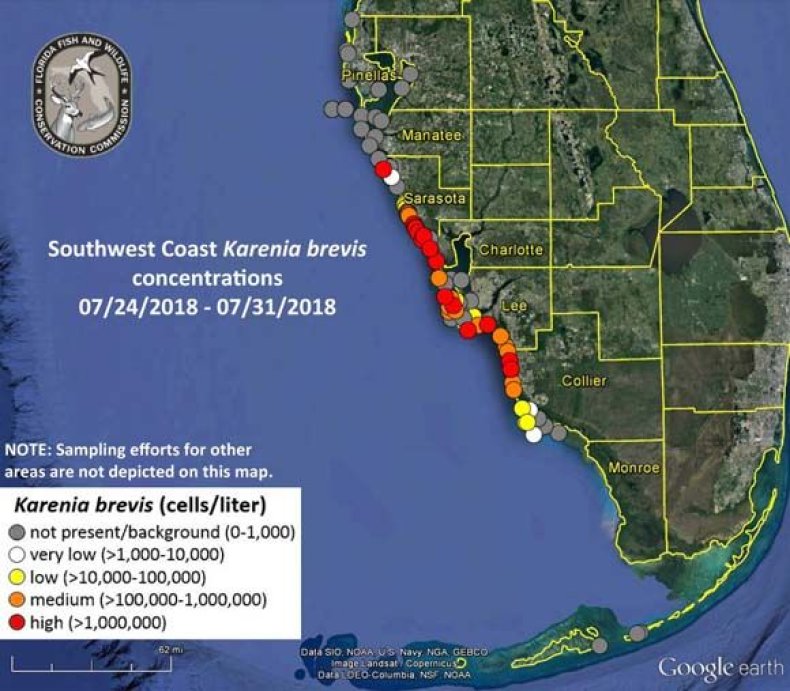 The algae can come with health risks as well. It can contaminate the water fish and other seafood live in, and therefore those sea creatures can become contaminated in turn. Shellfish, in particular, can cause humans who consume them to come down with neurotoxic shellfish poisoning. That can cause nausea and vomiting, along with some minor neurological side effects. Usually, these symptoms appear between 30 minutes to three hours after ingestion, according to the Centers for Disease Control.
These symptoms won't develop in anyone who eats only the muscle of fish that are caught alive, and crab, shrimp and lobster are also safe to eat, according to the FWC. Fish, clams and oysters shouldn't be harvested from the direct area of the red tide, because they can concentrate the algae due to the fact that they're filter feeders.
Respiratory issues can develop when the algae enter the air in the sea mist. When they're inhaled they can cause a "red tide tickle," which is characterized by a cough and an itchy throat, according to the Florida Department of Health. It can also irritate the nose and eyes.
Newsweek subscription offers >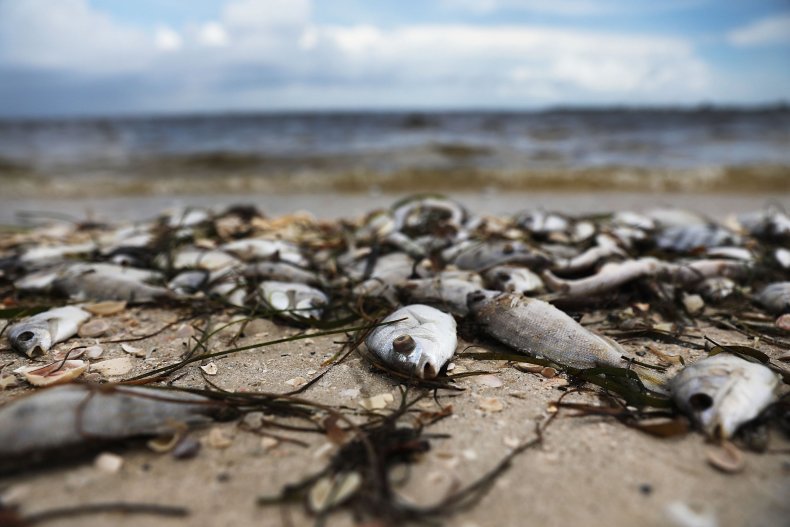 What Is Florida's Red Tide? Cause, Map of Contaminated Waters | U.S.