Red Tide Map, Update: High Concentrations of Algae Found Offshore of Pinellas County
High levels of red tide algae were found close to the shore of Pinellas County in Florida, according to a new update from the Florida Fish and Wildlife Conservation Commission (FWC).
A map posted on Wednesday showed high levels of the algae 10 miles off of the shore in Pinellas County, according to the FWC. The report noted several pockets of medium levels as well.
The red tide consists of harmful algal blooms that occur when plants that live in fresh and seawater grow higher than average, according to the National Oceanic and Atmospheric Association (NOAA). The algae can produce harmful toxins that hurt oceanic wildlife and humans. The FWC notes that the bloom happens once a year, but the recent bloom in Florida has killed fish and other marine life, as well as caused respiratory problems in humans.
Despite those high levels off the shore of Pinellas County, the agency noted that the counties of Sarasota, Charlotte, Lee and Collier had "decreased cell concentrations." None of the samples that were reviewed and processed from Charlotte County over the past week contained high levels of red tide algae, also known as Karenia brevis, according to the report.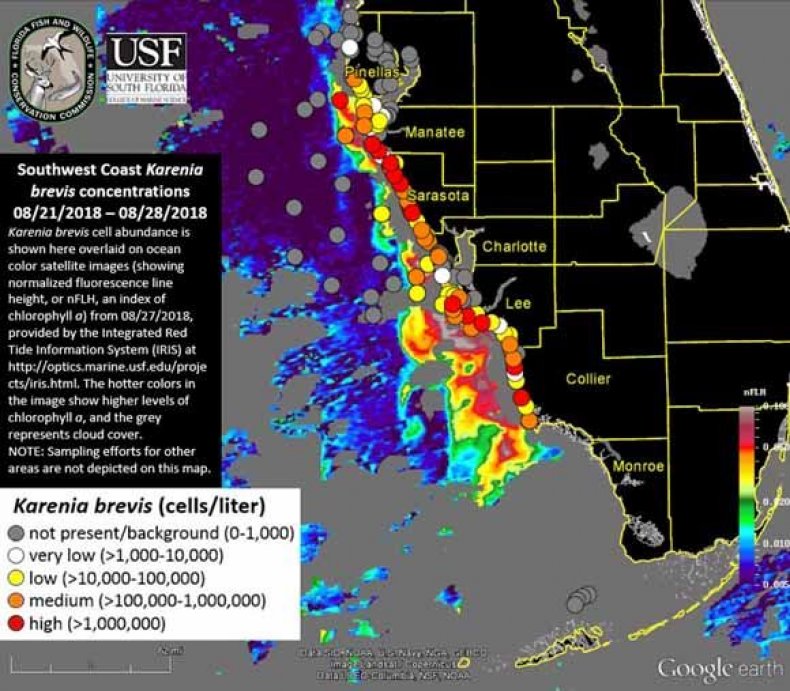 There were still reports of dead fish from multiple counties across the state like Pinellas, Manatee, Sarasota, Charlotte, Lee, and Collier counties, according to the agency. Counties like Manatee, Sarasota, Pinellas, Collier and Lee were reported to have respiratory irritation over the past week, according to the report.
Earlier this month, Florida Governor Rick Scott declared a state of emergency due to the red tide impact in the state, which has been affecting the area since October 2017, USA Today reported. The declaration made on August 13 directed funding and resources to Sarasota, Pinellas, Hillsborough and Manatee counties for cleanup and to rescue animals.
"Biologists and scientists (will be made) available to assist in cleanup and animal rescue efforts," Scott said.
Scientists have been trying different methods to clean up the algae. A machine called the Ozone Treatment System, which was developed the Mote Marine Laboratory in Sarasota, Florida, could help clean up the harmful algae, CBS News reported.
The machine processes roughly 300 gallons of water per minute, which allows it to break down water that is infected with the dangerous algae. The water is then injected with ozone, a gas that is made with oxygen by electrical discharges, and releases clean water.
"This system gets rid of the red tide, gets rid of the toxins, gets rid of the excess organic matter that's decomposing," Dr. Richard Pierce of the Mote Marine Laboratory told the news station.
Scientists are not the only ones getting involved in the cleanup. Four inmates in Manatee County, Florida, took part in a beach cleanup for free in early August, the Manatee County Sheriff's Office Public Information Director Dave Bristow previously told Newsweek.