As hurricanes Florence and Helene churn at sea, marking the peak of the 2018 season, Florida is still suffering from another environmental scourge: red tide.
Toxic algal blooms have plagued Florida since October 2017 but intensified in the summer months. Algae Karenia brevis has proliferated along the state's southwest coast, killing more than 2,000 tons of sea life as of last month.
The blooms have slowed Florida's summer tourism industry, depriving southern coastal counties of income. Businesses in the five counties hit hard by the red tide, which covers approximately 130 miles of coastline, have lost $8 million, CNN reported.
The current red tide is the longest since 2006, according to The New York Times. The Florida Fish and Wildlife Commission said last month that 354 sea turtles have been found killed, injured or sick since November. Large numbers of manatees and dolphins have also died.
Looming hurricanes could exacerbate the red tide, but it's difficult to predict the impact, experts told Newsweek. During a heavy storm season in 2004, four hurricanes dropped 27 inches of rain on central Florida, increasing runoff and helping fuel red tide, according to NASA.
"Enhanced rainfall over the Florida peninsula could lead to higher nutrient loads in the waterways, which will end eventually at the Florida coast" and fuel increased red tide blooms, Sven Kranz, an assistant professor of oceanography at Florida State University, told Newsweek. "Those nutrients will be from agricultural land and other areas heavily fertilized. Similarly, those nutrients can get into the inland groundwater and make their way through the groundwater into the ocean." Strong winds from hurricanes "can disturb the shelf sediment and likely revive Karenia cysts resting in the sediment along the Florida shore," he added.
Despite their potential to aggravate red tide, the hurricanes could also decrease the blooms. "If currents would lead to advection of the organism further offshore, it might disperse and run into low nutrient containing waters, where it will not survive," Kranz said.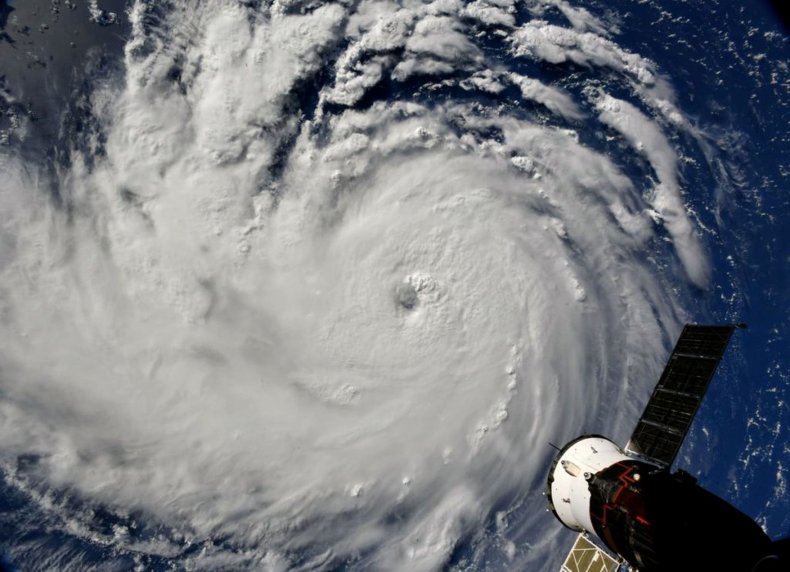 Forecasters from Colorado State University predicted a below-average hurricane season last month. But any hurricanes that strike Florida could harm the state's tourism industry, increasing economic woes caused by red tide.
Hurricane Irma "cost Florida 1.8 million out-of-state visitors in 2017 with an associated loss in spending of $1.5 billion" last year according to government data. The state suffered a "total economic loss of $2.5 billion" from decreases in visitor spending.