Beaches in Miami-Dade County in Florida were closed Thursday after the presence of red tide was found in the waters. The waters were tested Tuesday and the results Wednesday were positive for the algae linked to red tide, according to a release from the City of Sunny Isles Beach.
Samples were collected at four different locations off the coast, the sample taken off of Haulover Park contained a medium concentration of the algae that causes red tide outbreaks, according to the release.
This prompted the beach at Sunny Isles to be closed Thursday. There was a double red flag flying indicating that the water was closed to the public. At Miami Beach, there was no significant level of algae present so the waters were not off limits Thursday. The beach was open to the public but anyone with respiratory problems was advised to stay away from the beach and out of the water Thursday.
Other areas south of Haulover Park were still open because the levels of the algae were low when the samples were collected Tuesday, The Miami Herald reported. The areas north of the Haulover Inlet were however closed, according to Miami Dade County Regulatory and Economic Resources.
"We are taking this proactive step to ensure our residents and visitors are not affected as we collect samples in other areas for state testing. We will continue to seek guidance from the state Fish and Wildlife Conservation Commission and take precautionary measures as needed," Miami-Dade County Mayor Carlos Gimenez tweeted.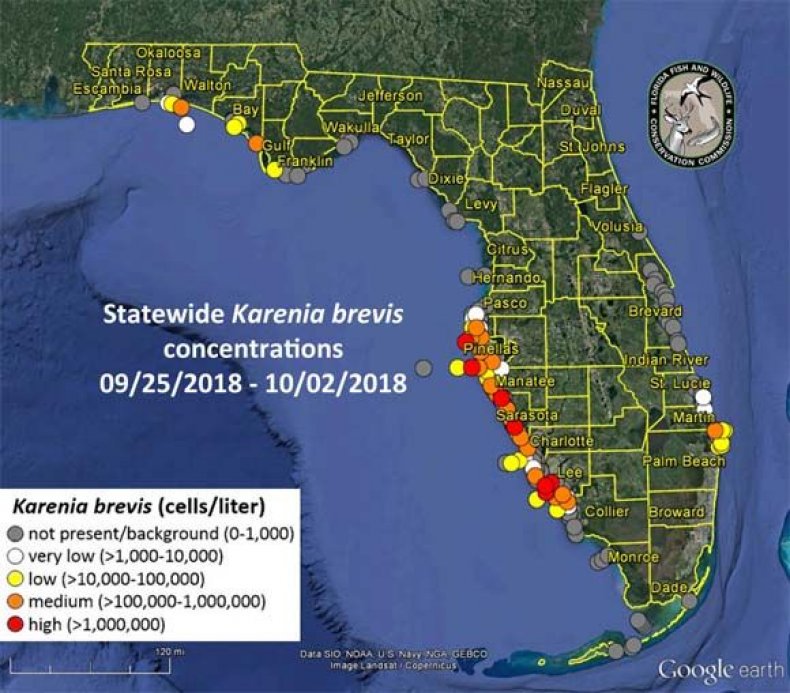 Red tide is an algae bloom in the waters that can be harmful to sea life and it can release toxins into the air and cause respiratory problems even for those on land. When the concentration of the red tide is high enough, it can make the water appear red or brown and these blooms can last months at a time.
The organism that causes the red tide in Florida is called K. brevis and it can impact the central nervous system of the ocean life in the water and humans as well. The toxins in the organism can break up and enter the air. In humans exposure to the organism can cause coughing, red eyes, sneezing and sometimes an itchy throat as well. Those who swim in it could experience a rash or a burning sensation in their eyes.
In Florida during this tide event, there have been fish kills and other creatures like crabs and even manatees have been washing up on shore of the beaches where the tide is present in the water.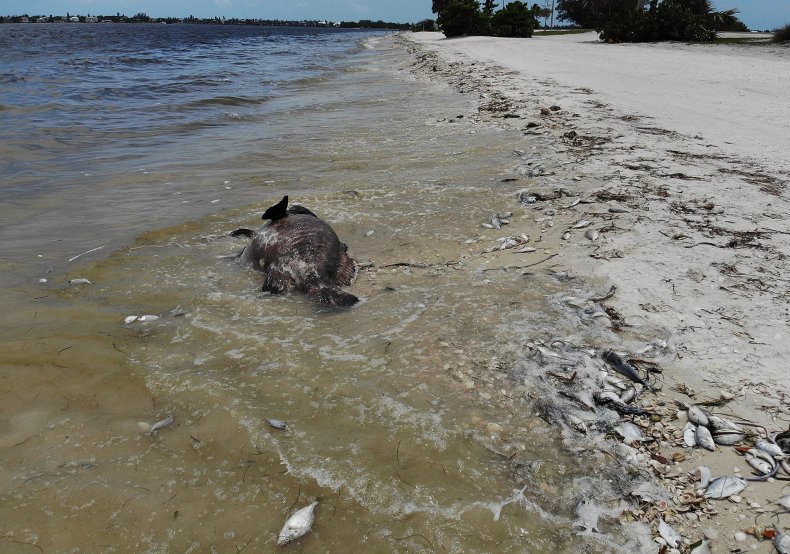 ​​