Redacted Police Report Led to New York Man's Imprisonment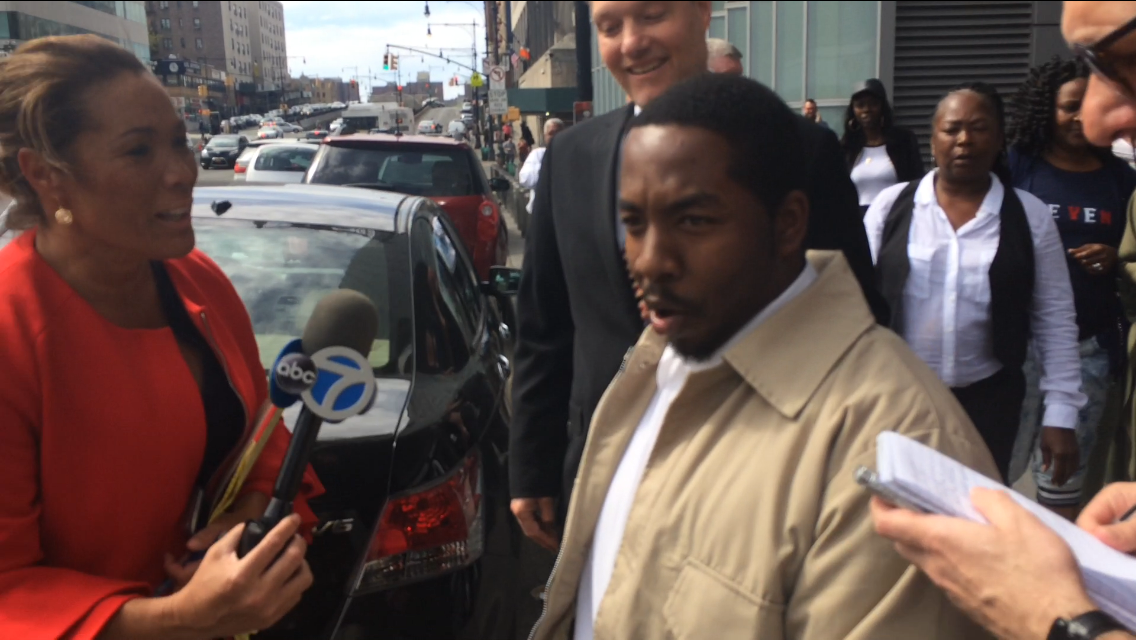 Updated| Prosecutors won a murder conviction against a Bronx man in 2013 after giving his defense attorneys a police report in which a witness' description of the killer that did not match the defendant was redacted, according to the Bronx District Attorney's Office.
Steven Odiase, 31, was sentenced to 25 years to life after he was convicted in a 2013 jury trial of the fatal shooting of a 15-year-old boy named Juan Jerez. But he walked out of court a free man Monday afternoon after a hearing in Bronx Supreme Court during which prosecutors asked for his conviction to be vacated because the exculpatory evidence hadn't been turned over to his defense attorneys.
In the hallway outside the courtroom, Odiase hugged his mother, who cried,"My baby," and "Steven, we going home!" as she rubbed his face with her hands and hugged him tight and two dozen other family members gathered around him. "I don't believe it," Odiase said.
After Odiase's lawyers asked the DA to review the case last year, Assistant District Attorney Risa Gerson reviewed hundreds of documents and re-interviewed key witnesses, states a press release from the district attorney's office. Gerson discovered in the case file a NYPD detective's form summarizing the canvass of the murder scene—known as a "DD5"—that had not been given to the defense attorneys who represented Odiase at trial.
When the ADA gave the DD5 to Odiase's attorney in February 2017, the attorney said the DD5 that had earlier been handed over had been redacted so that a witness's description of the shooter that did not match Odiase was missing.
"Steven Odiase is serving 25 years-to-life for murder, but the Conviction Integrity Unit has uncovered potentially exculpatory evidence that was not provided to the defense at the time of trial," District Attorney Darcel Clark said in a statement. "Because Odiase did not receive a fair trial, I will ask the Court...to vacate Odiase's conviction in the interest of justice so he can be freed as soon as possible while we determine whether to retry him."
A Facebook page titled "Free Steven odiase" reads: " 5 years ago Steven was wrongfully arrested, may 15,2013 Steven was wrongly convicted of murder in the 1st degree 1 person ID, evidence withheld, no justice." The page appears to be updated by a friend or family member with photos of Odiase and comments from supporters including, " The fight for Steven we not going to give up .. We are here to prove your innocents."
"The Bronx County District Attorney, Darcel Clark, has agreed to join our motion to vacate Mr. Odiase's murder conviction and consent to his release," states a press release from Odiase's attorneys, Pierre Sussman, Jonathan Edelstein and Robert Grossman.
The National Registry of Exonerations lists 37 cases in the Bronx where a defendant was convicted of a crime only to later have the conviction overturned. Some of those wrongful convictions lead to lawsuits against the city that were settled for millions of dollars, including a $40 million settlement in 2016 between the city and five people who had their Bronx murder convictions vacated.
As Odiase and his family walked down the stuffy courthouse hallway on Monday, defense attorney Pierre Sussman said to them, "Let's go into some open free air."
This story has been updated with the events that took place in court Monday afternoon.