Huge Redbreast Sunfish Caught by Georgia Man May Tie World Record
A new state record redbreast sunfish has been caught in the state of Georgia, according to local authorities.
The fish was caught on May 7 by Lester Roberts of Blackshear on the Satilla River near Folkston weighing 1 pound, 12 ounces and measuring 11 ⅜ inches long according to the Georgia Department of Natural Resources Wildlife Resources Division (WRD).
This replaces the previous record of 1 pounds and 11 ounces which was set in 1998, the WRD said. In order to qualify for a new state record, a caught fish must exceed the existing record by one ounce or more.
Roberts caught the sunfish while fishing a bass tournament with his friend. He told Georgia Outdoor News that he and his friend had "never seen anything like it" when they saw the fish.
The WRD said that Roberts' catch is also a "pending world record tie"—true according to the International Game Fish Association (IGFA) which puts the all-tackle world record for a redbreast sunfish at 1 pound, 12 ounces.
That said, the Florida state record stands at 2.08 pounds according to the Florida Fish and Wildlife Conservation Commission (FWC), which cites Big Catch Florida.
An IGFA spokesperson told Newsweek: "The current IGFA World Record for redbreast sunfish is 1-pound 12-ounces."
"IGFA World Record fish require the angler to have been in accordance with IGFA International Angling Rules. While there may be certain state record fish that are larger then the current IGFA World Record, the angler may not have been fishing in accordance with IGFA International Angling Rules and therefore would not have qualified for the record. Many State record programs follow a different set of rules for qualification.
"I can't say for whether this was the case as I have no record of the fish over 2 pounds ever being submitted in our system."
The redbreast sunfish (Lepomis auritus) is a common fish in the state of Georgia and can also be found in other states. It has a yellow-to-red-colored belly with a black gill flap and blue or blue-green stripes on its head. Most of the fish weigh less than 1 pound, which puts the record catch into perspective.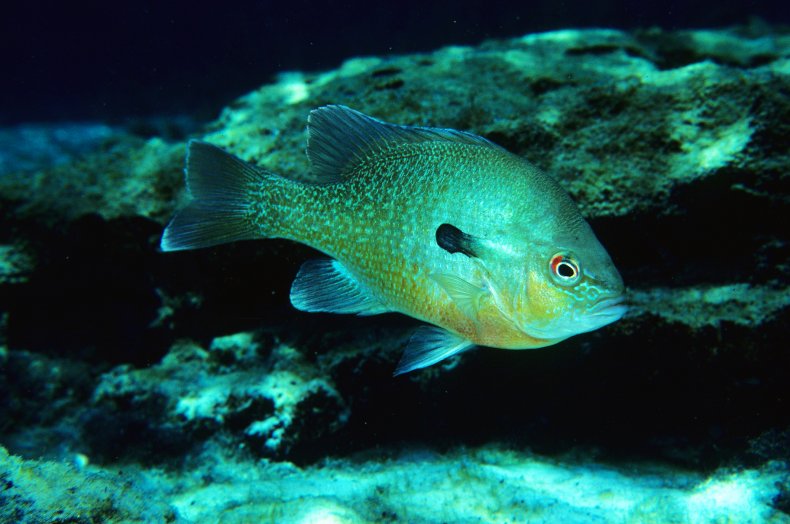 Wildlife management efforts are ongoing to help preserve redbreast sunfish numbers, such as the flathead catfish control program. The program has been ongoing since 2006 and aims to reduce the numbers of invasive flathead catfish which would "decimate the sunfish population" if left unmanaged according to the Georgia WRD.
The FWC states that redbreast sunfish, also common in rivers of North Florida, may also be known as river bream and redbellies.
Redbreasts grow relatively slowly compared to other sunfish, reaching about six inches in two to three years according to FWC.
Other large state-record fish caught recently include a common carp caught in West Virginia and a longnose sucker in Montana.
In other Georgia wildlife news, authorities in the state announced this week that a man was sentenced to one year in prison for illegally trapping and exporting thousands of freshwater turtles for profit. He was also ordered to complete 200 hours of community service and pay a $10,000 fine.
U.S. Attorney Ryan K. Buchanan said the sentence was "tough but fair" and that the traps used "can cause significant harm to aquatic animals and birds."
Update, 5/16/22, 11:39a.m. ET: This article was updated to include a comment from an IGFA spokesperson.