Dad Refusing to Take Daughter to Disneyland with Stepbrothers Sparks Fury
A grandmother has gained support online after sharing that her son is refusing to take his daughter, who she cares for, on his family trip to Disneyland.
The grandmother shared her issue to the popular Subreddit "Am I the A**hole" where users go to acquire views on their sticky situations. She divulged that she fell pregnant with her now-28-year-old son, Jack, when she was 18.
Newsweek has changed their names for privacy purposes.
At 19, her son had a daughter, Eva, with his girlfriend. His girlfriend no longer lives in Canada with them after being deported, but spends the whole of July with Eva and video calls every night.
Now, the grandmother is left raising Eva while Jack has since married a woman with whom he has two "wonderful" sons.
Children living with grandparents isn't as rare as many may assume. In the U.S., around three million children live in a house with their grandparents, according to the 2020 U.S. Census Bureau.
Around 608,000 children aged between three and five live with their grandparents, while 678,000 children between the ages of nine and 11 live with just their grandmother.
"The thing is, Jack never spends any time with Eva. He doesn't even call to say goodnight. But she loves him so much. It's like once a month, he'll show up with a box full of toys, spend a day with her and then go back to his family. It hurts her so much that he doesn't spend time with her because he's her hero. I'm just grandma," she wrote in the popular post.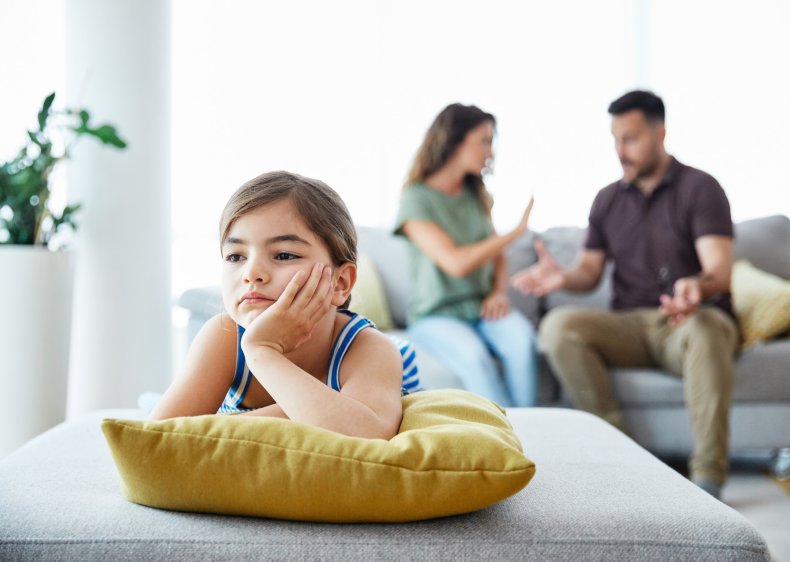 According to the grandmother, her son's wife "would love" to have Eva move in with their family and even suggested the idea once.
"She would love to be her stepmom, calls her princess, sweetie and so many nice nicknames. The only reason they haven't is because Jack said she should stay with me," she wrote.
Things turned even more sour however, when Jack told his mom that they are heading on a family trip to Disneyland, minus Eva.
"I told him that Eva would be so excited and he should tell her on her birthday and he just blankly told me she's not coming and the trip is for his boys," wrote the anonymous grandmother.
"I made it clear to him that he needed to bring her on the trip and he just called me an a**hole—which he's never done before—for trying to control him."
The internet was left rallying behind the grandmother with messages of support, as they frankly dubbed her "not the a**hole."
"This man has abandoned his daughter. I wouldn't be surprised if he only brings the toys because his wife makes him," wrote one user, before adding: "That said, I wouldn't recommend forcing this trip. His resentment will definitely spill over onto her, and she won't have that great of a time.
Others expressed similar sentiments, dubbing the son the a**hole instead, as per the name of the Subreddit.
"Your son is an a**hole, both for how he treats his daughter and how he treats you. He's been content to leave Eva with you; of course he has, since he doesn't have to own his own actions that way. He can drop off toys monthly and forget about her again," shared one user.
"No, Eva is his responsibility. You are kind and loving and generous to care for her as you do, but that care is his responsibility. I'd tell him if he doesn't step up and do more with Eva, including Disneyland as a start, I'd be petitioning for child support."
Many backed the practical suggestions when it comes to child support, with one suggesting she becomes Eva's legal guardian.
"I think you might need to accept that you are the guardian of this child, not your son. If you are not the legal guardian, you need to make that happen," they wrote.
The grandmother circled back to the post after the influx support and confirmed that she is considering discussing both the trip and fixing the family dynamic with her son's wife.
"I know I'll have to talk to her about things because maybe she's the only one who can fix things since I think she may want this as much as Eva," she wrote.
Correction 03/24/22, 14:13 ET: This article was updated to correct/alter the names of those involved.