Reddit Bans Donald Trump Subreddit Over 'Repeated' Policy Violations After Capitol Riots
Reddit banned on Friday a political subreddit on which users share content about President Donald Trump, following the violent riot at the U.S. Capitol earlier this week.
The social platform's decision to ban the subreddit r/donaldtrump came as other social media companies announced similar bans of Trump's accounts. The subreddit is not operated by Trump but serves as one of the platform's largest political discussion groups, according to Axios, which first reported news of the ban.
Reddit deemed the ban necessary because of "repeated" violations of its company policies, a spokesperson told Newsweek.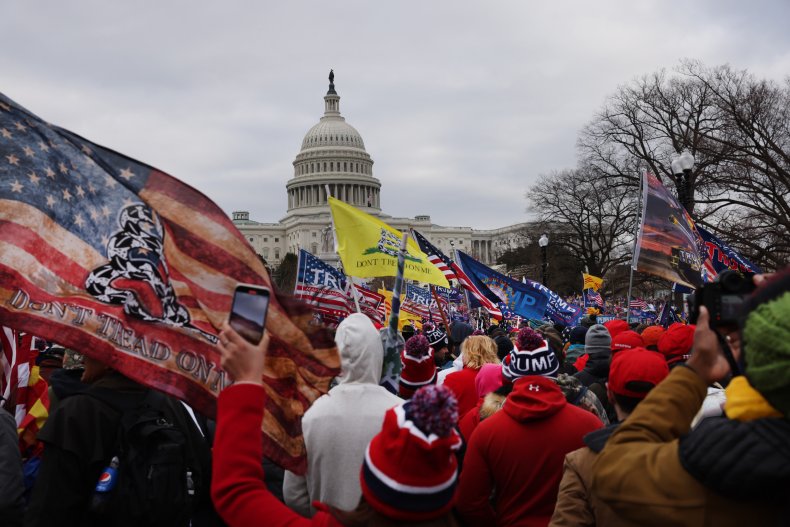 "Reddit's site-wide policies prohibit content that promotes hate, or encourages, glorifies, incites, or calls for violence against groups of people or individuals," the Reddit spokesperson said in a statement sent to Newsweek.
"In accordance with this, we have been proactively reaching out to moderators to remind them of our policies and to offer support or resources as needed," the statement continued. "We have also taken action to ban the community r/donaldtrump given repeated policy violations in recent days regarding the violence at the U.S. Capitol."
The specific policies Reddit cited in its statement concern violent content, which the platform discourages users from sharing. Users are specifically advised to avoid posting "content that encourages, glorifies, incites, or calls for violence or physical harm against an individual or a group of people" or animals.
The company's violent content policy acknowledges the newsworthy nature of some content that might be recognized as violent. It advises, "If you're going to post something violent in nature that does not violate these terms, ensure you provide context to the viewer so the reason for posting is clear."
The president's response to the Capitol riot resulted in Facebook, YouTube and Twitter taking action against his accounts. After Trump released a video in which he told the rioters "we love you" while encouraging them to "go home," the three companies removed the video from their platforms, citing policy violations regarding contributing to violence and spreading misinformation about elections.
Facebook CEO Mark Zuckerberg later took the step of "indefinitely" suspending Trump's accounts on Facebook and Instagram, which Facebook owns. Zuckerberg said in a Thursday statement the accounts would remain suspended through the end of Trump's time in office, if not longer.
Although Twitter initially locked Trump's account Wednesday evening and threatened to permanently suspend it if new policy violations occur, the account was back in use on Thursday. Trump was able to post videos and messages his supporters could engage with.
This story has been updated with additional information and background.