Lab Tech Doing Tests on Coronavirus Told People Exactly What Goes on There
If you've ever wondered what, exactly, a technician working in a coronavirus-testing lab does all day, one person on Reddit apparently has the answers.
Redditor u/HYPER_ECH0, who claims to work as a lab technician at a coronavirus-testing facility, launched an "Ask Me Anything" (AMA) session on Friday and answered questions from fellow Reddit users all about the ins-and-outs of working in a testing lab. Those responses—along with u/HYPER_ECH0's account—have since been deleted. Dozens of questions were asked, though, with many people wondering things like what the safety protocols are for handling tests, how difficult it is to retest samples and how often lab workers are getting tested themselves.
With coronavirus-testing facilities stationed all around the globe, u/HYPER_ECH0 was diligent in noting that not every lab operates the same way. But, at their site, they said, workers are required to test themselves every Monday and Thursday.
"It is not fun," u/HYPER_ECH0 replied to one question about personal testing. "We also have to measure and record our temperature every day. Although we are all staying in the same student accommodation, we have two separate kitchens so if one of us tests positive the other three do not need to self isolate, they can continue to work while the other one gets a kitchen and two weeks to themselves."
In direct messages with Newsweek on Reddit, u/HYPER_ECH0—who said they work in a lab in England and declined to share their real name—said the AMA came about because so many people began asking about the job.
"I found myself telling everyone I know about it because they all seemed to find it fascinating. I post very rarely on Reddit, and I don't comment much either but I thought if there was interest then it would be a good opportunity to help inform people," u/HYPER_ECH0 said.
Their intuition was right. Nearly 200 Redditors commented on the thread with questions about the lab experience. Users claiming to be workers from other coronavirus-testing facilities also commented; they shared their experiences working in a lab and compared their site procedures.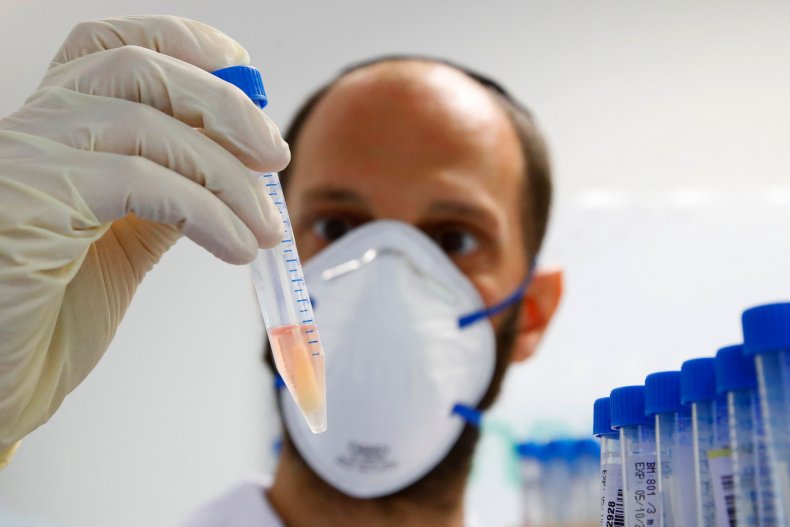 Not everyone was pleased with the AMA, though. According to u/HYPER_ECH0, someone from their job asked them to remove the initial post in the thread. In a message to Newsweek, the self-professed lab technician said they're just happy to be able to shed a little light on a fascinating job industry.
"As someone who's just finished school, the sensation of doing something with genuine real-world consequences is really powerful," u/HYPER_ECH0 said. "Also to be let into this world of complete professionalism is such a privilege, it's fascinating to see how a lab functions and to lose sight of the small inefficiencies that are slowly ironed out over time."
Not long after u/HYPER_ECH0 messaged with Newsweek, all of their comments in the thread were deleted. Their Reddit account also appears to have been disabled.
Updated 7/17/2020, 5:40 p.m. ET: This post has been updated to include the fact that u/HYPER_ECH0's Reddit account and comments have been deleted, and that they declined to share their real name with Newsweek. The language in this post has also been amended to reflect that Newsweek could not independently verify that the Reddit user is a lab tech, as they claim to be.