Is Reddit Down? Users Experiencing 503 Errors and Can't Reach Servers
Reddit, the most popular internet search and forum site, is currently experiencing issues. Users trying to access the site on desktop are seeing the "Ow!" error message saying their "CDN" was unable to reach the servers. Users trying to access reddit on mobile are still able to see the website and browse it's sub reddits. The problem is entirely on reddit's end and the only way to see the site is either to open your phone or wait for the site to be back up.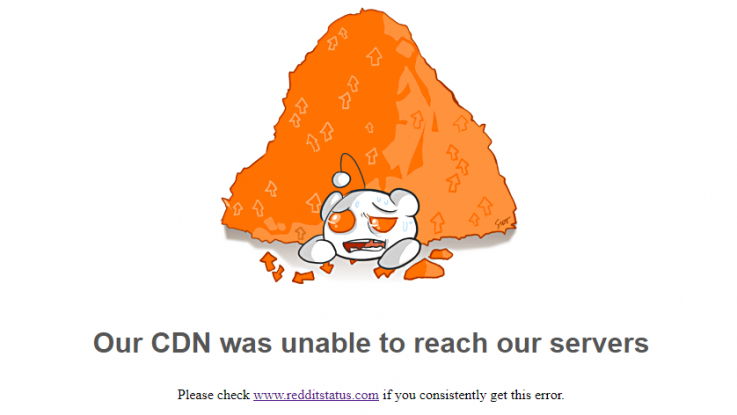 Is Reddit Down? 503 Errors and CDN Issues
According to the reddit server page, the site is all green "servers operational" but that doesn't seem to be the case. As of 8 a.m. EST. the error rate has skyrocketed, meaning there are hundreds of users who are currently unable to access the site. Down Detector is also reporting that the site is experiencing massive outages.
It's unclear what is causing the problem, but fans who are trying to distract themselves from work on their computers are wondering what is going on. The site is perfect for wasting time and endless scrolling, something all of us with to much time on our hands love doing.
Reddit has not tweeted about the downage or reported about it on any of their social medias. Earlier this week, Facebook, Twitter and Instagram were experiencing outages, causing many online to freak out. It feels like the summer of 2019 is going to be full of websites we use experiencing technical issues.
Newsweek will update this story once we know more information.
Is Reddit Down? Users Experiencing 503 Errors and Can't Reach Servers | Tech & Science