Man's Excuse for Being 'Cold' Towards a New Female Co-Worker Cheered
A new employee has caused a stir within the workplace after assuming her colleague was after more than a professional friendship.
In a now-viral post on Reddit, u/Own_Art_1896 described himself as a "super social guy" who was hired to boost morale and organize social events for his colleagues.
But recently, the man, 29, has been accused of being "cold" towards a 31-year-old woman who has joined the sales team. This is because a misunderstanding during her first week left a sour taste in his mouth.
Explaining the situation, he wrote: "I admit to giving her a wide berth but that is just because during her first week before we'd been introduced, I was getting onto the elevator and noticed someone had dropped a key card in the lobby, I recognized her face and approached her at her desk when I got to our floor, she looked apprehensive about me approaching so I slapped on a smile and went to speak.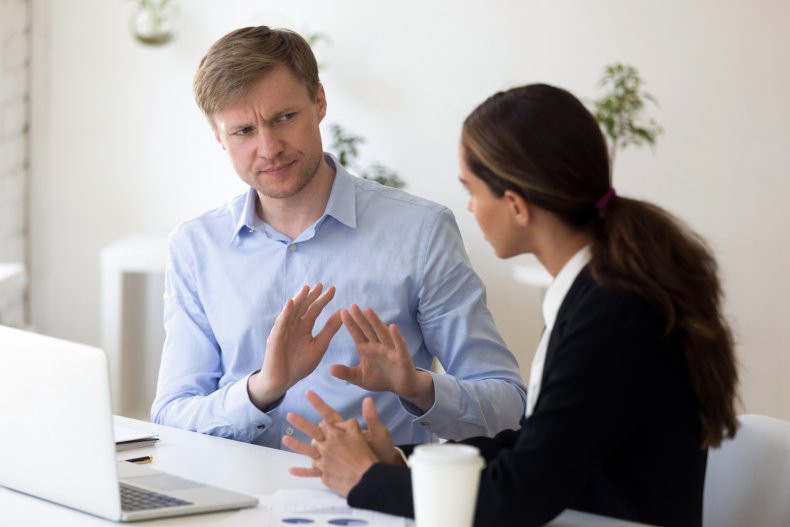 "I just got out an "excuse me but I think--" before she interrupted with what sounded like a pre-prepared speech about how she wants to keep work and personal life separate and didn't wish to engage unless it was work-related. I didn't say anything and just placed her card on her desk and left it at that."
After the awkward moment, the woman apologized to him but a "crowd of people" was present which worsened the situation.
"Overall she made me uncomfortable and feel guilty for being friendly, so I tend to follow her rules and only send her emails in group threads," he said.
He concludes the post by stating that this has caused friction within the workplace and that the woman has complained to colleagues that she isn't invited to events outside of work.
'Don't Let Workplace Friendships Distract You'
Newsweek reached out to Jill Cotton, a careers advice expert at Glassdoor, the worldwide site that gives insights into jobs and companies. Cotton advises establishing "clear boundaries between your work and social lives to keep your relationship professional."
She said: "We often spend more time at our jobs than with family and friends, but work is a professional setting. Your conversations in the office should differ from those you have outside of work. Don't let workplace friendships distract you from the job you were hired for or negatively impact your own career goals.
"Positive professional relationships are based on transparency. A great question to ask a new joiner is 'how do you like to be managed?'. It instantly sets the tone for the employee and company relationship."
Cotton also provided three tips that will help a team understand their manager's expectations:
Increased clarity will give team members more confidence in their abilities and create a safe space to bring their authentic selves to work.
Connecting with new co-workers can feel intimidating, particularly for those who are neurodiverse.
Don't assume a relationship with one employee is how an entire company should operate. For employees, workplace transparency isn't a green flag to share every unfiltered opinion with colleagues, be mindful of what you are saying and always remain respectful of your co-workers and managers in conversation.
What Do the Comments Say?
Over 1,000 people have commented on the post since it was shared on February 12 on Reddit's AmItheA****** forum, where people discuss their actions with online strangers. In total, it has received 6,700 upvotes and the top comment has 8,900 upvotes.
It said: "NTA, kind of weird that she thought you were automatically hitting on her. I would say invite her or have people invite her but keep the [conversation] to a minimum so as to not have her come up with the weird "oh he wants me" thing or maybe invite your partner along so she can tell you're in a committed relationship. If none of those sounds appealing just have a discussion on how that made you feel and that you're just apprehensive but do so around a witness so she doesn't switch around and paint you in a bad light."
Another user shared her experience, she said: "I've had creepy things like that happened to me when I was young. People just assumed that because I was lovely, I was also available and immoral. By my count, I've been stalked by 15 different "people," who thought that crawling all over my life was perfectly acceptable behavior. Some people thought I was cold and stuck up because I wasn't a flirt, and I maintained a business-only attitude at work and school. NTA, OP, but I feel sorry for that poor woman who has to put up so many barriers between herself and the world just to survive."
Newsweek has asked u/Own_Art_1896 for comment. We could not verify the details of the case.
Have you had a workplace dilemma? Let us know via life@newsweek.com. We can ask experts for advice, and your story could be featured on Newsweek.