Reddit Gold Update: How to Give and Get New Silver and Platinum Icons
If you've been on Reddit over the past 24 hours, you might notice something odd on certain posts. In the usual spot where you'd see Reddit Gold, an award for standout posts given by users that costs real-world money, there are new silver and blue-ish icons hanging out on top. These are the new Silver and Platinum icons that have just rolled out on the online forum.
In a post on the changelog subreddit a few weeks ago, reddit admin venkman01 announced Reddit Gold will now be called "Reddit Premium." Getting gilded still gives the same rewards: ad-free viewing, highlighted comments and access to exclusive premium communities. In the past, you'd buy Gold with Credits. This system has been replaced with Coins used to buy multiple tiers of gifts. These "Awards" allow users to reward content that's not quite good enough for Gold or posts that users believe are worth even more.
How To Get Reddit Silver and Platinum
You can give yourself Reddit Premium for $5.99 a month, or $3.99 if you're a legacy user who subscribed to the previous Gold system. You'll get 700 coins a month, which you can use to gift other users Silver, Gold or Platinum. Gifting a user Gold or Platinum will give them access to Reddit Premium for one month and a few extra coins (100 for Gold and 700 for Platinum).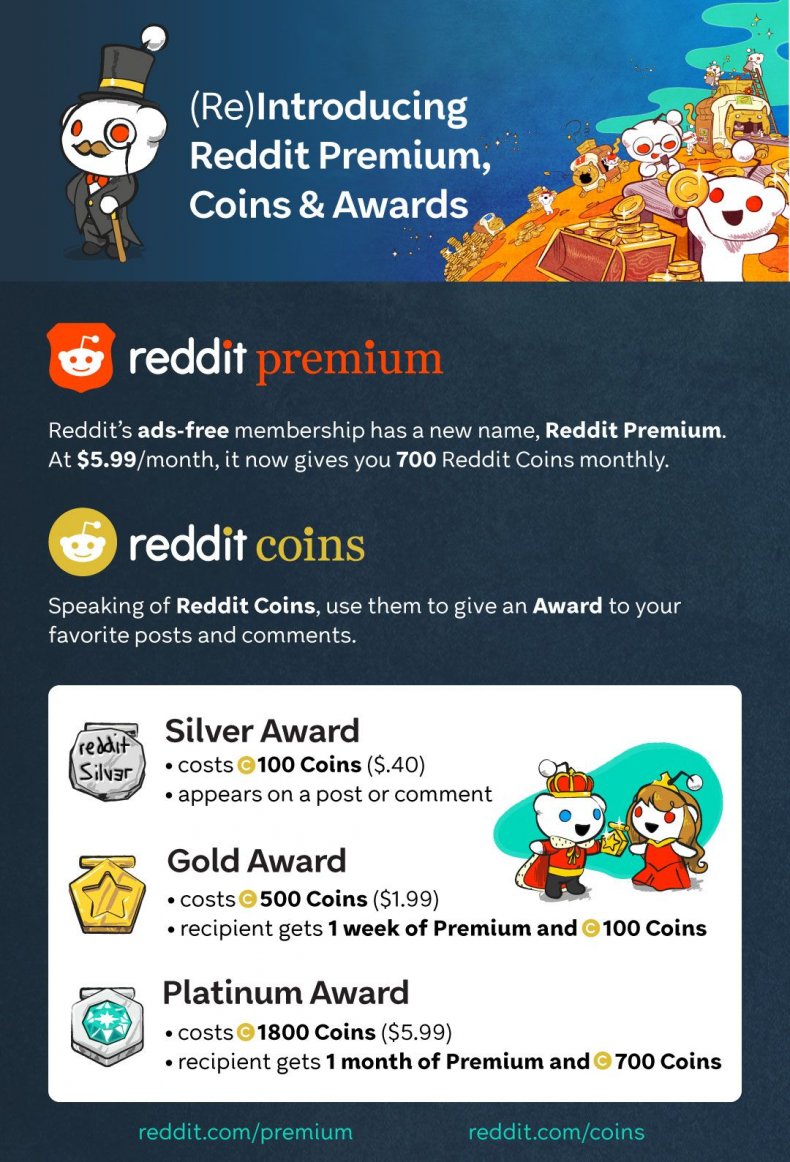 Here's how much each Gold system tier costs:
Silver: 100 coins
Gold: 500 coins
Platinum: 1,800 coins
If you'd like to buy coins to gift to others, head over the Coins hub and buy one of five different tiers. 1,800 coins costs six dollars, allowing you to gift a post Platinum, or multiple posts Gold and Silver.
Have you bought Reddit gold yet? Tell us on Twitter @Newsgeek.