Internet Backs Woman Forwarding 'Lewd' Messages to the Texter's Fiancée
A woman turned to asking for advice online in a popular post after deciding to share "lewd" messages she received from a former flame to his new fiancée.
The 37-year-old woman took to popular Subreddit "Am I the A**hole" to ask exactly that, garnering over 12,000 interactions on her story.
Now married with two children, the woman shared that she was "wild" in college, including sleeping with "multiple guys" and partying, but added that she didn't ever do "anything illegal, dangerous or immoral."
"A few months ago, some guy I hadn't talked to since I was 18 and a freshman in college sent me messages on social media in the middle of the night that were horrible. It was basically a drunk rant about how I was a huge whore, I spread my legs for anyone, how I loved doing sexually explicit things with him, etc," she alleged in the post.
The woman added that she had "hooked up" with him in college, but not kept in contact with the man since then and, despite being friends on social media, had not had any interactions in almost two decades.
"I immediately blocked him and ignored them. I recently saw a post from his now fiancé[e] (who I used to be friends with in college, but haven't talked to in years) announcing their engagement and gushing about how he's the kindest, most gentle, wonderful guy in the world," she continued.
After seeing that he was "pretending to be some great guy while sexually harassing me in his spare time," she decided to forward the messages she recently received to the fiancée to see. "He contacted me (got my number from mutual friends), freaking out. Told me I was insane and jealous of his fiancé[e]," she alleged.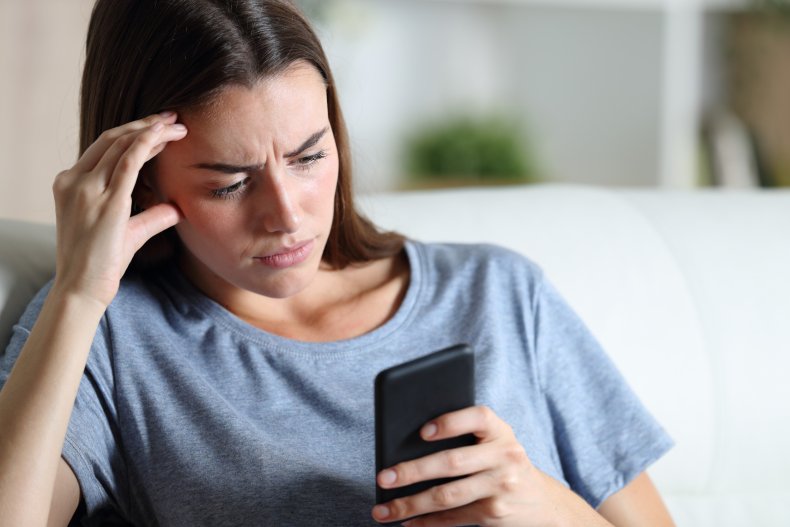 "I didn't think I did anything wrong, but our mutual friends are all on his side and said it was crazy for me to contact his fiancé[e] who I hadn't spoken with in over a decade over some drunk messages he claims he didn't even remember sending me."
Drunk messaging is far from rare—one study found that 89 percent of participants had sent a drunk text, of which 43.5 percent said they felt guilty about it. Most of the time however, messages don't go to the extreme of this situation, leading to one unanimous decision from Reddit users: that the woman was not in the wrong.
"This guy and the friends siding with him all sound committed to seeing you in a negative light for how you were in college almost 20 years ago. Good riddance."
Another user similarly shared: "If the messages were no big deal, and just 'telling the truth' then it will be no big deal that the fiancée sees them. If he has a problem with them being shared with her, then maybe he should think twice about harassing someone for no good reason (And to be clear, her behavior at college was perfectly fine, and not a good reason to be harassed). Well done for making sure she knows what sort of man she is marrying."
"He did a sh**ty thing writing that to you and hoped you'd keep it secret so he could avoid public consequences for his behavior," added another. "You are under no obligation to keep other people's sh**ty secrets.
"This guy and the friends siding with him all sound committed to seeing you in a negative light for how you were in college almost 20 years ago. Good riddance."
The woman updated that the fiancée never replied to her message but also didn't block her. " She hasn't taken down anything about him or their pictures so I'm assuming they're still engaged. No clue how she reacted, but she obviously shared them with him," she said.