Reddit Removed a 'Few Hundred' Russian Propaganda Accounts
In a note to users published Monday, Reddit CEO Steve Huffman said that the site had deleted hundreds of accounts connected to Russian propaganda.
"In the past couple of weeks, Reddit has been mentioned as one of the platforms used to promote Russian propaganda. As it's an ongoing investigation, we have been relatively quiet on the topic publicly, which I know can be frustrating. While transparency is important, we also want to be careful to not tip our hand too much while we are investigating," wrote Huffman under his username spez.
The Daily Beast first reported the use of Reddit by the Russian propaganda company Internet Research Agency. The so-called Russian "troll farm" was among three entities and 13 individuals indicted last month by special counsel Robert Mueller for attempting to influence the 2016 presidential election.
Huffman said the company had deleted "a few hundred accounts."
In addition to the accounts directly linked to Russian propaganda, Huffman also noted that legitimate users had unknowingly shared and spread content created by Russian propagandists.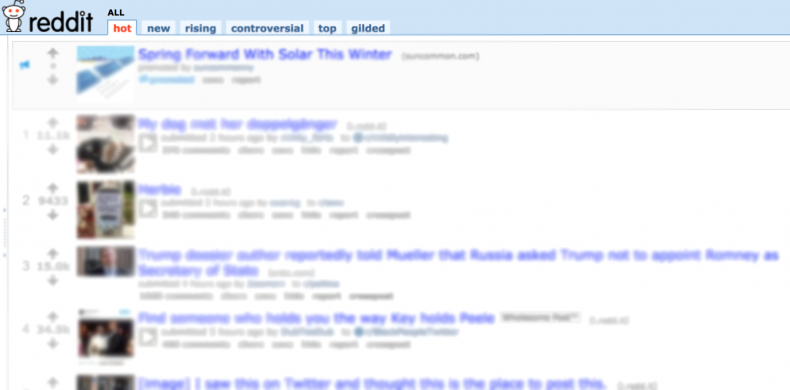 "Indirect propaganda, is the most complex. For example, the Twitter account @TEN_GOP is now known to be a Russian agent. @TEN_GOP's Tweets were amplified by thousands of Reddit users, and sadly, from everything we can tell, these users are mostly American, and appear to be unwittingly promoting Russian propaganda," said Huffman. "I believe the biggest risk we face as Americans is our own ability to discern reality from nonsense, and this is a burden we all bear."
Despite it not being directly posted by the Internet Research Agency, their content was upvoted in conservative subreddits like r/The_Donald and r/HillaryForPrison, according to the Daily Beast.
Huffman said that the website did not see much in the way of Russian ads, and that Reddit's ad policies prohibit overly contentious political ads. Facebook last year acknowledged that accounts linked to the Internet Research Agency had spent $100,000 on Facebook ads attempting to influence American politics.
Facebook and Twitter have each grappled with ads and users connected to shadowy Russian propaganda.