The Redditor Behind Viral James Harden Strip Club Analysis Did it to Make His Friends Laugh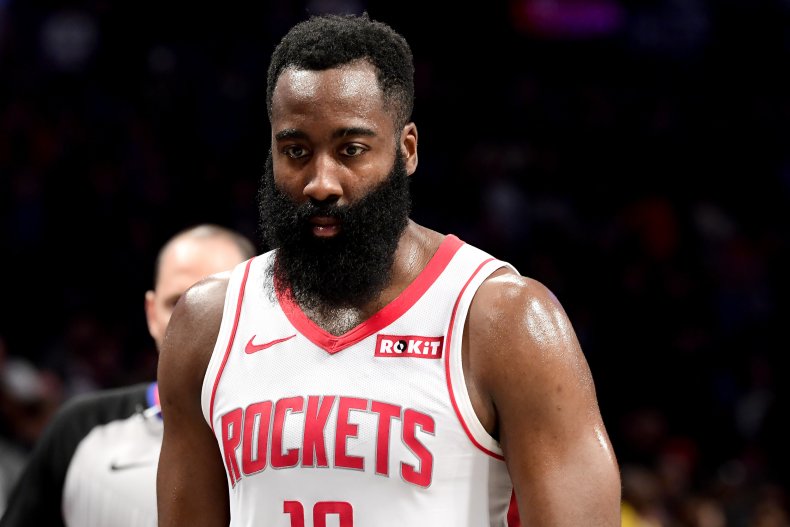 On Thursday, Reddit user Ryan Sullivan posted his deep dive into NBA research in an effort to find a correlation between Houston Rockets' point guard James Harden's box score performance and the average strip-club rating of the city he was playing in.
"Everyone knows James Harden has a particular affinity for the Canadian ballet, aka strip clubs. After the Rockets' dismal performance in Miami last week, and the city's reputation for high-quality tit-shacks, I became increasingly curious to see just how much James Harden's vice affects his game," Sullivan, who posts under the username AngryCentrist, wrote.
To compile the data, Sullivan used box scores from the past four seasons and compared them to the average Google review rating for the first 10 strip clubs appearing in searches for each city Harden and the Rockets visited. Harden's performances were then divided into "sub-par," defined as a performance worse than his season average, and "very sub-par" or "20 percent worse than his season average."
According to Sullivan, he was able to prove "to a statistically significant degree, that James Harden's game performance declines in cities with higher-rated strip clubs." To further the conclusion, Sullivan determined that Harden performs best in cities with the worst strip clubs, such as Toronto, and worst in cities, like Miami, with higher-rated clubs.

Speaking to Newsweek, Sullivan said he began looking at the data out of boredom and to "make my friends laugh."
"I also am a life long Rockets and James Harden fan," Sullivan continued, adding that this isn't the first time he's posted data the team can use. "Last year, I spent two days crafting talking points for the Rockets to use when asked questions by the media."
An avid user of the NBA and Rockets subreddits, Sullivan said he noticed the trend regarding Harden's performance during the 2015-2016 season. It was that year that Harden had his worst performances in Miami, where the point guard averaged 16 points, 7 assists and 5 turnovers per game.
In his Reddit post, Sullivan said that it took him the better part of the week to compile the information, but when asked by Newsweek he said that it only took him "about a day and an evening."
The auditor told Newsweek this type of research is not far off from what he does on a daily basis. "Data analytics are a part of my job, I am not a statistician, and I could have gone much farther with the research, but this is not that outside of what I do," Sullivan said.
Sullivan said that he looked for different trends when compiling the data and that he did not include travel or back-to-back games when crafting the graphs.
"I did not factor in-game/travel schedule(s) or make assumptions in when/if Harden went to a city's strip club. Scoping out back-to-back or same-day travel games would be irrelevant because even if we determined he arrived in a city days before the game, we still are unable to determine whether he actually went to a strip club or not," Sullivan told Newsweek. "I wanted to include as much data as possible, and the more games you scope out the less meaningful the correlation becomes."
"With data analytics, population and sampling are key. You can't rectify missing data, but you can model around an abundance of data," he added.
Sullivan said he also accounted for how good the teams the Rockets played were and compared that to Harden's performance and the city's average strip club rating.
"New York and New Orleans have bad teams but high-rated strip clubs," Sullivan said. "So, if Harden averaged 30 points on the season and had 30 points in N.Y. or New Orleans, it could be considered a sub-par performance."
Sullivan said he did not expect his post to gain a lot of attention on Reddit, but as of publication, the post has generated over 4,000 comments and over 82,000 upvotes or likes. His post has prompted other users to do similar research regarding other NBA players.
Sullivan said he's also been asked to compile data for other players. "Someone asked me to look at Joel Embiid's performance related to fast food ratings and locations in different cities," he said.
Corrections 11/8 4:09 PM. "Last year I spent two days crafting talking points for Rockets fans to use against the 'nephews' on r/nba," Sullivan said and described the 'nephews' as people who "smack talk James Harden" on the r/nba subreddit.