Redditor Says Parents Made Her Husband Sleep on Couch Because 'He's White'
A woman took to Reddit to share a recent encounter she and her husband had with her parents while staying at their home.
Redditor u/throwawaymom11_, who is South Asian and shares children with her husband, who is white, wrote about the uncomfortable situation on the subreddit, "Am I The A****le" in a post that has been voted on over 8,500 times and received over 1,100 comments.
U/throwawaymom11_ wrote that she noticed her parents, who are also South Asian, were acting weird when it was nearing time to get ready for bed.
"I asked them what was wrong and my mom quietly told me that my husband should sleep on the couch in the living room," she wrote. "I was a bit shocked because ... why? Apparently my dad doesn't feel comfortable. I called her and my dad weird and told my husband to ignore them."
Though not the case for the Redditor and her husband, a 2021 article from USA Today said that 1 in 4 couples choose to sleep in separate beds from their partner — according to studies from 2012 and 2017.
Dr. Meir Kryger, a professor of medicine at Yale's School of Medicine, told the outlet, "For a lot of couples, sleeping apart can be the best thing for their relationship," though Kryger added that sleeping separately can impact the family as a whole, including children.
For u/throwawaymom11_ and her husband, it turned out that ignoring her parents' wishes would not work. As the family was getting ready for sleep, the Redditor says her mother barged into the room, saying she did not want the couple in the same room alone.
"My husband is freaking terrified at this point because he was in the middle of changing so he leaves for the couch and my mom says she's sorry but she's not in the mood to deal with my dad's complaining all night."
The Redditor said she pointed out that her younger sister is able to share a bedroom with her husband to which her mother responded: "'well ... your husband is white so your dad feels weird.'"
She said that in the middle of the night, she went downstairs to get a glass of water to find her husband wide awake on the couch. She sat down next to him and they both accidentally fell asleep.
She said she woke up to her mom "freaking out" and "whisper yelling" so as to not wake her father.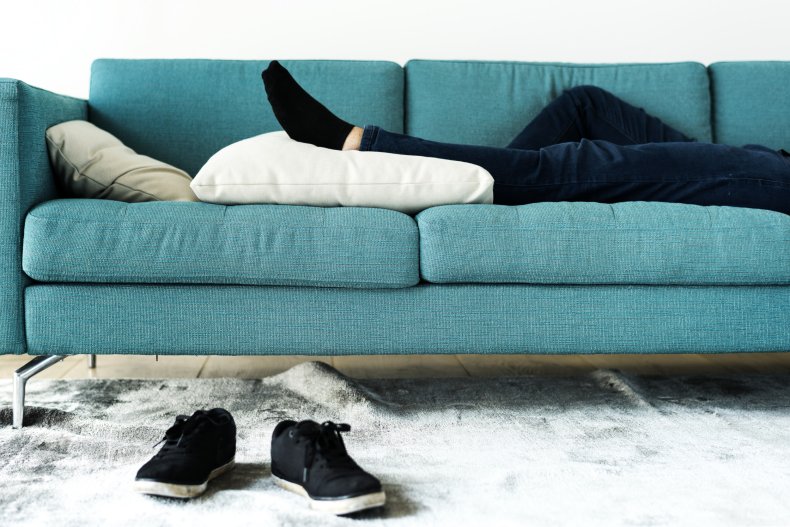 "[She] asked if we're that codependent on each other that we can't spend one night alone," the Redditor wrote. "I tried explaining that it was a mistake but she kept calling me disrespectful and said that I was selfish etc. I was upset but my son called for me so we ended our conversation."
Commenters were outraged at her parents' behavior, though some called out the Redditor herself, saying she should have defended her family.
"NTA. The only fault I have with you is that you didn't pack your kids up and leave as soon as your mom said you couldn't sleep together," one commenter said.
"YTA - not for sleeping on the couch, but for not standing up for your husband against the blatant racism shown here," said another.
The Redditor responded to this comment by saying she understands she should have done more, but her sons were getting irritated and she wanted her mother to leave them alone.
She said her husband is "insisting on letting the whole thing go," but she disagrees.
"I'm definitely not letting it go! I'm not letting them blame my husband either," the Redditor said in another comment."
Newsweek contacted U/Throwawaymom11_.