Redskins QB Dwayne Haskins Tells Chase Young 'See You Soon' After He Declares for NFL Draft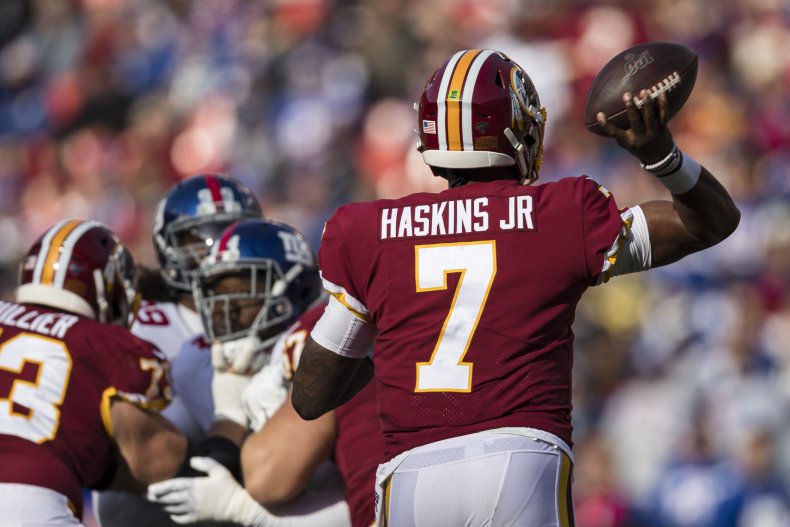 On Friday, Ohio State's Chase Young declared for the NFL draft, and Washington Redskins quarterback Dwayne Haskins has already broadcast his hope for the defensive end.
Shortly after Young posted his draft announcement on Twitter, Haskins retweeted the message and added "See you soon" with a winking emoji.
The Redskins have the second overall pick in the upcoming NFL draft, and with the Cincinnati Bengals likely to take LSU quarterback Joe Burrow, Haskins wish could become a reality for the Redskins.
Young is widely considered to be the best defensive player in the 2020 draft, though the benefits don't stop there for the Redskins. Haskins and Young played together at Ohio State in 2018, and if Washington does draft Young, he will become the third Buckeye to join the team as wide receiver Terry McLaurin is also a former Ohio State player.
This isn't the first time Haskins has called on his team to draft Young, either. During the Redskins final media day of 2019, Haskins was frank in who he thought the team should go with as their first pick.
"Two words is all I got to say, Chase Young," Haskins said, according to JP Finley of NBC Sports.
However, Haskins may be making an assumption regarding the plans for his franchise. On Wednesday, Ron Rivera was announced as the new head coach for the Redskins and could take the team in a different direction when it comes to utilizing the team's first draft pick.
In addition to the team hiring Rivera, they also hired Jack Del Rio as their defensive coordinator. Young could potentially benefit from this hire if drafted by the Redskins, considering that in Del Rio's past roles as a defensive coordinator for the Carolina Panthers and Denver Broncos, he was able to greatly improve their defenses. Del Rio finished four separate seasons with his defense in the top 10 in both yards allowed and points allowed.
Regardless of where Young lands, his defensive capabilities will be an advantage. In his final season with Ohio State, Young led the nation with defensive sacks at 16.5, while sitting out two games due to an NCAA suspension. He also set a single-season sack record for the Buckeyes.
The Redskins could use the help on defense, too. This season the team allowed an average of 385 offensive yards per game, the sixth-most in the NFL.
Redskins QB Dwayne Haskins Tells Chase Young 'See You Soon' After He Declares for NFL Draft | Sports