Reebok Floatride Energy 3 Review: One of the Best Daily Running Shoes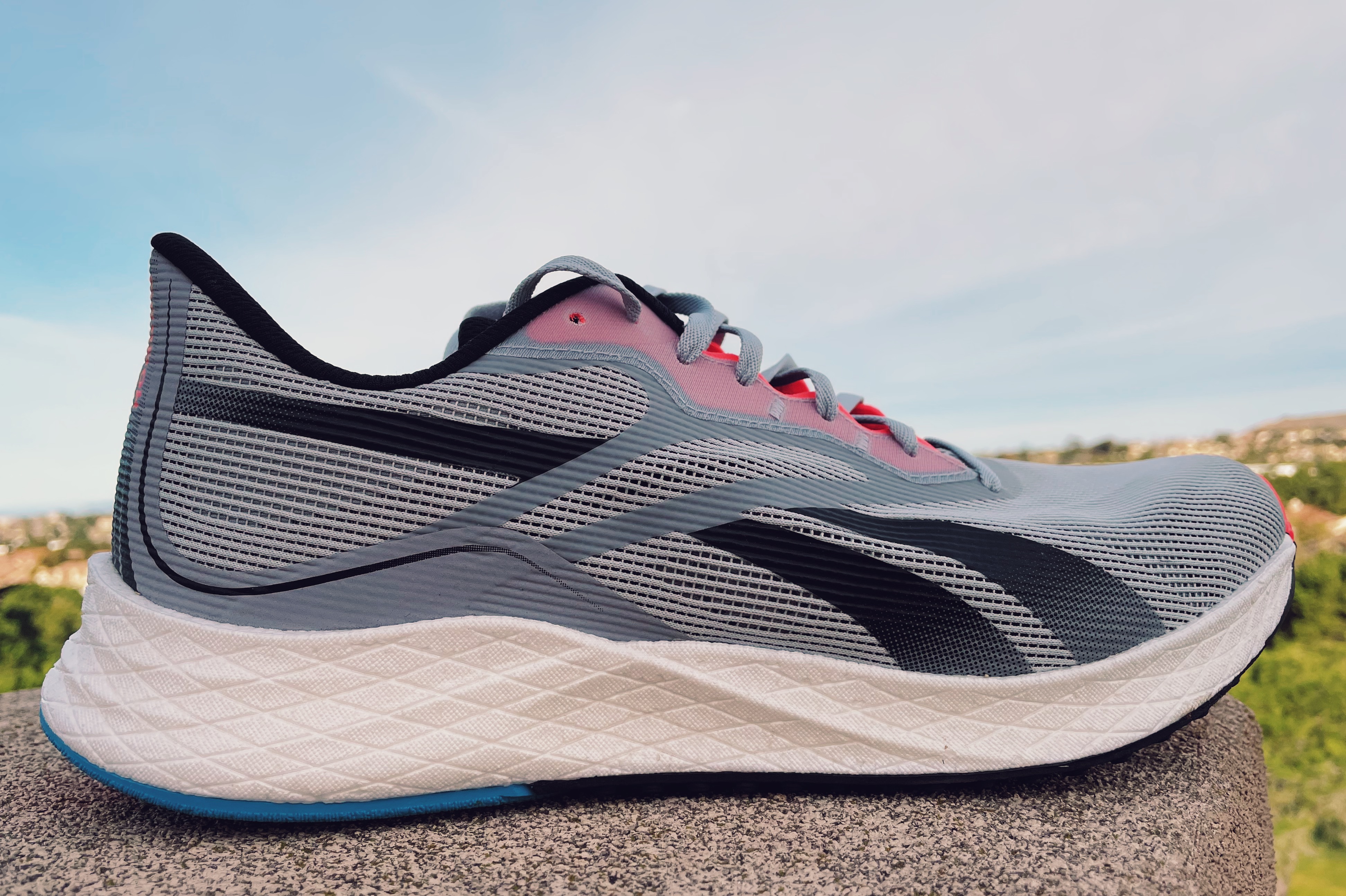 The Reebok Floatride Energy 3 sets a new standard for daily running shoes. The shoe is lively and energetic but includes enough cushion to feel comfortable day-in and day-out. The true value of the Floatride Energy 3 is its ability to offer no-compromise performance at an attractive $100 price.
The newest Energy 3 excels at a variety of running tasks, from slower jogs to quicker speed runs, making it a well-rounded daily trainer. It goes up directly against Nike's Pegasus line in performance ability but undercuts it in price.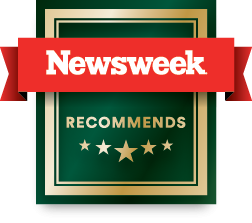 Reebok is often passed over in consideration for other running brands like Nike, Brooks, Asics, Hoka, or Saucony, but it shouldn't be. These latest Reebok trainers are incredibly competitive in output and price. Accomplishing a lot of the same objectives as other brands but coming in around 16% cheaper for similar styles and models.
It's easy to go with a brand you're more familiar with, but whether you're looking for something new and exciting or you're looking to purchase your first running shoes and don't know where to start, the Floatride Energy 3 might be the shoe to fulfill either of those needs.
Styling and Fit
Since it is still early in its life cycle, the Energy 3 colorways are limited. At the time of this writing, the shoes come in black and grey, with navy and orange just emerging for men. Women's colors are the same, except they include a neon mint instead of the orange. Compared to the first Floatride Energy shoes, the 3's are a night and day difference. The newest designs are attractive and fresh.
There are enough hints of nostalgic Rebook design here to be fun, but these shoes are modern and understated too. The new orange specifically is a neat colorway heading into spring 2021.
In terms of fit, the shoes do run long. Most people will be able to size them down a half size without a problem. I tend to feel cramped in the toe box with many running shoes, so I'm always hesitant to size down. In this case, the extra length hasn't affected my performance or been a hindrance in practice, so I've been fine with my normal US10.5 size.
Beyond the length, there weren't any other surprises in fit. They are neither wider nor narrower than any other standard sized shoe. I felt comfortable in the shoes right away. The tongue is a puffy, neoprene-like material that cushions the top of your foot. It has the potential to be warmer than other tongues because of its thickness, but I haven't felt any unwanted heat. In fact, the shoe's square knit upper is extremely breathable (see-through in some spots), so my foot has always been at a comfortable temperature, even after a long run.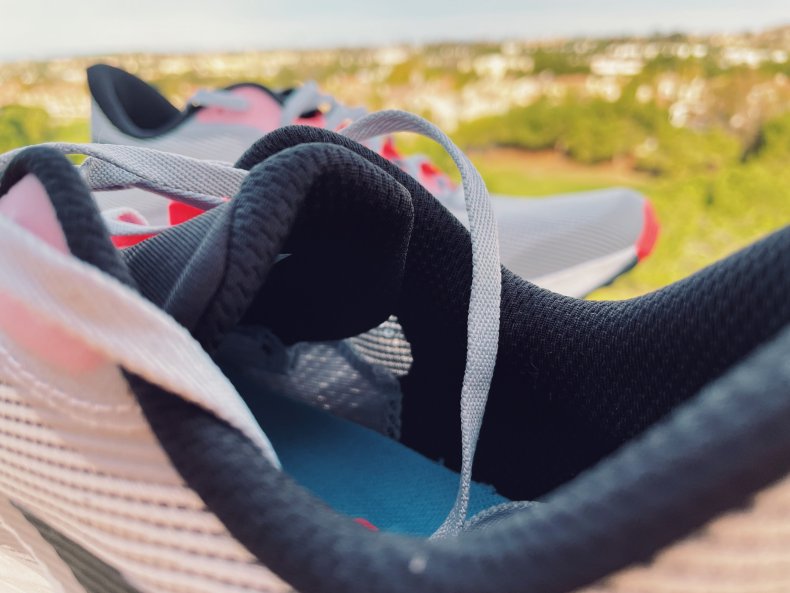 The Energy 3 has a familiar heel, both in look and function, to the Pegasus 36 that I was wearing daily prior to these shoes. I haven't felt any sliding around or discomfort on my heel, which indicates they're working as intended. Again, no real surprises in the overall fit beyond being slightly long. The Energy 3 comes out of the box flexible, feeling broken in, and ready to go.
Features
Reebok's advertised features and specs:
Breathable square knit upper
Comfort flared heel collar
Lightweight, responsive Floatride Energy Foam
Carbon rubber outsole
Weight: 8.5 ounces
Midsole drop: 9 mm
Performance
I spent the end of 2020 and the beginning of 2021 going through several different shoes figuring out whether I was in the market for a plush, recovery style running shoe or whether I would be better suited with a new daily running shoe. The ASICS Novablast shoes that I tried were a fun daily running shoe but felt a little narrow or unstable under the foot. The latest Brooks Glycerin 18 tries to split the difference in what I was looking for but didn't seem to accomplish either quite enough for my taste.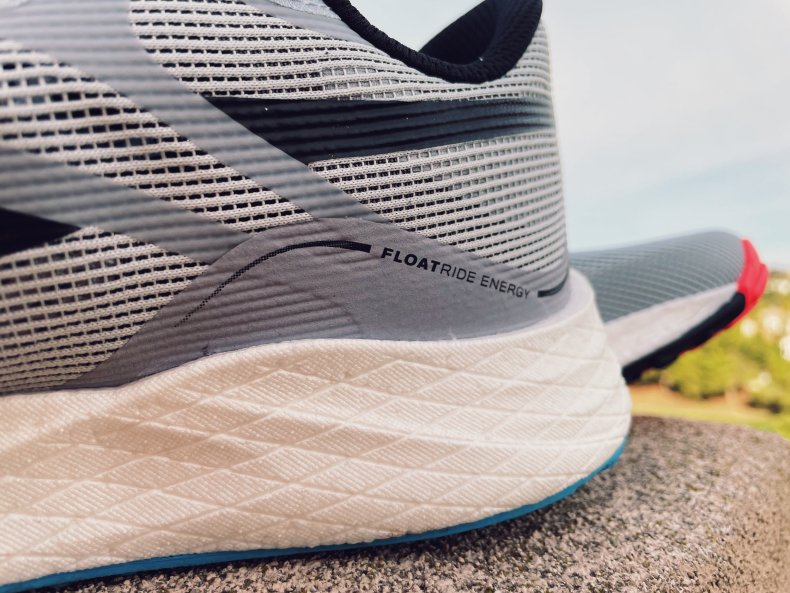 Enter the Floatride Energy 3. The styling, price and glowing online reviews convinced me to give Reebok a shot. I had almost no prior experience with Reebok's running shoes, but from my research, it seems like they have been turning in some very competitive shoes over the last two years.
Trying them on for the first time, I was pretty quickly drawn to their mix of comfort and drive. The shoe has a firm connection to the road for solid speed, but it still feels like comfort was considered at every turn. I had just put several hundred miles into a pair of Pegasus 36, and my feet were feeling the less-than-plush midsole. The Floatride Energy 3 are actually very similar in styling and approach but have a touch more padding in the tongue, upper sides, and midsole — more comfort baked in without any noticeable weight or height increase.
Of course, there will be a difference in how a shoe feels out of the box and how it feels after hundreds of miles. I remember the Pegasus 36 feeling smooth and capable in the beginning, but they never felt padded in the way that the Floatride does. And so far, in the first 50 miles, comfort and feel have only improved as my feet get acquainted.
During my daily 5K run, I encounter about 200 feet of elevation gain. As I went out each time, I was specifically keeping an eye on the inclines. Hitting a hill halfway through your run can be humbling, but it also provides a good test for how much a shoe is giving back.
While the Floatride obviously doesn't provide the same level of oomph running uphill my Saucony Endorphin Speed do, they also don't feel anywhere close to dead. They give plenty of traction and vibrancy on the hills. I've noticed a bounce and cushion that just wasn't there in the Pegasus 36. I have especially appreciated the feeling of extra foam under the front of my foot being a forefoot runner.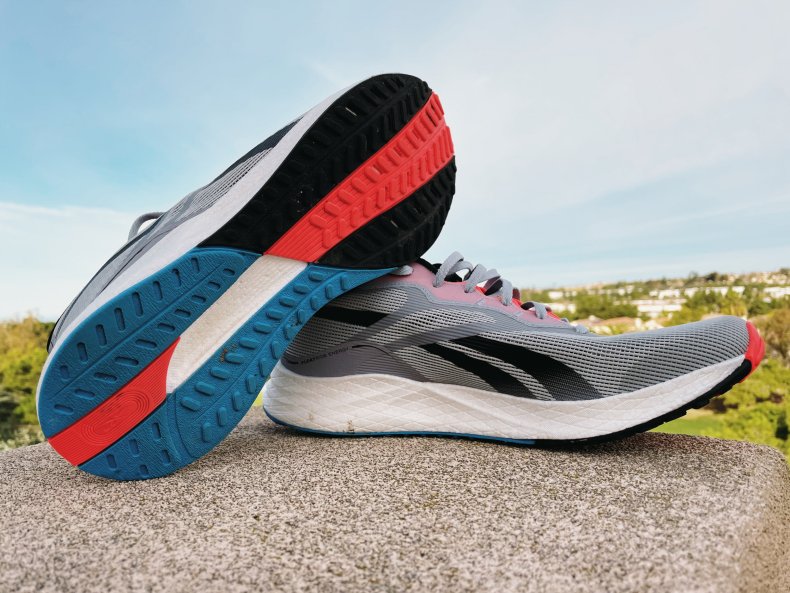 Long term durability is something I'm hopeful for based on the first 50 miles or so. My running shoes tend to wear just ever so slightly more on the outer parts, but generally pretty even. This is still true of the Floatride as the first signs of wear start to show. You have to look closely to notice the wear, and the rubber outsole has provided a solid grip so far. This likely comes from the advertised abrasion-resistant carbon rubber outsole that spans the length of the shoes.
Should You Buy The Reebok Floatride Energy 3?
Reebok's Floatride Energy 3 is an exciting running shoe because they are so versatile. They've worked great for my daily runs at varying speeds. Most importantly, I haven't felt the harshness of the road like I had been in my previous shoes.
These shoes are a solid all-around option whether this is your first pair of running shoes and you're not quite sure where to start or you go through several pairs a year. The Energy 3 takes almost no time to break in and will serve each type of runner equally as well.
The real benefit the Floatride Energy 3 offers is a fantastic price to performance value. Priced lower than other similar shoes, there's very little downside to choosing this daily workhorse. As long as you're not expecting extreme cushioning or massive PR time drops, then the answer is a resounding "yes." Yes, you should give these shoes a go and pick up a pair.
Buy at Reebok, Amazon and Backcountry.
Newsweek may earn a commission from links on this page, but we only recommend products we back. We participate in various affiliate marketing programs, which means we may get paid commissions on editorially chosen products purchased through our links to retailer sites.